The Route 44 Transit-Plus Multimodal Corridor (TPMC) had reached the 60% design milestone, and last week the Seattle Department of Transportation (SDOT) of shared their progress with the public. Originally promised as "RapidRide Market" in the Move Seattle Levy, the proposal was downgraded alongside Route 40 and 48 to the TPMCs being planned today. Nevertheless, the upgrades will improve conditions for pedestrians, bicyclists, and transit along the existing Route 44.
When we last covered Route 44's upgrades in September 2020, SDOT had just released 30% designs. The 60% design bring minor tweaks to proposals introduced in the last reveal and a brand-new detailed improvement to the corridor in the U District. Akin to the last update, SDOT breaks down the corridor's updates into Ballard, Phinney/Wallingford, and U District segments.
Compared to the other two segments, Ballard received the most minor updates to its designs. At Market at 26th Ave NW to 24th Ave NW, the length of the right-turn pocket on NW Market St is updated to maintain some parking and loading zones demanded by adjacent businesses. SDOT used traffic modeling to determine the length of the right turn pocket. Outside of a new visual indicator that seems to indicate a concrete island being proposed on NW Market St between 15th Ave NW and 14th Ave NE to prevent drivers westbound on NW Market St from entering the Safeway parking lot, no changes are made to that block of the Ballard segment.
The biggest change between 30% and 60% design in this segment is to the intersection of NW Market St and 11th Ave NW. Two new curb bulbs seem to have been added to the design in order to shorten the crossing distance for pedestrians, and increase pedestrian visibility for incoming traffic. SDOT also notes that this update will provide more space for traffic signal infrastructure, which includes two stop signs on 11th Ave NE. New curb ramps for the proposed curb bulbs are included too.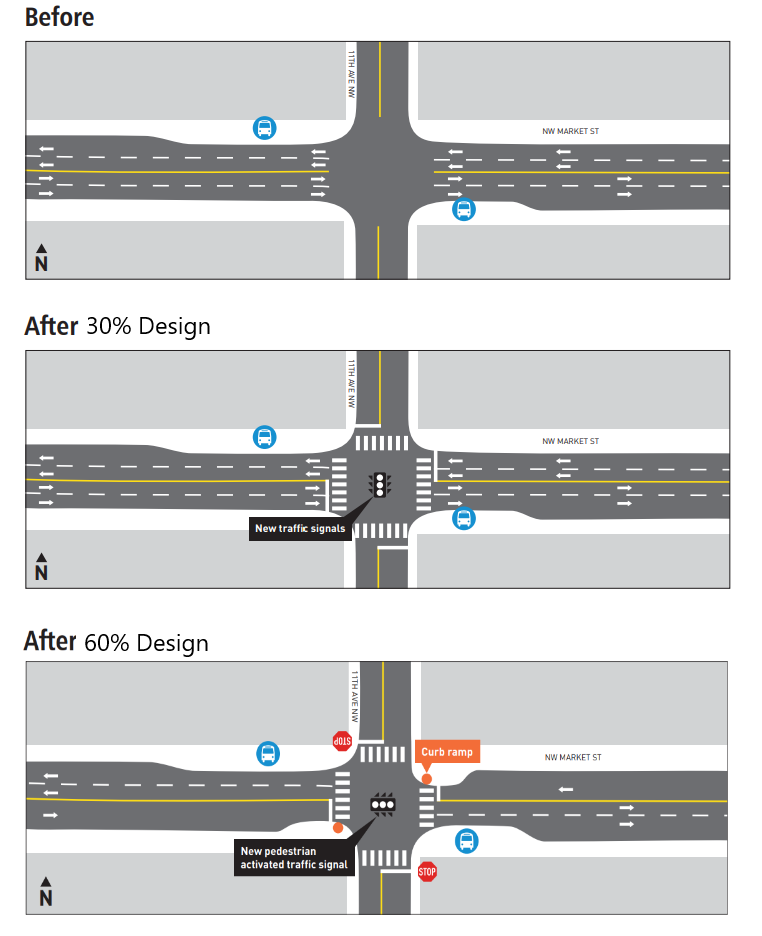 As we move eastward, we start to see the more dramatic changes that SDOT has recently unveiled. Well at least it happens after N 46th St at Greenwood Ave N to Fremont Ave N, where the only real change seems to be the expansion of the new two-way left turn lane that used to terminate just after Evanston Ave N, and now terminates just past halfway to Fremont Ave N. The dramatic changes begin at N 46th St at Aurora Ave N, where SDOT introduces a bevy of pedestrian improvements like a new crosswalk, concrete median islands, sidewalk extensions, and another stop sign.
Next, on N 46th St at Green Lake Way/Whitman Ave N, SDOT decided to scrap the odd proposal for widening roadway to add an extra eastbound lane between Aurora Ave N and Green Lake Way N. Apparently, in-depth analysis of the widening determined that it would not provide significant transit benefits, and it also found that channelization and signalization changes could produce similar and cheaper results. There'll also have to be overhead wire modifications, new pedestrian lighting, a shifted crosswalk, and a widened sidewalk for ADA requirements.
Also, before we cross into the U District, Metro plans to remove the westbound and eastbound bus stops on NE 45th St just west of 7th Ave NE in order to be consistent with the incoming fall 2021 bus restructure for the Northgate link light rail extension. Metro, Sound Transit, and Community transit service changes will result in much fewer transfer opportunities at the NE 45th St and I-5 interchange.
A block into our eastward movement in the U District, SDOT has unveiled a new proposal to the Route 44 corridor that goes beyond the 30% design proposal. These improvements look to significantly improve conditions at NE 45th St and 8th Ave NE, where a new crosswalk is proposed across NE 45th St, a traffic signal is added, two stop signs are added, a concrete island is added, curb space reconstruction is proposed, and so are new curb ramps. The proposal looks to prevent drivers eastbound from turning left and westbound from turning left onto 8th Ave NE, greatly increasing pedestrian safety and access. A bus only lane also manages to sneak into the picture eastbound after 8th Ave NE.
Nothing significant seems to change between NE 45th St at 9th Ave NE to 15th Ave NE in 60% design, an eastbound bus only lane does seem to have mysteriously disappeared between 9th Ave NE and Roosevelt Way NE. For 15th Ave NE at N 45th St to NE Pacific St, the southbound business access transit (BAT) lane between NE 43rd St and NE 45th St will be made peak only from all day to maintain the load zone just south of NE 45th St after outreach determined it was needed. Just before reaching NE 43rd St in a southern direction, some parking is also restored after being eliminated in 30% design.
Lastly, at 15th Ave NE at NE Pacific St, the BAT lane that continues on 15 Ave NE now terminates after NE Pacific St because Metro will add a bus stop on 15th Ave NE just south of the NE Pacific St intersection. The addition will have southbound buses travel in the curb lane on 15th, as opposed to the BAT lane proposed in 30% that was a lane away from the curb. 60% design also now indicates that trolley overhead wire modifications will be required for 15th Ave NE at N 45th St to NE Pacific St.
What's Next
Alongside the 60% design unveiling came the announcement that construction will begin in the U District this summer to complete work there before the U District light rail station opens on October 2nd. This early implementation work includes an eastbound bus-only lane on NE 45th St between Roosevelt Way Ne and 15th Ave NE, plus the BAT lane along 15th Ave NE between NE 40th St and NE 45th St. You can continue to follow along and get email updates at the Route 44 – Transit-Plus Multimodal Corridor project website.
Shaun Kuo is a junior editor at The Urbanist and a recent graduate from the UW Tacoma Master of Arts in Community Planning. He is a urban planner at the Puget Sound Regional Council and a Seattle native that has lived in Wallingford, Northgate, and Lake Forest Park. He enjoys exploring the city by bus and foot.