Since the smaller of Seattle's industrial areas is squeezed between three of the city's richest neighborhoods, Interbay's future is deeply uncertain. Development pressures are flipping industrial sites to big box retail. Recent closures cut into the local maritime community. Proposals for changing the local transportation network promise to add pollution and damage neighborhoods at extreme expense.
On the ground, the picture is much more complex. People are working, shops are open, and individual sites are being developed. In the next year, the work happening on several of those developments is going to give a picture of what the future of Interbay looks like. Unfortunately, it's a mixed bag. Rehabilitation and remediation promises to provide thousands of square feet of manufacturing and employment space. At the same time, other properties are being converted to big box and mini-storage. Here are four projects to pay attention to over the next year.
1115 NW 46th – 4-story Self-Storage
Currently single story warehouses for Radtke Marine and an office/shop for Scott's Trophy, developers are proposing a four story self-storage facility. The property is a 40,000 square foot end lot the length of NW 11th Avenue between 45th and 46th Streets. Preliminary site plans show the new building taking up the west two-thirds of the site with the rest as 20 surface parking spaces.
The test here is the use. Self storage is a minimal employer that creates a dead zone. They are massive facilities specifically for stuff you don't need that often, but they are also more valuable per square foot than manufacturing uses because it's just four stories of concrete box that collects rent. Recent proposals to change industrial zoning in Seattle include prohibiting self storage in industrial zones to prevent facilities like this from displacing job-creating users.
However, displacement isn't the entire story here. The site is in the part of Interbay most quickly changing from industrial uses to commercial space. It's Grocery Alley with three grocery stores, a BevMo! liquor store, and the recently completed Ballard Food Bank all located within blocks of this site. A fourth grocery, the expected Amazon Fresh store replacing New Seasons, has been under construction for a year with no anticipated opening. These uses are opening because they're needed, but they're also locating in industrial zones because the lots are big enough to accommodate big facilities and parking. The question is whether that trend should continue in a city that needs to rely less on car transportation to meet its climate goals.
Fishermen's Terminal – Maritime Innovation Center
On the Fishermen's Terminal site, the Port of Seattle is moving ahead with rehabilitation of the historic Ship Supply Building. Located at the east end among several warehouse buildings, the facility will be restored and modernized to create a 15,000 square foot business incubator. The goal is to start the maritime businesses that will keep the legacy fishing, shipping, and boating industries in Seattle.
The first reason to keep an eye on this project is because it's really cool. Waterfront reuse is something Seattle does well, and this looks to be a worthy addition to the area. Second, important components of maritime work have been taken for granted. The ecosystem of small businesses that support boats and the people who work on them is invisible until they start disappearing without replacement. Hopefully the business incubator prompts innovation and new opportunities in these fields. No matter what, having the Port make such important and visible support for innovation and small businesses is important.
The Port of Seattle also has plans for site improvements around Fishermen's Terminal and a new Gateway Building that will replace empty units at the northeast corner of Emerson Place and the 19th Ave entrance. However, these developments have been put on hold until 2026 due to impacts from the pandemic.
2805 W Commodore Way – Time Oil Cleanup
Brownfields redeveloper Cantera Group has work underway on the former Time Oil Company petroleum terminal site. Located just east of the Ballard Locks on the south side of the Ship Canal, the 11 acre property soil and groundwater are contaminated with oil, arsenic, and benzine. The site is split by Commodore Way, with a waterfront marina site to the north and larger landlocked site to the south. Work has begun on south portion of the property.
While buildings may not start to appear in 2022, the importance of work to extract or stabilize a century of oil pollution cannot be overstated. Brownfields are sites where redevelopment is stymied by existing pollution because new owners don't want the unlimited future liability for what may be found underground. Cantera has in hand a Corrective Action Plan approved by the Washington State Department of Ecology. If they complete this plan as designed, no more liability for what was already there. The company paid just $5.6 million for the 11 acre site where other industrial properties in the area are going for $9-$11 million per acre. Simply moving ahead with the immense cost of cleaning oil out of dirt is a testament to the value of land in Interbay.
On the other side of the cleanup, there will be something very interesting. Site plans (included below) for the eventual development were submitted to SDCI for the south portion of the site, and they propose a six building complex, four levels each, totaling 350,000 square feet of light industrial and office space. This is an interestingly dense industrial design, similar to some that appears on the west side of Fishermen's Terminal, but taper off the further west on Commodore one goes. It will be interesting what value this new facility will add as a west-end anchor to the Commodore Way industrial area.
And, frankly, a continuous sidewalk from the Locks to Vertical World would be greatly appreciated.
Terminal 91 Uplands – Site Preparation
Located at the foot of Magnolia on the west side of the BNSF rail yard, the Terminal 91 Uplands is another property owned by the Port of Seattle. It is the current home for several seafood companies and a massive parking lot for folks taking cruises. Over the next dozen years, that north end will be converted to about 1,000,000 square feet of flexible industrial space. More immediately, site work will be underway to install utilities for future development.
What will be interesting in 2022 is how this development moves forward before the Port of Seattle Commission that was deeply remade by the 2021 election. With Hamdi Mohamed and Toshiko Grace Hasegawa replacing Stephanie Bowman and Peter Steinbruek, it will be interesting to see how and if the focus of the Port's development program will change.
In their campaigns, Mohamed, Hasegawa, and Urbanist favorite Ryan Calkins (who rightly kept his seat) emphasized green infrastructure and meeting the Port's goals on climate change. Designing the Uplands will be a test to those goals. Located immediately next to one of the state's busiest rail facilities, the proposed designs turn their back on rail access. Instead, the million square feet of industrial space will be relying on carbon spewing trucks to move freight into a bottlenecked 15th Avenue car sewer. There is an enormous equity component to the development also, as the politically powerful Magnolia Community Club and Queen Anne Community Council have a standing forty year old agreement with the Port to get a say on the development. While we rightly question the Port about emissions of cruise ships, its footprint extends on land. In 2022, will that start to be addressed?
2022 and Beyond
These are not the only developments underway in Interbay. The Seattle Storm's practice facility will move ahead, depending on the outcome of appeals from neighbors. The Ship Canal Water Quality Project will continue boring a three mile long, half billion dollar subway for untreated sewage under Ballard and Fremont. There will be new breweries as well.
These four projects pop out as barometers for a transitional moment in Interbay. With a new mayor, it will become apparent how the city advances current work to protect and redefine industrial zoning. With new members on the Commission, the Port of Seattle will show how broadly or narrowly it defines its economic development role in light of commitments to reduce carbon and address climate change. With a strangling real estate market, companies will show whether we can keep manufacturing and maritime next to the Ship Canal. Keeping all those factors in mind, it's clear that Interbay will have an interesting and busy 2022.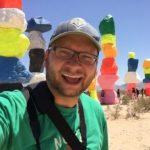 Ray Dubicki is a stay-at-home dad and parent-on-call for taking care of general school and neighborhood tasks around Ballard. This lets him see how urbanism works (or doesn't) during the hours most people are locked in their office. He is an attorney and urbanist by training, with soup-to-nuts planning experience from code enforcement to university development to writing zoning ordinances. He enjoys using PowerPoint, but only because it's no longer a weekly obligation.