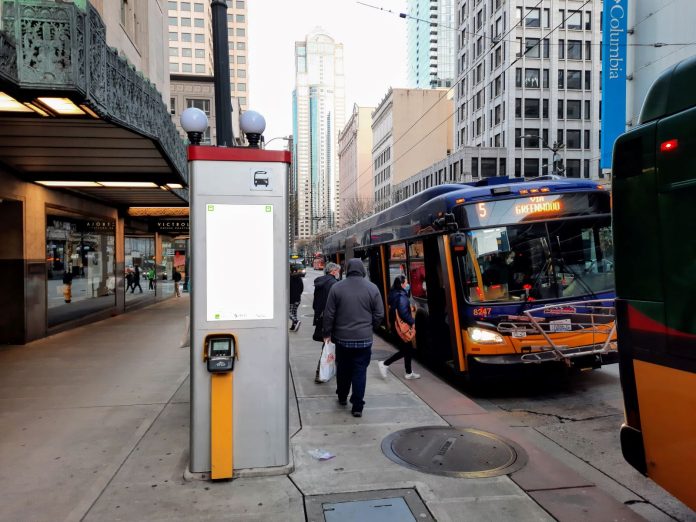 Starting April 2nd, Mayor Bruce Harrell is temporarily closing one of the busier bus stops in Seattle due to crime concerns. His administration hopes dissipating the crowds often gathered at 3rd Avenue and Pine Street will deny drug dealers, thieves, and violent criminals an easy place to hide and blend in. A string of shootings and two recent homicides in the vicinity has focused attention on the issue.
Riders of Routes 15 and 125 and RapidRide C, D, and E Lines accustomed to using this stop will need to catch the bus one block to the south at the Pike Street stop, which is in front of Ross Dress for Less. King County Metro announced the decision on Wednesday, and David Kroman covered the story in the Seattle Times on Thursday.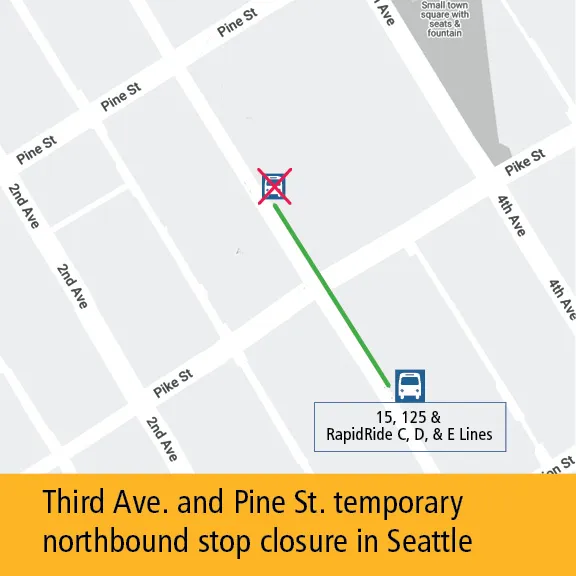 "The purpose of the closure is to increase visibility [by Seattle police] into criminal activity … and to reduce areas of congregation," Harrell spokesperson Jamie Housen said. "During this temporary closure, we will continue to assess whether it is contributing to reduction in criminal activity."
Elaine Porterfield, a spokesperson for King County Metro, said the agency has long been concerned with the bus stop and supported the move.
"Third and Pine has been on Metro's radar for many years as a location where public safety concerns are apparent and frequently draw responses from law enforcement, including King County Metro Transit Police and the Seattle Police Department," she said. "The issue of street-level safety isn't limited to the stop we are temporarily closing, and we hope the city's ongoing efforts will show results."
The Downtown Seattle Association (DSA), a powerful advocacy organization for Downtown businesses, landlords, and nonprofits, backed the decision, as well.
"We think it's a wise short-term move," DSA Director of Media Relations James Sido said in an email. "The concentration of transit riders and narrow sidewalks in that location provided easy opportunities for some people to conceal illegal activity, and we know the challenges that have been associated with that stretch of Third Avenue."
Some riders worry this won't work
However, not everyone is convinced. Dave Schuldt, a member of the Seattle Transit Riders Union, worried this move will not address the fundamental problem.
"What good is closing a bus stop going to do if there's no help for the people," Schuldt said. "They will just go somewhere else"
Bobbi Fogle, another Transit Riders Union member, went even further.
"To me, this is clearly security theatre," Fogle said. "The violence that has taken place on Third has been absolutely tragic, but closing a bus stop to add more police doesn't fix this. Increased police presence doesn't stop crime. But truly, this move isn't even about stopping violent crime, it's about reducing the visibility of homelessness."
Fogle pointed to increased police enforcement, including a plan to crack down on disorderly conduct on 3rd Avenue, that Harrell put on pause at the last month as targeting homeless people.
Kroman described that aborted move in his piece: "Seattle police were set to increase enforcement even further last week by treating most of Third Avenue as a transit stop, allowing officers to cite individuals for 'disorderly conduct' on buses or near transit facilities. Unearthing this sparsely used criminal code would have given officers more latitude to crack down on behavior like smoking, gambling, playing loud music and a laundry list of other activity not usually cited by law enforcement."
Fogle hoped for deeper solutions and worried that associating with transit with crime would have been negative long-term consequences.
"Harrell is clearly using transit enforcement as a way to police the unhoused," Fogle said. "Harrell continues to expand the criminalization of homelessness without providing any actual solutions. Throughout the [Seattle Times] article, Harrell and other organizations clearly associate transit with homelessness and crime, and the closure of Third and Pine is no different."
Even before closing the Pine stop, riders have reported issues with sidewalk crowding, harassment, drug dealing, and open consumption of hard drugs at bus stops up and down 3rd Avenue. Earlier this month, the Seattle Police Department established a mobile precinct at Third and Pine, but hasn't appeared to have much impact beyond the immediate block, as closing the neighboring Pine Street bus stop seems to confirm.
"The mayor's focus is on a holistic revitalization of 3rd Avenue will extend beyond the closure of this bus stop in the longer term," spokesperson Housen said in an email. "Two key factors are economic development and activation, and they require collaboration across departments, DSA, the Seattle Chamber, and many other City business and community organizations. The City's support for the Regional Homelessness Authority's Partnership for Zero effort is another part of this work. Additionally, as part of the Waterfront Project, this block will also see improvements to sidewalk and bicycle infrastructure. All of these elements are important for overall public safety."
Already riders are reporting increased police activity is dispersing crowds to other bus stops. Seattle Transit Riders Union member Amy Richards witnessed this recently.
"I regularly use bus stops in that area on Saturday nights," Richards said. "Last Saturday night, the cops had cleared out the folks who typically hang out on Third between Pine and Pike… and all it did was split the large group into smaller groups very nearby. I saw folks on Pike between Second and Third, on Third south of Union, etc."
Richards proposed that housing would be a better solution than punitive measures and moving people along to no end. She noted that temporary closures "make things confusing and inconvenient for transit users" and are especially taxing for disabled riders.
"I have never had trouble with these folks, and seeing unpleasant stuff doesn't inherently make me feel unsafe," Richards added. "I wish we'd just house and support people."
Frustrations with Third Avenue have been building for a long time. The DSA has long been concerned with visible crime and poverty on Seattle's main bus artery, especially at Third and Pine, which is frequently referred to as an open-air drug market nicknamed "The Blade" in local media.
DSA's vision of less transit on Third
In 2019, the DSA released a redesign vision for Third Avenue that included options with different variations on the theme of fewer lanes for transit, wider sidewalks, swankier storefronts, and street beautification. The pandemic stalled implementation, but the DSA still intends to advocate for carrying out the plan.
"Our Third Avenue Vision has elements we believe to be viable longer term solutions for efficient transit use and improving the pedestrian experience," Sido said.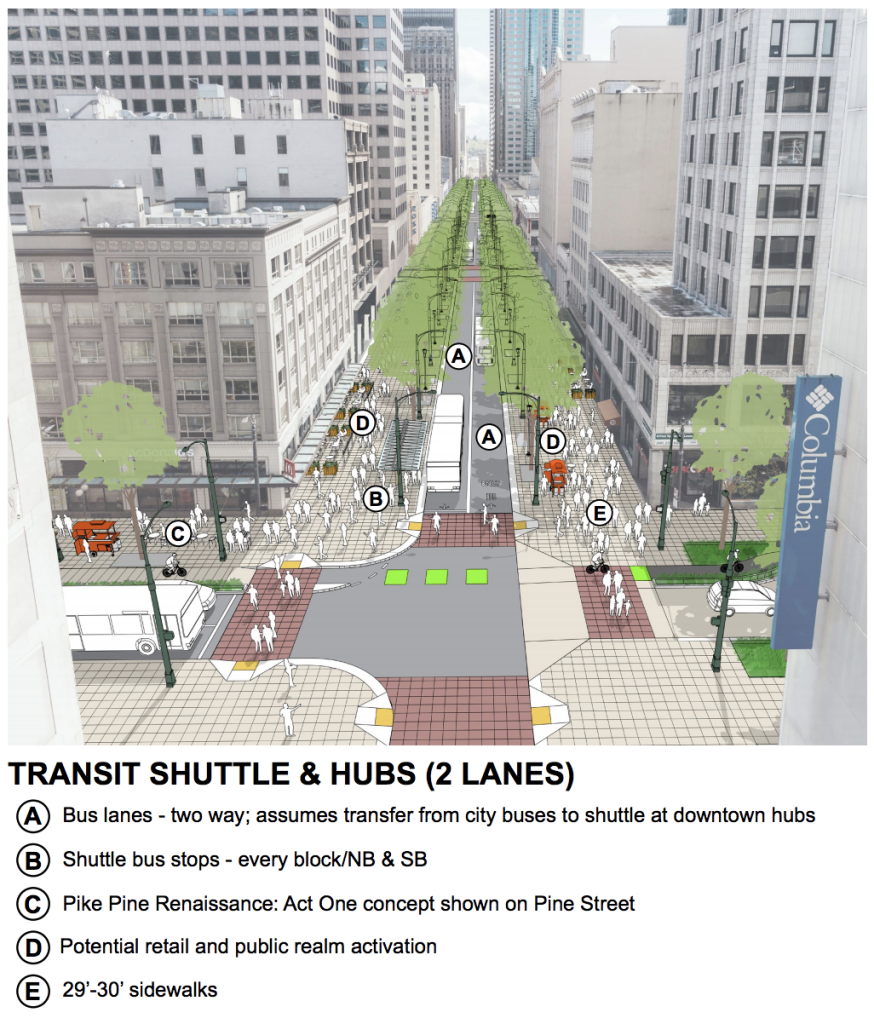 Mayor Harrell, working with the Seattle Department of Transportation (SDOT) and Metro, are taking some triage-type street beautification steps now.
"Addressing some beautification concerns, the City is taking steps to improve nine real-time bus information kiosks along Third Avenue which are no longer functioning or heavily vandalized," Housen, Harrell's spokesperson, said in an email. "SDOT is working with the Office of Arts and Culture and King County Metro to wrap these kiosks with designs produced by local artists in order to beautify this space in the short term. The City is also working with King County Metro on longer term plans to replace the broken kiosks and other bus stop infrastructure in this area."
The City is using three different art pieces designed by three different artists, with each art piece used three times to cover the nine broken kiosks, Housen said. The three artists — Angie Hinojos, Naoko Morisawa, and Baso Fibonacci — are Public Art Boot Camp Alumni. "The chosen images are vibrant and have busy patterns to dissuade graffiti," Housen added.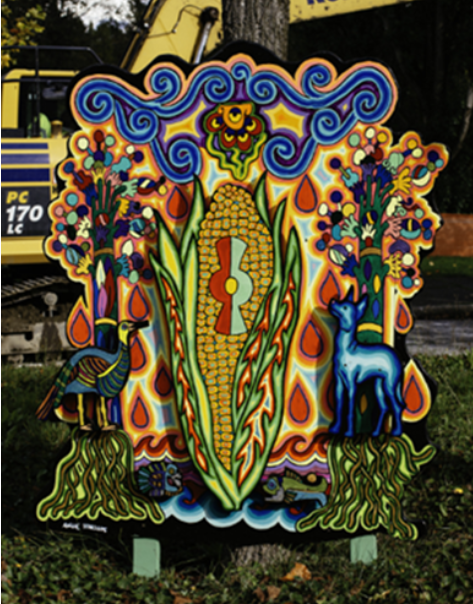 That larger vision of more sidewalks and fewer bus lanes hinged on light rail extensions opening and diverting riders from buses to trains — and potentially a downtown transit shuttle which could truncate bus routes at its ends to decrease the bus traffic on Third Avenue, which is Seattle's only bus-only street between Stewart Street and S Washington Street. For now, Third Avenue is the busiest bus corridor in the state.

"Third Avenue is a key transit corridor, one of the busiest in the country, and is served by nearly three dozen bus routes," Metro's Porterfield said. "We share the city's interest in ensuring that safety issues are addressed and that riders feel supported as ridership demand continues to grow."
Ridership slowly rebounding, still lagging pre-pandemic mark
Overall, transit volumes continue to be well below pre-pandemic levels, but continue to slowly build back up.
"Ridership demand continues to grow incrementally as employers reintroduce on-site and hybrid work, and residents use transit more, especially amid increased congestion and rising gas prices," Porterfield said. "This month, we have ranged from 180,000 to 190,000 riders on weekdays, a rise of about 30,000 to 40,000 riders since early January and a promising trend we expect will continue as the region recovers.
Metro averaged more than 400,000 daily boardings for much of 2019 and in early 2020 before the pandemic stay-at-home order. That means the agency is still at less than 50% of its pre-pandemic level. But more employers recalling their workers to the office should boost those figures.
Porterfield said Metro was nearly back to 100% service. That said, some routes didn't make out so well in pandemic era, seeing service cuts during Northgate Link bus restructure and renewal of Seattle Transit Benefit District, which didn't provide as many bus service hours as the previous version. A full ridership rebound may hinge on riders feels sufficiently comfortable and safe, but there may be no silver bullets to make Downtown crime disappear.
Metro has been increasing its security continent, which is done by a third party contractor.
"Metro recently took several steps to enhance security onboard buses and across our system. King County Metro expanded its security deployment in September 2021 to cover more late night and early morning service as well as additional routes," Porterfield added. "Two dozen Transit Security Officers are supporting customer safety and well-being and we have made significant progress in the hiring and training a total of additional 54 security staff. We introduced this information in a blog post in August."
In addition to adding security officers, Metro has also reformed its fare enforcement system, seeking to reduce the criminalization of poverty and disparate racial impacts.
Metro is optimistic riders will return.
"King County Metro's all-day, frequent, regional network continues to welcome more riders to transit," Porterfield said. "After restoring 36 routes in October 2021, Metro made further improvements that started March 19. Riders saw more City of Seattle-funded bus trips added to Metro's frequent transit network, as well as better access to hospitals on First Hill, improved connections to schools, and more night service in southeast and central Seattle. Ridership continues to inch up as the region recovers and Metro is charting a path forward to support growing transit demand."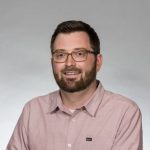 Doug Trumm is the executive director of The Urbanist. An Urbanist writer since 2015, he dreams of pedestrianizing streets, blanketing the city in bus lanes, and unleashing a mass timber building spree to end the affordable housing shortage and avert our coming climate catastrophe. He graduated from the Evans School of Public Policy and Governance at the University of Washington. He lives in East Fremont and loves to explore the city on his bike.