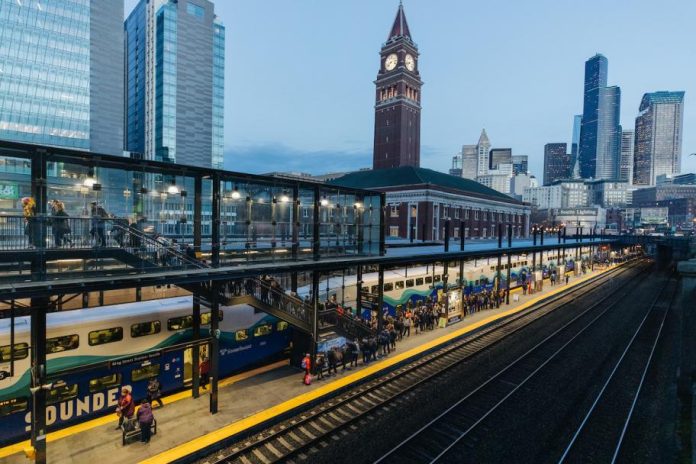 A public comment period is open through April 28 that allows riders to influence Sound Transit light rail plans for West Seattle and Ballard Link. We broke down the options earlier this month, noting our organizational take, and now have added a petition to make submitting a comment even easier.
West Seattle Link is slated to open in 2032 and Ballard Link as early as 2037, depending on if the agency can close its "affordability gap" for the program. While those light rail expansions are a decade away, Sound Transit is seeking to zero in on the alignment soon so that they can advance their plans through the approval process and avoid further delays. Gathering public comments on the Draft Environmental Impact Statement (DEIS) is the first step of many in the process, but an important opportunity to impact decisions, nonetheless.
Among the biggest decisions are whether to tunnel or not to tunnel to reach Alaska Junction and Ballard. Tunnel proponents got a boost last week when The Urbanist's Ray Dubicki revealed that the U.S. Coast Guard has weighed in to require a much taller fixed bridge over Salmon Bay and a wider lift bridge for the moveable bridge option. This will increase costs for the bridge alternatives and likely make the tunnel options more cost competitive. The 14th Avenue NW tunnel alternative was already cost competitive, and the new information could bring 15th Avenue NW costs in range, too, potentially avoiding Sound Transit's third party funding requirement.
We've boiled down all the moving parts in Ballard to a general principle: Put a station entrance on the west side of 15th Avenue NW. This ensures the station walkshed isn't interrupted by this busy, crash-prone arterial with long pedestrian signal wait times. Any of the options have potential to be highly successful if that condition is ensured. Furthermore, we've backed Seattle Subway's request to bring back into consideration a Ballard Station at 20th Avenue NW — closer to the neighborhood's historic core.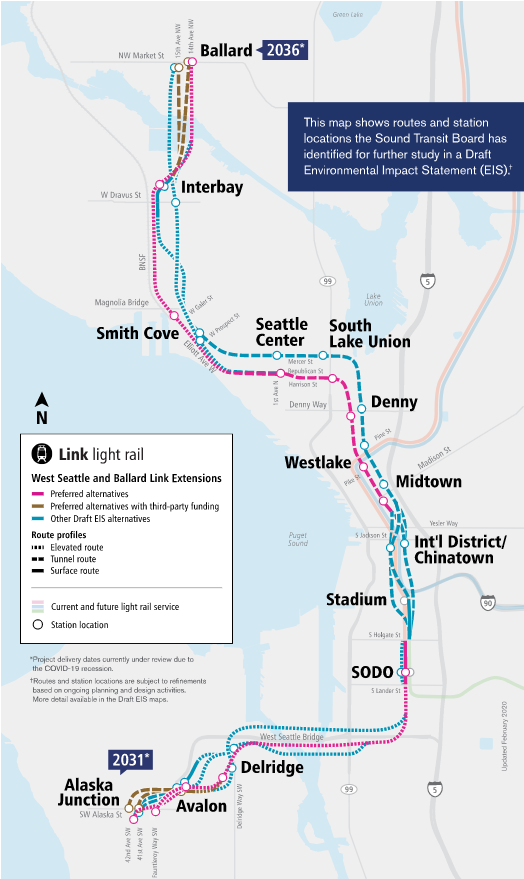 Likewise, plenty of big decisions loom in the Downtown segment, where Sound Transit has some very deep stations in contention, which adds access issues and delays for riders. Overall, we've developed some broad principles to guide decisions (listed below). Generally, we like the preferred 5th Avenue alignment. In the Chinatown-International District, a shallow tunnel at 4th Avenue S appears to provide unique advantages and to have more community support due to avoiding business displacements in the historic district on 5th Avenue S.
Take action: Sign our petition to submit a public comment to the agency. Other options to submit a public comment include: Visit the project website, email comments to WSBLEDEIScomments@soundtransit.org, or leave a voicemail message at (800) 471-0879.
The Urbanist's light rail planning principles
First and foremost, design the system for transit riders and the optimal rider experience. Traveling between the station platform and the surface should be quick, straightforward, and reliable. Transferring between transit lines should also be quick and easy, especially at the major transfer points at Westlake Station and International District/Chinatown Station.
Build the system to maximize ridership. Design a good rider experience and ridership should follow. Still, even the most elegant station will struggle for riders if it's in the middle of nowhere, with few homes, jobs, activity centers, or transit connections nearby. Preliminary ridership projections aren't the be-all end-all, but all things being equal, the station alignment projected to get higher ridership does have a leg up.
Design the system to be easy to expand. Ideally, West Seattle Junction will not be the southern terminus long as the line extends south to White Center and Burien. Likewise, Ballard should not be the northern terminus long as the line extends north to Greenwood and perhaps east to Wallingford and the University District. Meanwhile, a future Aurora rail line may link up with the new Downtown light rail tunnel near South Lake Union Station. Planning with expandability in mind could save billions of dollars and numerous headaches down the road.
Station locations should unlock transit-oriented development (TOD) opportunities to the highest extent possible. A station isn't just a transit stop, it can be a catalyst for neighborhood development and housing growth, both market-rate and affordable. Alternatives more favorable to TOD deserve an edge, and they will help the system attract more riders down the road by allowing more people to live in close proximity to light rail.
Construction impacts are important but shouldn't solely determine a 100-year investment. Construction-related road closures weigh heavy on the mind of policymakers, but it is crucial we pick the right station for the future. Closing a busy road for a few years is a small price to pay to add a light rail line that will last centuries. The priority in mitigating construction impacts should start with prioritizing pedestrian access, transit operations, and bike routes.
Cost is an important factor, but we shouldn't shy away from big investments where there is a high return. Mostly we are worried about building this right, but we can't dismiss costs, especially since some high-ticket items will require third-party funding, which could be difficult to secure. Controlling costs is also key to avoiding delays to these much-needed transit lines.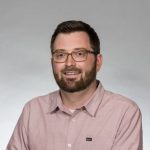 Doug Trumm is the executive director of The Urbanist. An Urbanist writer since 2015, he dreams of pedestrianizing streets, blanketing the city in bus lanes, and unleashing a mass timber building spree to end the affordable housing shortage and avert our coming climate catastrophe. He graduated from the Evans School of Public Policy and Governance at the University of Washington. He lives in East Fremont and loves to explore the city on his bike.