Among the many projects up for consideration in Downtown Bellevue, a significant faction stands out for the sheer scale of its developments. These projects are defined by being constructed in multiple phases, consisting of multiple mid-rises to skyscrapers, including hundreds of dwelling units, and adding millions of square feet of commercial space and thousands of parking spaces to Bellevue's cityscape. As they come into fruition, major segments of or whole blocks will be transformed. For good or ill, these mega-projects will likely define Downtown Bellevue for generations to come.
To help guide you on this tour of Bellevue's standout development proposals, a map of the developments can be found below. This map includes some mega-projects that have been completed and are under construction, which have also been detailed in their own article. On the map, the exceptional projects are designated with a "downtown" icon. These proposals and construction sites can roughly be clustered into four areas: the northwest approach to the core, the skyscraper downtown center, a southern cluster, and a row by I-405.
Blue pins indicate completed projects. Dark green pins indicate projects under construction. Light green pins indicate construction-ready projects. The pins with special icons represent "mega projects." Purple indicates a "mega project" under review.
Northwest Pinnacle Approach
One of Downtown Bellevue's marquee proposals can be found at its Northwest corner, as Pinnacle International Development Inc. has a project spanning the majority of two city blocks in the works. Currently known as Pinnacle North and South at 10112 NE 10th Street and 10116 NE 8th Street, these projects propose a total of 15 towers. You read that correctly. For our region, projects of this scale are jaw-dropping — and rare.
Mostly residential, Pinnacle North is beginning with a proposal of 60,200 square feet for office space, 1,181 residential units, 129,500 square feet for active space, such as retail, resident amenities, and commercial uses other than offices, and 1,814 parking spaces over seven towers that are planned to be nine to 26 stories tall. Behind its northern counterpart, which has not had its design review permitting process started yet, Pinnacle South is planned to have another 125,000 square feet of office space, 1,518 residential units, 114,000 square feet of retail, 177 hotel rooms, and 2,500 parking spaces over eight towers. Altogether, the Pinnacle projects are planning to have 185,200 square feet of office space, 2,699 residential units, 143,500 square feet of retail/active space, 177 hotel keys, and 4,314 parking spaces*.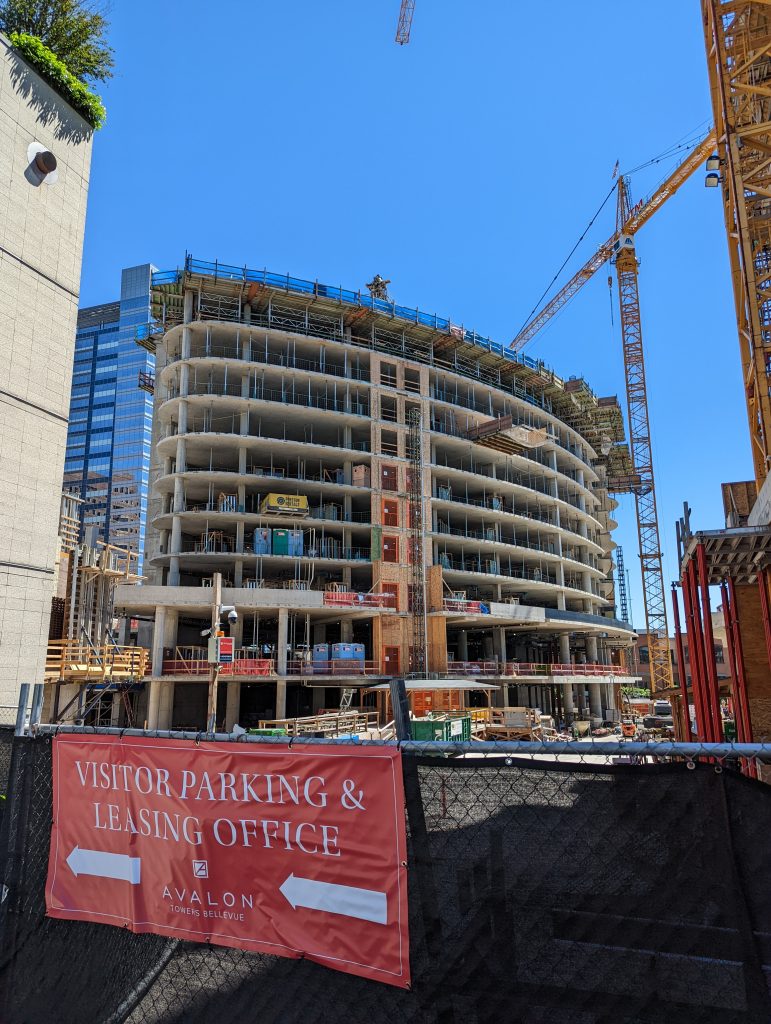 Immediately to the west is another massive project, Avenue Bellevue at 10300 NE 8th Street. The two towers currently under construction only rival Pinnacle in terms of height with the west tower rising 25 stories in height and the south tower extending to 26 stories. The west tower will contain 224 condominium units, and the south tower will contain 103 condominium units and 266 hotel keys. Together they will share roughly 826 parking spaces in a three to four level below grade parking garage and 76,000 square feet of commercial space and amenities across the first two above grade stories.
Lastly, in this sector a new project applied for a preapplication conference at 1000 Bellevue Way NE. As reported on by Marc Stiles in the Puget Sound Business Journal, this four building project/Bellevue North is planning to contain 950 apartment units in a 28-story tower and three mid-rises. It is also planning for roughly 68,800 square feet of retail space and 1,250 parking spaces.
Together, these projects are set to or planned to grade out the incline of Bellevue's skyline from the northwest corner up to the greatest building height in the city's Skyscraper Core.
Skyscraper Core
Before we get to the proposals that touch the Downtown's 600 foot height limit, it's important to note that the last of the significant Washington Square master development plan is wrapping up with a hotel and office tower. The eight-story hotel at 830 106th Avenue NE is planned to have 255 rooms and 51 parking spaces, while the office tower project's features are less clear at the moment. These projects will round out a master development that includes the two towers at the corner of NE 10th Street and 106th Avenue NE that were completed in 2007 and the Hilton Garden Inn that was completed in 2020.
In this section of the Downtown, there is also exciting news that a massive skyscraper trio by Canadian developer Onni received its master development plan and design review permit issuances on 6/23/2022. These approvals further the progress Onni is making toward building to the maximum 600 feet height limit in Bellevue. As reported by David Leon of Urbanize Seattle, the approvals pave the way for Tower 1's 52 stories, 257 hotel rooms, and 425 residential units, Tower 2's 54 stories and 634 residential units, and Tower 3's 45 stories, 9,532 square feet of daycare, and 871,818 square feet of office space. Totaling the separate residential units, we get 1059 new homes that will be sharing an approved 2,479 parking spaces with other onsite uses. This will take place at 606 106th Avenue NE.
A block to the west is another massive construction project for the Bellevue 600 towers at 600 108th Avenue NE. Each of the two towers has their own phases. Phase 1 will be a 45-story tower with 839,500 square feet of office space, 11,680 square feet of active uses, and over 1000 parking spaces. Phase 2 will be a 31-story tower with 764,400 square feet of office space, 8,000 square feet of retail and exhibition uses, and 700 parking spaces. Together, the Bellevue 600 project will provide Amazon employees over 1.5 million square feet of office space and over 1,700 parking spaces.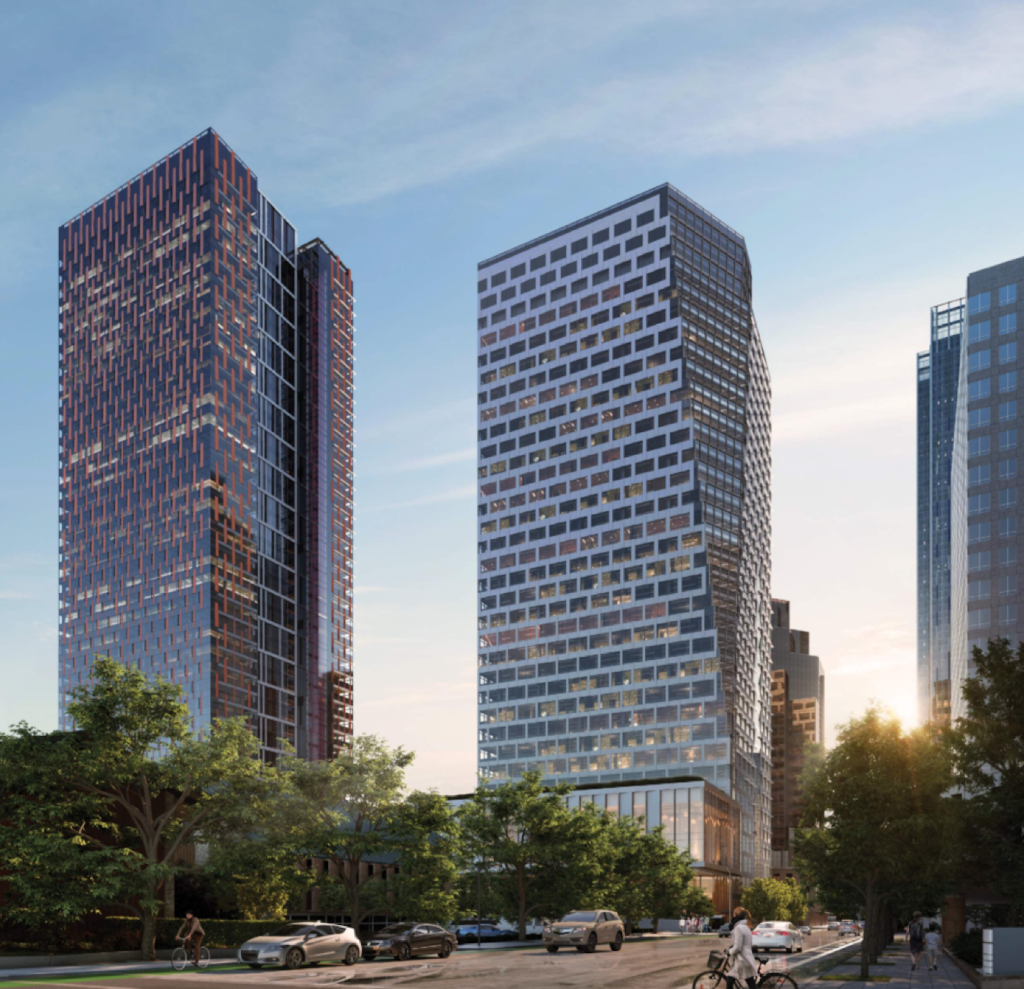 With its master development plan issued on 7/1/2021 and rivaling the Onni project, the Cloudvue project at 10855 NE 8th Street also sports a trio of height limit maxed towers. Towers 1 and 3 will be 45-story office towers, while Tower 2 will be a 50+ story residential tower. Combined they will provide 1,278,730 square feet of office space, around 9,400 square feet of retail, 538 residential units, around 33,000 square feet of restaurant space, around 176 hotel rooms, and 2,487 parking spaces. Phase Two of this plan would build a playhouse.
Southern Cluster
The next bundle of projects can be found at the southern strip of Downtown Bellevue with zoning dropping back down to the limitations seen in the northwest part of the neighborhood. The largest proposal here is located at the southeast corner of Bellevue Square which currently is a mix of surface and garage parking for the mall. Dubbed "The Bellevue," Kemper Development Co. is planning four towers to complement the rest of the developer's "The Bellevue Collection" that includes the Lincoln Square and Bellevue Place high-rises.
Megan Campbell of Puget Sound Business Journal reported that the proposal initially called for 234 residential units, 157 hotel rooms, over 265,000 square feet of retail space, and six levels of below grade parking for 1,600-1,700 parking spaces. Towers could rise up to 25 stories tall.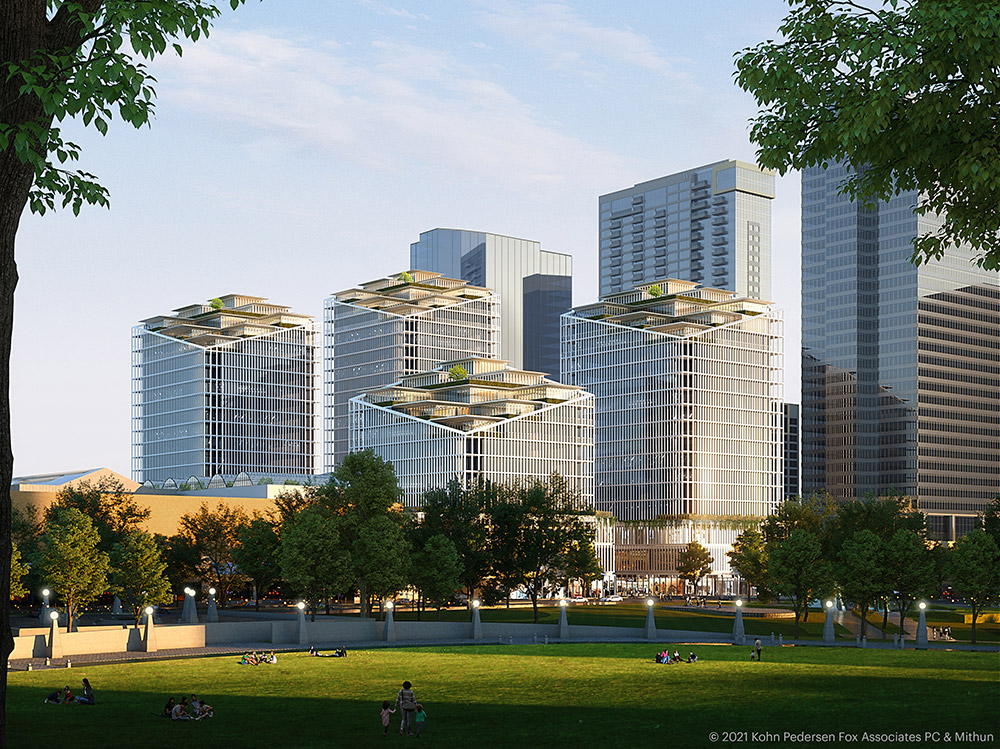 Nearby two more projects are underway. Four 106 at 320 106th Avenue NE is a two-phase project. Phase 1, already approved in design review, will be a 17-story office tower with 368,000 square feet of office space, 7,570 square feet of retail space, and 781 parking spaces. Phase 2 is planned to be a 5-story office midrise with around 116,000 square feet of office space, 6,700 square feet of active use, and 330 parking spaces. Already under construction are all three phases of the Bellevue Plaza project at 117 106th Avenue NE. The three towers will be 16, 17, and 17 stories tall with a combined 881,070 square feet of office space, 28,210 square feet of ground floor active uses, and 2,194 parking spaces.
The next major project is in the works at 103 110th Avenue NE. As reported by Downtown Bellevue Network, the latest master development plan documents propose building out six buildings across two phases. With its focus on office, 963,420 square feet of office space, 101,331 square feet of retail space, 342 apartments, and 2,133 parking spaces are proposed for Main Street Place. This project plans to develop the vast majority of a city block across 6.75 acres.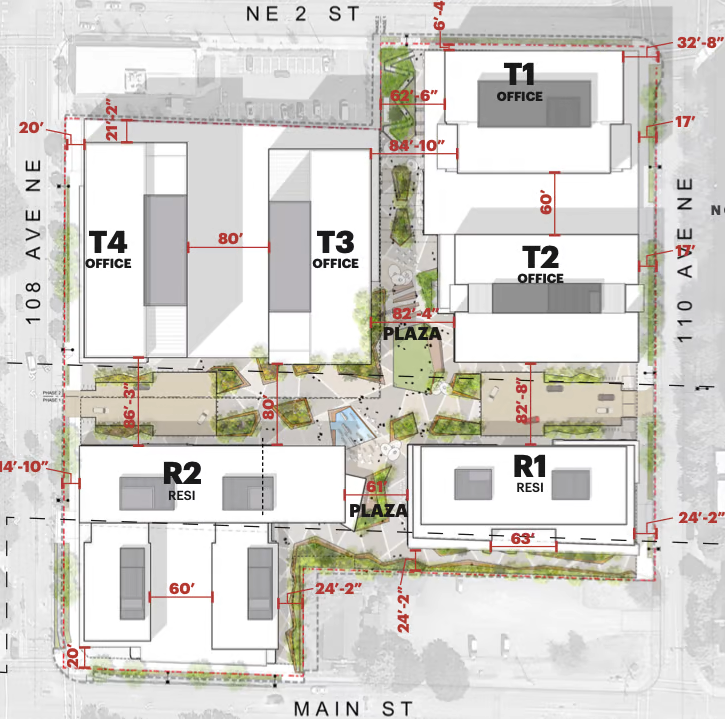 11040 Main Street is the last development on our list before we hit a row of highway-side developments. Completing its predevelopment conference on 7/1/2022, the Bellevue Main project is planned to be a 23-story residential tower and seven story mixed use mid-rise development. The rear residential tower is planned to have around 290 apartments, and the mid-rise is planned to have 124 apartments and 15,000 square feet of office space. They are proposed to share a below-grade garage with 400 parking spaces and an internal drive line with another eight parking spaces.
Highway Heights
Anchoring Bellevue's largest developments is the eastern flank of Downtown Bellevue with much of I-405's adjacent parcels in permitting for multi-tower projects. North to south, Terraline at 400 112th Avenue NE is proposed to be two 27-story towers totaling 1.174 million square feet of office space, 16,100 square feet of active space, and 1,190 parking spaces. If approved this project would take up an entire city block, although the presence of I-405 makes these blocks smaller than their neighboring blocks. Directly south is the proposed Kanon project at 222 112th Avenue NE. Two towers are also proposed here, just shorter at 15 and 16 stories each. Together they are planned to total 781,953 square feet of office space, 20,460 square feet of active space, and 1,128 parking spaces.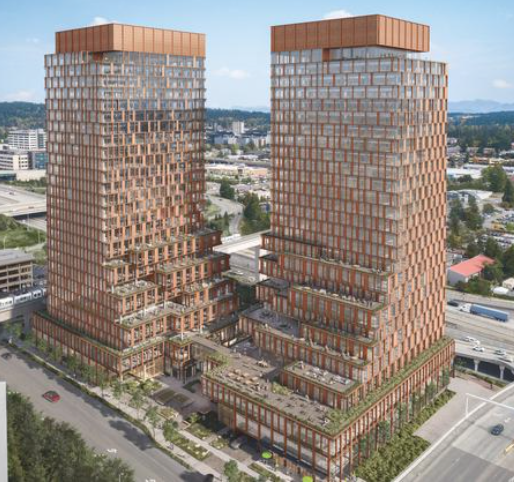 On the other side of NE 2nd Street, is the next major development site at 100 112th Avenue NE. The Belle Vista project is planned to have two phases, each constructing two 14-story office towers. As reported in the Puget Sound Business Journal, phase one's two towers are planned to have around 499,000 square feet of office space and 27,000 square feet of retail space. Phase two is planned to be slightly smaller with around 457,000 square feet of office space and 12,000 square feet of retail space. Together they are planned to share 2,115 parking spaces. This whole block development will neighbor the incoming East Main light rail station.
Wrapping up the roundup is the impressive 15.5-acre East Main Village development site. Christopher Randels reported on the project's announcement for The Urbanist back in April, but the developments have since returned with even larger plans. With its pre-application conference submitted, new figures bumped the project up from six to seven towers, residences up from 1,350 to 1,689, retail space up from 270,000 square feet to nearly 340,000 square feet, and parking stalls up from 2,900 to nearly 3,900. Proposed office space is maintained at around 1.9 million square feet, and proposed hotel room are reduced from 340 to 162. With square footage increasing, it is probably safe to assume that the up to 38-story tall towers proposed in their first application maintains their proposed skyscraper-qualifying height in this next phase. Four mid-rises also contribute to the square footage.
Totaling the mega-projects together
Across the 17 projects, an awesome 67 buildings are being proposed or under construction. The majority of the 67 are planned to meet or exceed double digits in their stories, potentially transforming the Bellevue skyline. If approved and constructed, these projects would add over 8,200 residential units, over 12 million square feet of commercial space, 1,450 hotel rooms, and nearly 30,000 parking spaces to Downtown Bellevue. These are truly gargantuan numbers for the square footage Downtown that Bellevue is currently planning for.
Even then, the "mega-projects" only stand out in the city's permitting with their combined size, and they're still outnumbered by the sheer number of projects being planned in the City of Bellevue.
*Many of these figures are taken from permit descriptions, actual figures will warp throughout the permitting and design process but generally stay close to those original figures.
Shaun Kuo is a junior editor at The Urbanist and a recent graduate from the UW Tacoma Master of Arts in Community Planning. He is a urban planner at the Puget Sound Regional Council and a Seattle native that has lived in Wallingford, Northgate, and Lake Forest Park. He enjoys exploring the city by bus and foot.