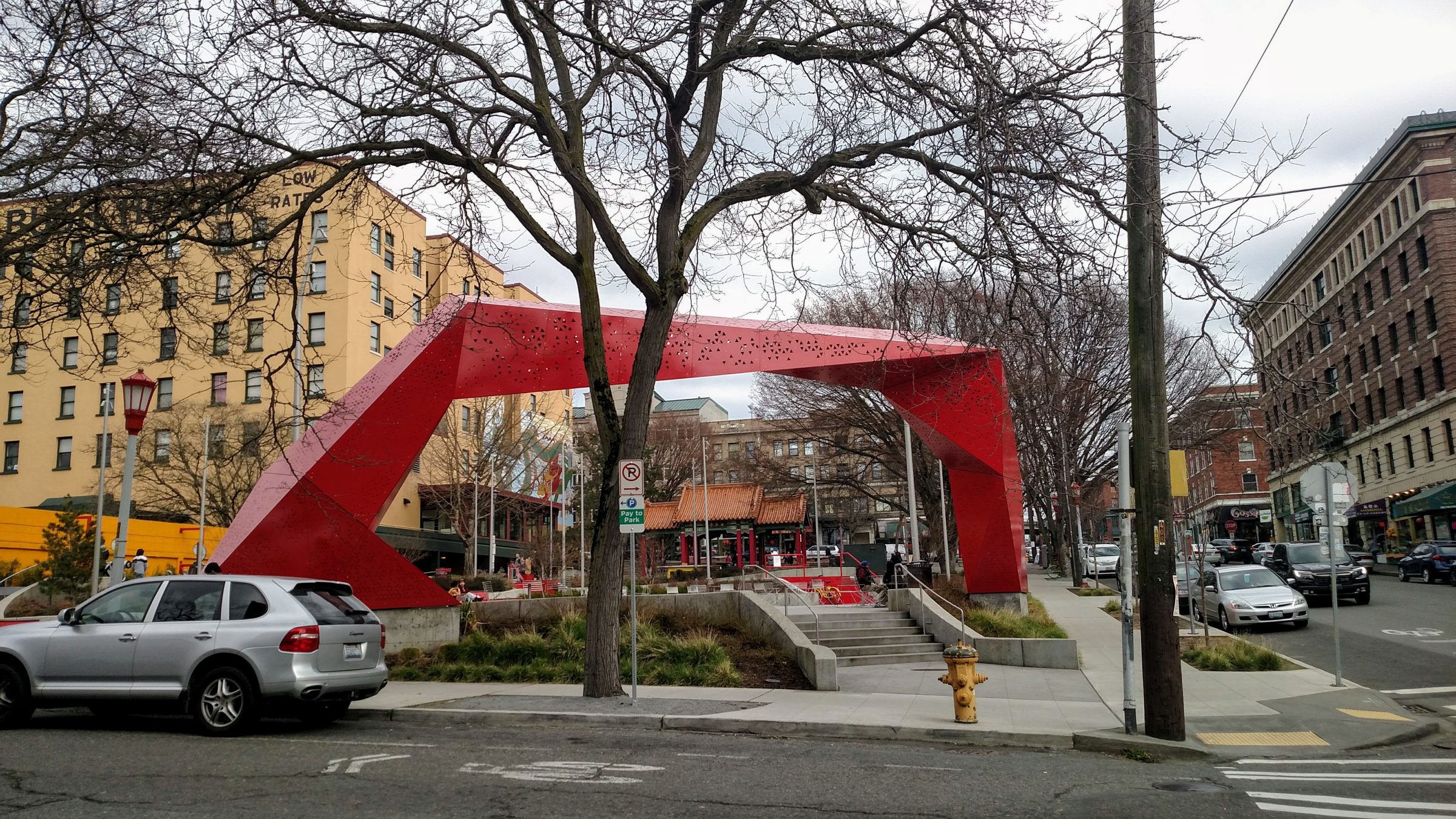 As Sound Transit lays out 90 miles of new track, 57 new stations, and three new light rail lines over the next 20 years, the Chinatown-International District (CID) station is set to become the region's key transit hub. There will be over 30,000 riders passing through the station each day and local businesses will be able to capitalize on this increased ridership. Until then, though, the community will have to bear the side effects of years-long construction and potentially destructive route choices.
In their Draft Environmental Impact Statement (DEIS), Sound Transit explained the five construction alternatives they studied for the CID. Three options would travel on 5th Avenue S (including shallow, deep, and diagonal station alternatives), costing $1.2-1.3 billion to construct. The other two proposed options travel either shallow or deep under 4th Avenue S. These would cost $1.7-1.8 billion dollars (at least $400 million more) and take two years longer to build than the 5th Avenue S alternatives. Additionally, the 4th Avenue viaduct (which carries 30,000 cars per day) would have to be demolished for construction and, with one alternative, 120 residents of an apartment building would be temporarily displaced.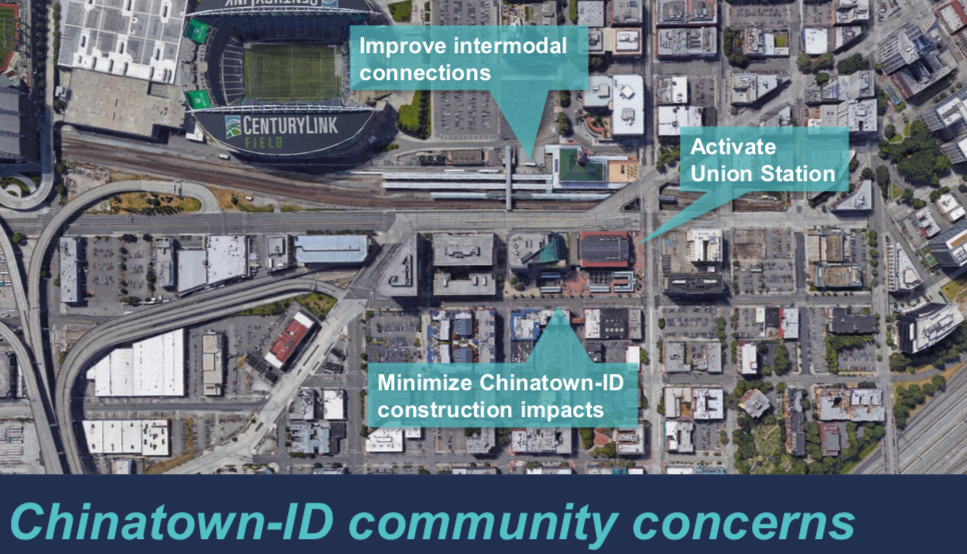 However, community activists say that building through Chinatown on 5th Avenue would harm the area in other ways. Brien Chow, who met monthly with Sound Transit as part of a community advisory group, found that constructing the line through Chinatown would entail dump trucks leaving the construction site every 10 minutes carrying dirt from the tunnel. He says that those trucks would make it more difficult for emergency vehicles to reach Chinatown's 1,200 seniors living in apartment buildings in the district's core.
Betty Lau, who co-founded Transit Equity for All along with Chow, encountered plans to close two streets to cars during construction, only leaving space on the sidewalk for people to get into stores. "This is a local, international, and regional draw for tourism," says Lau. "Nobody's going to bring their family for dinner to an active construction zone." And while Sound Transit would cover costs for businesses forced to relocate due to construction, Lau fears that many businesses could not survive outside of Chinatown.
Brien Chow and Betty Lau founded Transit Equity for All to mobilize the community in support of construction on 4th Avenue. Their fear that the CID's character and culture will be lost is impacted by what happened in Washington D.C., where gentrification (in part because of a new Metro station) shrunk the Asian population of Chinatown to only 20%. Even in Puget Sound, other infrastructure projects — the 2nd Avenue extension, Interstate 5, the Kingdome, the downtown bus tunnel — have slowly chipped away at the CID. Chow and Lau noted that the issue of the light rail has united many organizations in the CID that are often at odds with each other.
Meanwhile, transit advocates from Seattle Subway emphasize the need to create a station that properly serves the community, given the enormous upfront cost for construction.
"There has been very, very little discussion of, 'What specifically — infrastructurally — does a good transit system look like?'" says Joe Reilly, Seattle Subway's Policy and Communications Director. "That conversation has been lost." They stress the need to prioritize the rider experience to maximize the effectiveness of the system, which means stopping the study of deep, inaccessible station alternatives.
Given this, Seattle Subway has expressed the need for more creative solutions that directly benefit the community. They recommend that Sound Transit study an even-shallower 4th Avenue alternative — 25 feet deep as opposed to 80 — which would allow for faster access to the station and potentially be easier to build.
They have also elevated one of the City of Seattle's and Sound Transit's ideas: an underground market in the passage between platforms. "This seems like a unique opportunity where there is valuable real estate in ownership of Sound Transit that could be offered to the community at low to no rent," says Reilly. These business owners could take advantage of the thousands of people passing through each day.
"I would really like to see the Chinatown-International station 'activate' the space around Union Station," says Efrain Hudnell, Executive Director of Seattle Subway.
During the open comment period on the options raised by Sound Transit in the DEIS, Sound Transit received 5,125 public comments on the CID segment, which is more than they have received for any other project, says Public Information Officer Rachelle Cunningham.
Citing the community's responses, Sound Transit has as of yet declined to state a preferred construction alternative, promising to further study the project. Cunningham says that Sound Transit is also on the path to developing other station alternatives beyond those included in the DEIS, "to be identified based on feedback from the community." She says that community conversations to collect that feedback will be scheduled in the coming weeks.
Light rail expansion in the CID brings with it both exciting opportunities and a short-term impact that cannot be ignored. Chow, Lau, and Seattle Subway all express the need for the project to continue on 4th Avenue, and Seattle Subway says that a deep station is also a no-go.
The complex decision of where and how light rail will be constructed in the CID is one that will impact culture and commerce for years to come. Seattle Subway emphasizes that the station must serve riders, given its high cost of two decades of construction and tens of billions of dollars.
Betty Lau sees her role as more protective: "I probably won't be around when this is all finished. We're doing this for future generations."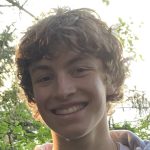 Zane Reed (Guest Contributor)
Zane is a high school junior who became passionate about urbanism after living in Helsinki, Finland for four years and using public transit even at a young age. He is a member of his school's Cross Country and Track teams, and is a black belt in karate.