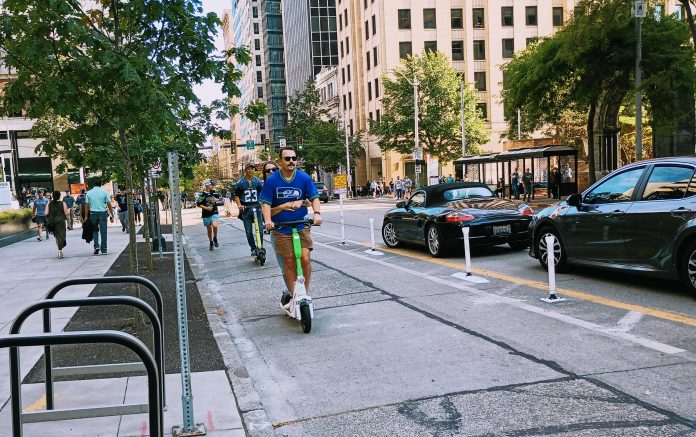 To pay for additional transportation projects, the Seattle City Council is contemplating a $10 increase to the city's vehicle license fee, doubling school zone traffic cameras, and a $0.25 per-ride fee levied on scootershare and bikeshare operators.
With the City Council halfway through deliberations over the 2023-2024 budget, a big milestone was reached last week as the council's budget committee held three marathon sessions running through an entire slate of tweaks and additions councilmembers want to make to Mayor Bruce Harrell's proposed budget. On Thursday, the council focused on changes to the Seattle Department of Transportation (SDOT) budget, and like in years past, this list is primarily added projects and programs, many council district specific, that the members want specifically inserted. Budget season is one of the only times that the council can make specific project requests, but given limited dollars to go around, not all of those requests can make it into the final council-adjusted budget, called the "balancing package."
This year, there are a number of proposals for new revenue sources that have been included in the list of SDOT-specific amendments. Given the pessimistic budget outlook in future years, creating a new source of revenue gives councilmembers a viable funding source for their pet projects, but the appetite to raise taxes or fees may not be as large as some individual members want it to be.
These amendments will ultimately just be minor tweaks to the Mayor's Budget, which already adds some funds for traffic safety, proposes yet another study for the Center City Connector streetcar, and largely keeps projects rolling that were in motion when he took office. But adding new sources of funding to SDOT's arsenal has the potential to impact the budget on a much longer timeline than a normal two year budget.
Adding $10 to Seattle's Vehicle License Fee
The most substantial plan for new revenue comes from transportation committee chair Alex Pedersen, who is proposing that Seattle increase its annual vehicle registration fee from $40 to $50, the maximum allowed under state law without going back to the voters. Prior to 2020, most of Seattle's vehicle license fee (VLF) had been funding King County Metro bus service, but with King County only proposing to grow service from 87% of pre-pandemic levels to 91% over the next two years, Seattle has instead been using that revenue to pay for local transportation projects. Pedersen's proposal would go all-in on that, earmarking half of the revenue generated from the extra $10 (approximately $4 million per year) toward traffic safety projects and the other half toward annual bridge maintenance.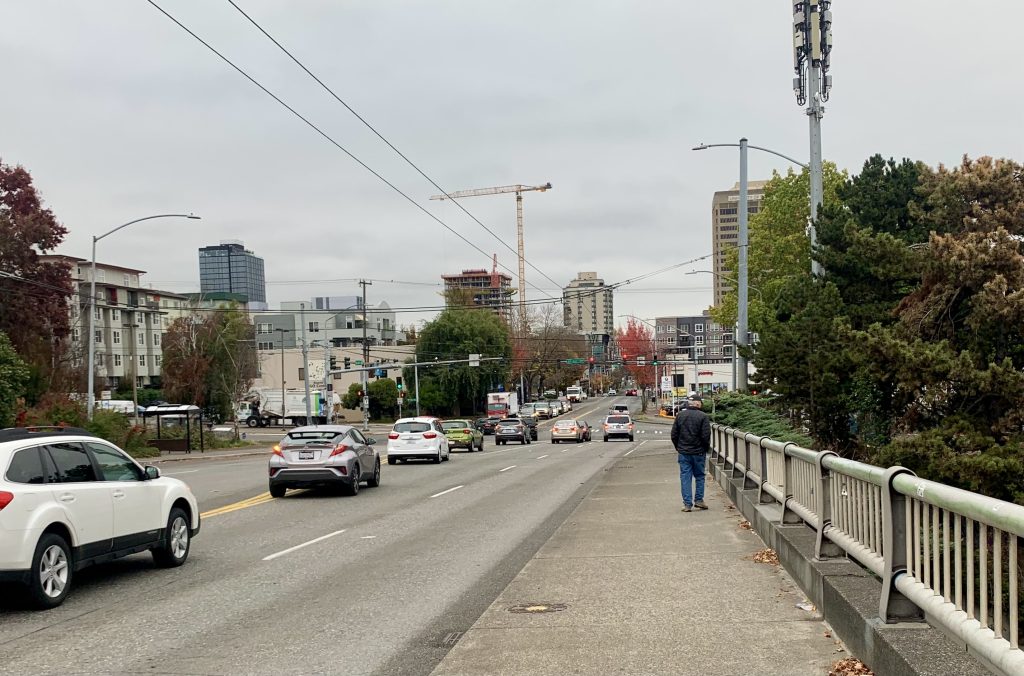 Pedersen's amendment gives a project in his district the first bite at the apple, setting aside $1.5 million next year for the pedestrian and bike improvements to the I-5 overpass at NE 45th Street. Bike advocates have long argued a protected bike lane at the I-5 overpass is necessary to safely connect Wallingford and the U District, but SDOT watered down plans (which a previous budget proviso forced them to make) to only include railings and fencing for the sidewalk rather than a protected bike lane. The remainder of the 2023 balance, an expected $461,000, would go toward bridge maintenance, with the equal split starting in 2024. Of course, the council as a whole could adopt the new car tab but direct the spending to wherever it likes, but an even split placates spending priorities on two sides of the council.
Adopting a vehicle license fee increase along with the city budget would be a bit of a break from previous norms. In budget season of 2020, Councilmembers Pedersen, Herbold and Lewis proposed a last-minute increase in the VLF from $20 to the current $40 to fund bridge maintenance, but the council punted on that and conducted a stakeholder engagement process, approving the VLF increase the following year along with a modified spending plan. Pedersen already has Councilmembers Lewis and Strauss on board with the idea. Councilmember Kshama Sawant was the only councilmember to come out opposing the increase in the VLF, calling the increase regressive.
Doubling School Zone Speed Cameras
Another amendment by Alex Pedersen would direct funding toward Seattle's school zone camera program, with the intent of doubling the number of schools with active school zone safety cameras from 35 to 70. The cost to double the program is estimated at an additional $1.7 million per year to the city, with potential revenue from the cameras set to more than make up for that cost given such a dramatic expansion of the program. Revenues from school zone cameras are required to be utilized for investments improving safety near schools.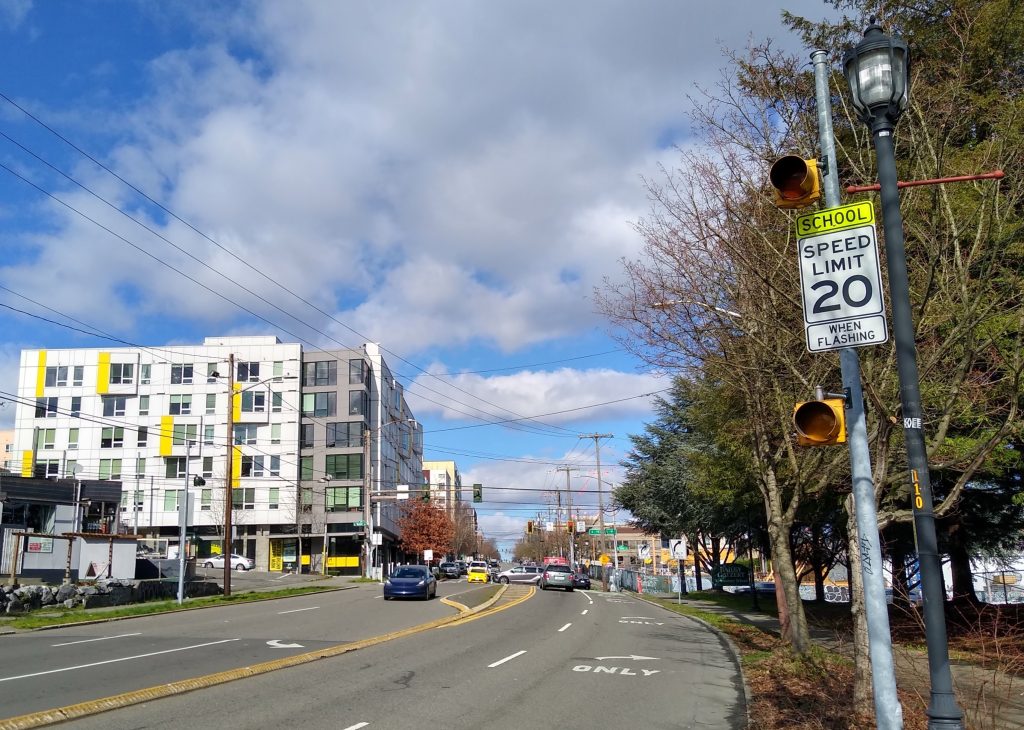 Seattle's school zone camera program, which started in 2012, has lagged on showing a direct nexus between the revenue generated by cameras and improvements directly at those schools, with some of the highest ticket-generating cameras placed on arterial streets where the city has held back on making substantial improvements. In addition, the equity impact of ticketing residents of the city's most underserved neighborhoods, where traffic crashes are frequent and infrastructure is lacking, has caused increased scrutiny on the program. During the discussion of this amendment, several councilmembers spoke to the need to look at the expansion of cameras through that lens. Currently, SDOT is conducting a racial equity toolkit (RET) analysis on both the red-light camera and the school speed camera program.
If the city were to move in this direction, it could spur a backlash against automatic cameras that could be used more sparingly to make an impact on traffic safety. This year, the Washington legislature authorized cities to place automatic speed cameras at locations that are experiencing higher-than-average traffic crash rates, as well as in locations adjacent to parks and hospitals. So far, Seattle hasn't made any signals that it might be moving toward using that authority. Pedersen's amendment would essentially ensure that the city's resources were tied up in expanding the school zone camera program.
Free-floating Bike and Scooter Share Per-Trip Tax
Councilmember Andrew Lewis has another proposal to raise revenue by taxing bike and scooter share. Companies operating free-floating bike and scooter share in the city already pay fees to operate and a fee for each device they have operating, but Lewis's proposal would also add a 25-cent tax for every bike or scooter share trip that originates in the city.
In proposing the fee, Lewis pointed to Portland, which has levied a per-trip fee on scooters since 2018 when they started permitting them. He cited figures from Lime's website, which operates those scooters, suggesting that 2 million trips in Portland since 2018 weren't hindered by the fee. The big piece missing there is the fact that Portland also has a completely separate bike share program, Biketown, owned by the Portland Bureau of Transportation. Lime scooters are the add-on in Portland, where in Seattle free-floating scooters and bikes are the only option. After the City of Seattle exited the bike share game in 2017 with the demise of Pronto, it didn't have any direct control over the prices that operators were charging consumers, but the question here is whether the city should add fees to something it ostensibly wants to encourage, more travel by bike or scooter.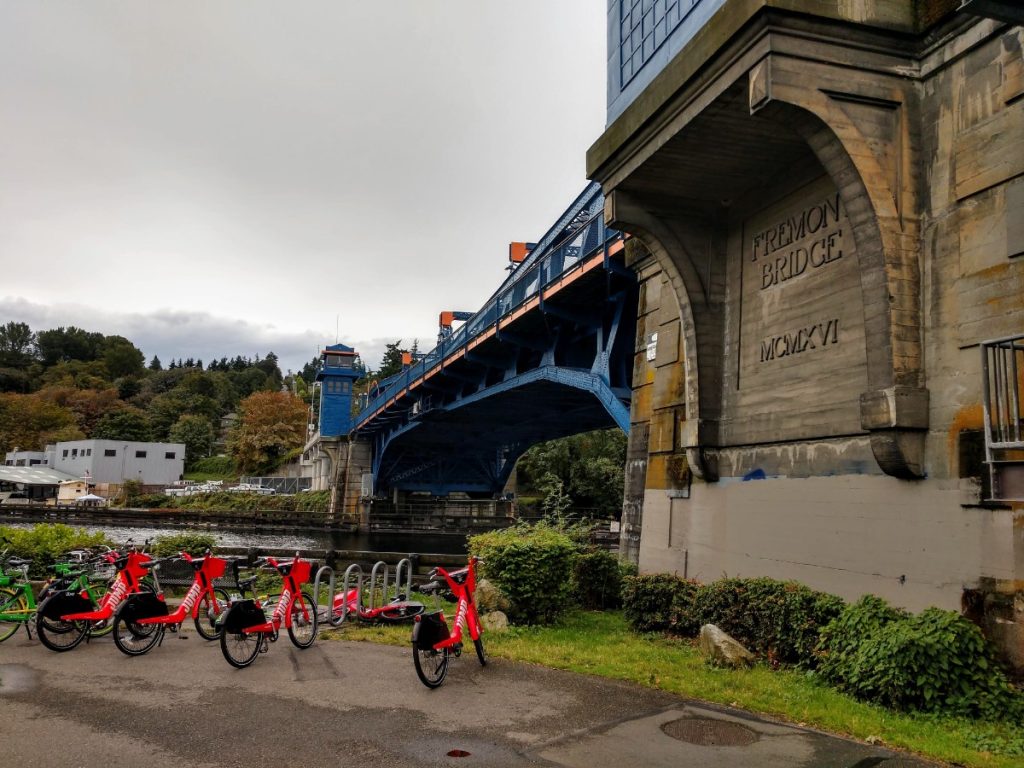 Lewis noted that the average cost for a scooter trip in the city is now around $6, more than twice the cost of a Metro bus trip. He said that his trip on a Lime e-bike from his Uptown apartment to city hall last week cost him $9.25, a fact that was apparently supposed to make an extra quarter sound minuscule, but which also sounds like the opposite of pricing that is aligned with city goals around mode shift.
City council central staff thinks, based on 2022 usage info, that the tax would generate $716,000 per year, revenue that would only come in after the city spends an estimated $540,000 to implement the fee. After that, the funds are specifically restricted to protected bike lanes, traffic calming, and other vision zero projects.
"I think we can all fully expect that number is only going to grow, as these micro-mobility platforms become more popular and more widespread," Lewis said of the revenue forecast.
Whether free-floating bike and scooter share programs are even here to stay is far from a sure thing, with the city now on its third or fourth iteration of rental companies who have deployed vehicles on the city's streets. No one's expecting the City of Seattle to dive back into the municipal bike share game any time soon, but that doesn't mean that piling on more fees to e-bike rides that are already incredibly expensive is the right move.
Amendments Funding Specific Projects
Here's a full list of the projects councilmembers want added into the budget, along with their prime sponsor. Everything on this list already has at least two other councilmembers signed on, but the amount to fund the full list vastly exceeds the amount available. It will fall to budget chair Teresa Mosqueda to fit all the pieces together in a way that everyone can live with.
Restoring the free waterfront shuttle bus that operated to ferry downtown visitors utilizing cheap downtown parking throughout various downtown neighborhoods and tourist destinations, at a cost of $500,000. (Andrew Lewis)
$500,000 to fund the next phase of street café improvements to Ballard Avenue NW. (Dan Strauss, of course)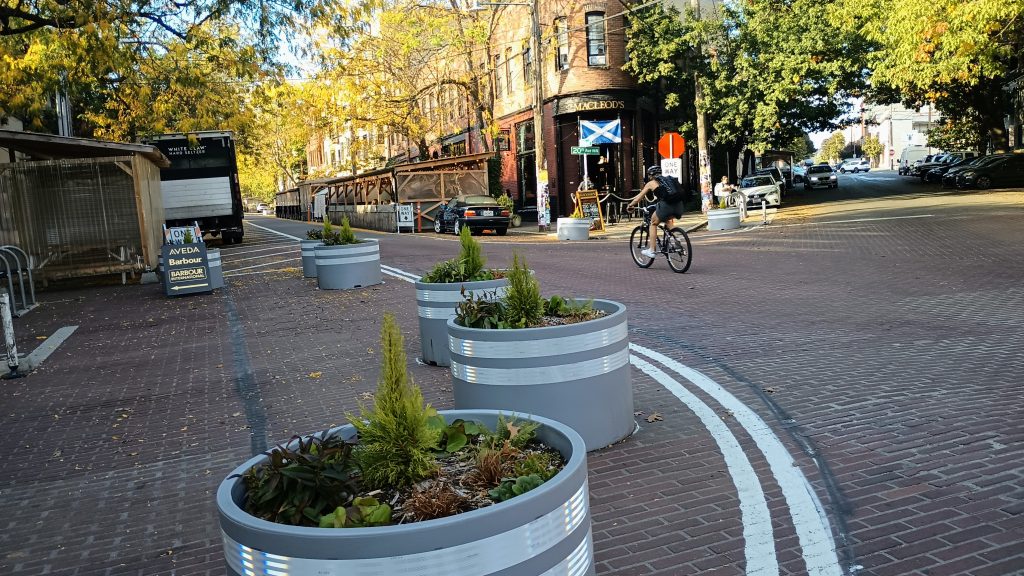 $300,000 to fund pedestrian safety around Ballard's "brewery district", including NW 53rd Street, 9th Ave NW, 14th Ave NW, and the areas around Leary Way NW. (Dan Strauss)
$500,000 over two years to fund new street trees in city right-of-way in areas around the city. (Dan Strauss)
$15 million over the next two years to fully fund the Fauntleroy Boulevard project, which had been put on hold by Mayor Jenny Durkan in 2018 while alternatives analysis moved forward around Sound Transit 3. Fauntleroy Way had been a top contender for an at-grade light rail alignment to West Seattle, and the city didn't want to spend millions rebuilding a street to have to tear it up again in a decade. Now those funds have been sent to other projects, a fact which only recently has come to light. (Lisa Herbold)

$2.25 million to expand SDOT's home zone program, which has the goal of implementing traffic calming on the scale of a small neighborhood area, not just on one street. These treatments can have an even higher impact in areas where there are no sidewalks, and pedestrians are forced to walk in the street with traffic. (Tammy Morales)
$1.35 million to add directly to the city's Vision Zero program, trying to reduce fatal and serious injuries on our streets, which most frequently occur on multi-lane arterial streets. (Tammy Morales)
$19.4 million over two years to increase maintenance activities on Seattle's bridges. (Alex Pedersen)
$3.6 million to complete all of the remaining Neighborhood Street Fund projects. Currently only around half will receive funding. (Alex Pedersen)
$1.5 million to get changes to the NE 45th Street I-5 overpass in the U District over the finish line. Over the past few years, those changes were downgraded to just fencing and railings. (Alex Pedersen)
$300,000 to upgrade paint-and-post protected bike lane barriers in District 2 with more substantial concrete barriers. (Tammy Morales)
$2.5 million to save the Thomas Street Redefined project connecting South Lake Union and Seattle Center, which was defunded by Mayor Harrell's proposed budget. (Andrew Lewis)
This week, the city council will receive a new revenue forecast for next year, which will truly decide how much funding is available, which in turn will determine how many councilmembers' priorities get funded. On Monday November 7, budget chair Mosqueda will release her balancing package, and we'll see which priorities made it in and which were left by the wayside.
Correction: An earlier version of this article stated the scootershare and bikeshare tax was per vehicle, but it's a $0.25 per-ride fee. We regret the error.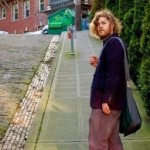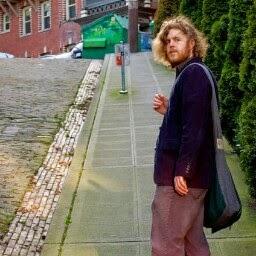 Ryan Packer lives in the Summit Slope neighborhood of Capitol Hill and has been writing for the The Urbanist since 2015. They report on multimodal transportation issues, #VisionZero, preservation, and local politics. They believe in using Seattle's history to help attain the vibrant, diverse city that we all wish to inhabit. Ryan's writing has appeared in Capitol Hill Seattle Blog, Bike Portland, and Seattle Bike Blog, where they also did a four-month stint as temporary editor.