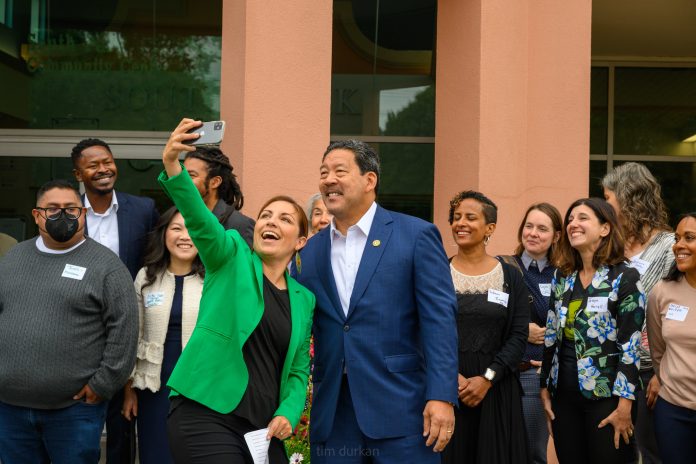 Hamstrung by rising building costs, Seattle's seven-year levy would fund 3,000 affordable homes.
The Seattle Housing Levy is due for renewal this year, and Mayor Bruce Harrell unveiled a $970 million proposal on Thursday that would more than triple the size of the levy. Due to rising construction, financing, and land costs, that nearly billion-dollar investment would produce a similar amount of new housing as the previous $290 million levy at 3,000 new affordable homes.
"Rooted in our One Seattle values that everyone should have a safe place to call home, this plan invests to meet the scale of the housing crisis, doing more than ever to prevent homelessness," Harrell said in his prepared remarks.
Harrell made the announcement at the Housing Development Consortium's annual gala at the older of Seattle's two giant convention centers, where several hundred housing professionals were gathered and met the $970 million figure with hearty applause. (The newer publicly-funded convention center just opened and cost $2 billion to build.)
Beyond supporting the creation of new affordable rental housing, the Mayor's proposal would also fund maintenance and operations, creating a new "wage stabilization fund for workers" at permanent supportive housing buildings, which specialize in housing homeless people.
"The Mayor's Housing Levy proposal will ensure that the thousands of homes the Housing Levy has produced so far and the thousands that are to be built with new funds will continue to be well maintained, and that the neighbors we've helped out of homelessness will continue to have high quality support staff available to them," said Daniel Malone, executive director of DESC (the city's leading provider of supportive housing) in a statement.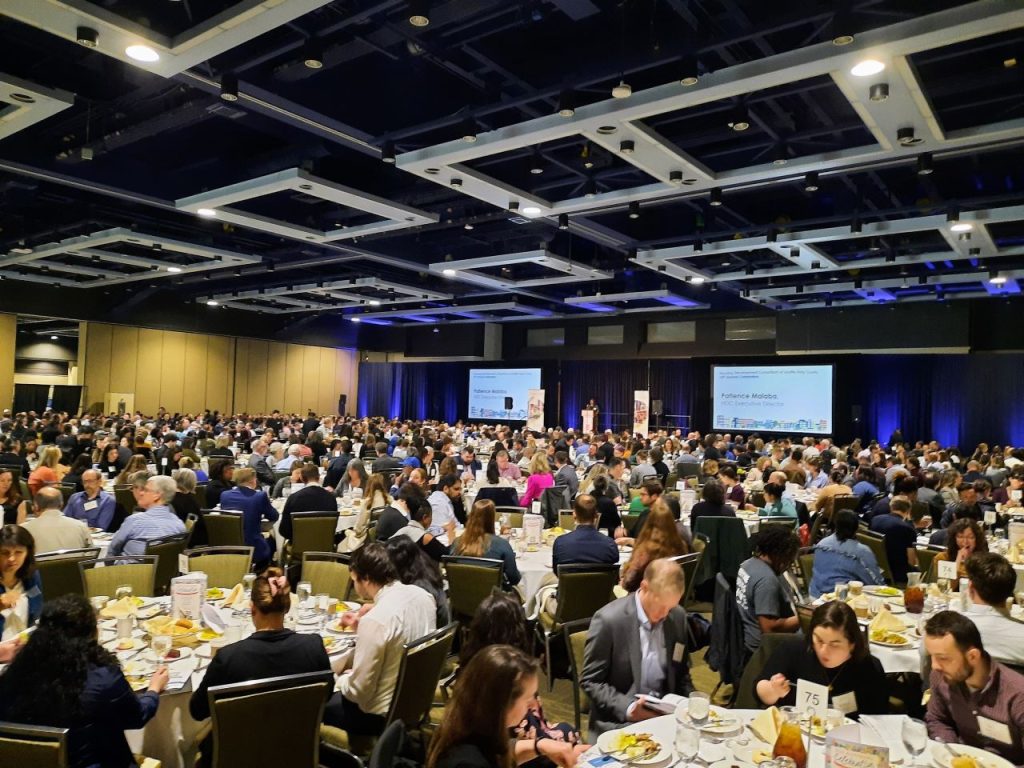 The proposal also would fund an affordable homeownership program and a short-term rent assistance program aimed at averting evictions. If approved by the Seattle City Council, the levy would go to the voters in November. Councilmember Teresa Mosqueda has thrown her support behind the proposal.
"This levy will make our whole city stronger," Councilmember Teresa Mosqueda said in a statement. "As Chair of the Council's Select Committee on the Housing Levy, I'm committed to working in partnership with the Council, the Mayor's Office, and the broad coalition of labor, business, housing, and community organizations behind this Levy to put forth a robust package that builds on the success of our previous affordable housing investments and reflects the critical housing needs of our city in this moment."
In a press conference following the mayor's speech, Maiko Winkler-Chin, Director of the Seattle Office of Housing, said that inflation, rising interest rates, and increasing costs for materials and labor means that levy dollars do not stretch as far as they used to. She and the panel of nonprofit housing executives noted recent reforms to exempt permanent supportive housing from onerous design review and parking requirements have helped builders shave costs, but most other cost drivers are still pointed up.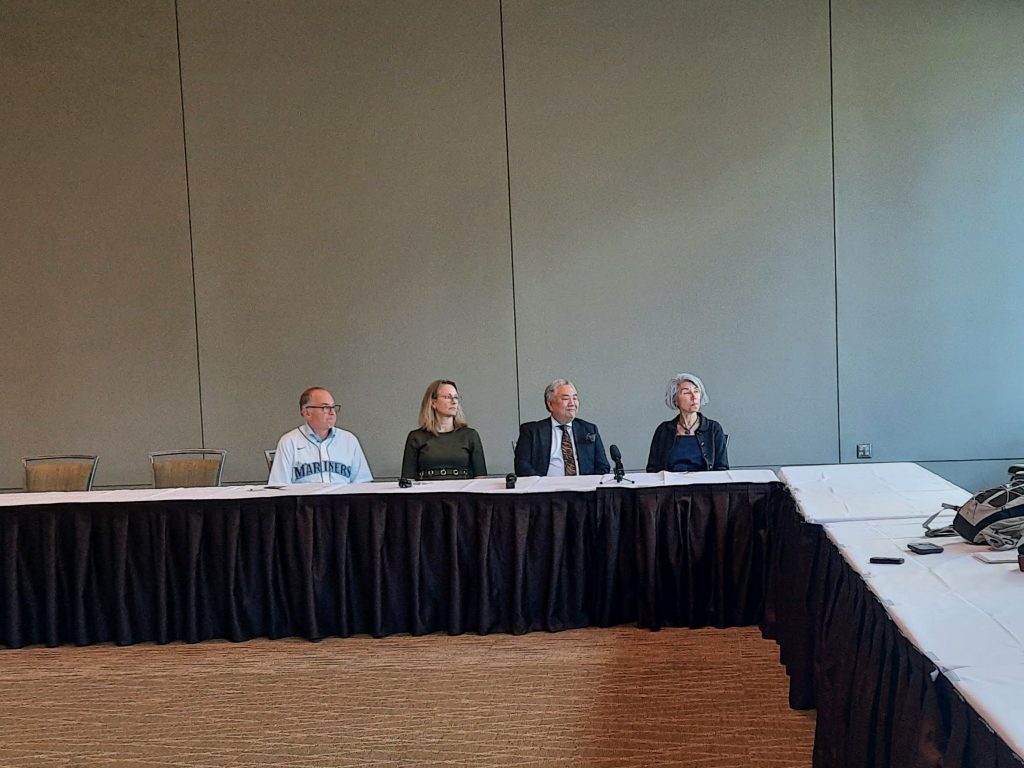 The Urbanist asked the panel if expanding the amount of land where affordable rental housing could be built and easing code requirements could help drive down building costs. Winkler-Chin said the Mayor's housing subcabinet was working on streamlining code requirements and the One Seattle Comprehensive Plan was contemplating rezones that could open up more opportunities for affordable housing. So far, One Seattle proposals are largely of the incremental variety, with opening up all residential land to apartment construction off the table.
Susan Boyd, CEO of Bellwether Housing and co-chair of Housing Development Consortium's Housing Levy Task Force, voiced support for more housing density and noted more public agencies donating their surplus land is helping drive down land costs.
"It's less a question of how much land there is, and more a question of how much housing you can build on it," Boyd said.
Doug Ito, managing principal with SMR Architects and fellow task force co-chair, said utility hookup fees and state sales tax also inflate costs for nonprofit builders. The Urbanist recently reported on a proposed million-dollar sewer hookup fee that nearly sunk an affordable housing development in Beacon Hill.
Seattle's first housing levy passed in 1986 and has been renewed ever since to fund the creation or preservation of more than 12,000 affordable homes currently housing an estimated 16,000 people. The 2016 housing levy funded nearly 3,000 affordable homes — thanks to overperforming its goal of adding 2,340 homes. The new levy is about 3.5 times larger, but slated to produce a similar amount of new housing — unless of course it also able to overperform its goal as well.
Given the numbers, the plan appears to assume about $235,000 in support per unit on average. Nonprofit builders typically take their Seattle Office of Housing awards and braid that with other funding sources, such as federal Low Income Housing Tax Credits, state grants, and philanthropic support. Boyd said Bellwether Housing and other nonprofit builders were seeking to provide more 2- and 3-bedroom apartments in order to serve low-income families. Market-rate production is dominated by 1-bedrooms and studio apartments, geared toward single individuals and couples with no kids, leaving few housing options for lower-income families.
Here's how the Mayor's Housing Levy proposal breaks down:
Rental Housing Production & Preservation: $707 million – "Creates and preserves affordable rental housing, including Permanent Supportive Housing (PSH), for seniors, people exiting homelessness, working families with children, people with disabilities, and other low-income households."
Operating, Maintenance, and Services (OMS): $122 million – "Ensures safe, sustainable operations at in Permanent Supportive Housing (PSH) and creates a new wage stabilization fund for workers in PSH buildings."
Homeownership: $51 million – "Creates new permanently affordable for-sale homes, provides down-payment assistance for low-income homebuyers, and stabilizes low-income homeowners through emergency home repair grants and foreclosure prevention assistance."
Prevention & Housing Stabilization: $30 million – "Provides short-term rent assistance and housing stability services to help low-income households avoid eviction or homelessness."
Program Administration: $60 million – "Ensures continuous and effective administration of all Housing Levy-funded programs by covering costs associated with project selection and contracting, development underwriting, construction monitoring, project performance and compliance, fiscal management, program policies and reporting."
To generate that revenue entails a property tax rate of $0.45 per $1,000 assessed value. The Mayor's office said the cost to median Seattle homeowners works out to $383 per year or $31.92 per month (based on assessed value of $855,136).
The proposal was "informed by 11 months of community and stakeholder engagement conducted by the Office of Housing," the Mayor's office said. The City's 20-member Technical Advisory Committee had considered proposals both larger and smaller, but ultimately put forth one just under the billion-dollar mark.
The Seattle Housing Levy has been a vital source of affordable housing, and increasing its size to try to meet the scale of the affordable housing and homelessness crisis makes sense. However, clearly the need is greater than 3,000 homes over the next decade, and policymakers need to develop more solutions to close the affordable housing gap.
Correction: The previous housing levy was approved in 2016, not 2015 as stated in an earlier draft. The article has been updated to note the original 2016 levy goal of 2,340 homes, which was subsequently exceeded.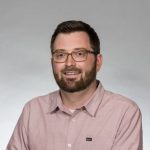 Doug Trumm is the executive director of The Urbanist. An Urbanist writer since 2015, he dreams of pedestrianizing streets, blanketing the city in bus lanes, and unleashing a mass timber building spree to end the affordable housing shortage and avert our coming climate catastrophe. He graduated from the Evans School of Public Policy and Governance at the University of Washington. He lives in East Fremont and loves to explore the city on his bike.