On Friday, we began our exploration of the seven Seattle City Council races in 2023 with the three races with incumbents running. Now we dig into two of the open races starting in District 1, which stretches from West Seattle to South Park to Pioneer Square. We'll follow that up with District 3, which includes Capitol Hill, the Central Area, Montlake, Madison, and Eastlake following redistricting. Districts 4 and 5 will be the final installment of this series later this week.
Jump to your district: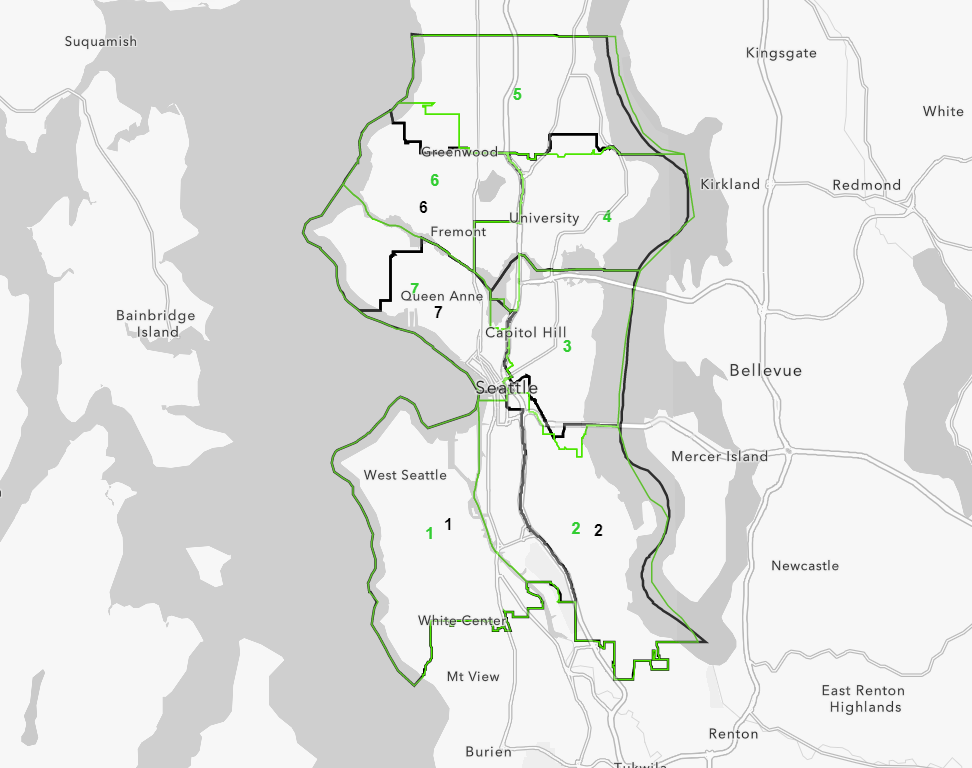 More candidates could jump into the races ahead of the May 19th filing deadline, but already a combined 17 candidates are declared in the D1 and D3 races. It's already a crowded field, and what we are sharing here is a snapshot of what we know about the candidates thus far.
In last week's piece, I touched on general dynamics in Seattle municipal races (and laid out how the democracy vouchers program works). In a town represented by virtually all Democrats (save for socialist Councilmember Kshama Sawant and Republican City Attorney Ann Davison), the two candidates to make it through the primary typically are a progressive and a centrist. The Stranger endorsement usually signals the progressive who will make it through and The Seattle Times endorsement generally signals the centrist to make it through. Incumbents Tammy Morales, Dan Strauss, and Andrew Lewis all had The Stranger's endorsement in 2019 and won in that progressive wave year.
The centrist empire struck back in 2021 with the decisive election of Mayor Bruce Harrell and a closer race to elect Councilmember Sara Nelson, who vies with outgoing Councilmember Alex Pedersen as the body's most conservative voice. Will it be another progressive wave in 2023, a centrist riptide, or a mix? The caliber of candidates on each side could determine the outcome.
District 1: West Seattle
Incumbent Councilmember Lisa Herbold is retiring after two terms. She said she stepped aside hoping to pass the reins to a progressive successor. She has yet to endorse to indicate who that would be. Seven candidates are declared at last check on the state Public Disclosure Commission.
Preston Anderson, Marin Costa, Rob Saka, and Phil Tavel appear to be the leading contenders to make it through the primary. Saka and Preston have qualified for democracy vouchers. Costa said she is about qualify and is just waiting on approval from the City after turning in signatures weeks ago.
Costa seems to have support in the labor and environmental community due to her climate organizing while she was at Amazon. That work ultimately caused her to be fired from Amazon in a classic retaliatory move by the retailing giant. The Urbanist will publish an interview with Costa within the next week. As one would guess, climate action is a major theme of her campaign, as is a holistic approach to public safety and homelessness, and solving the housing crisis. Her housing solution is less vague than other candidates in the race: "Ensure access to affordable homes by allowing infill housing, mixed-use developments, and 'four floors and corner stores' in neighborhoods."
Anderson is a clinical social worker and an army veteran who served as a medic in Iraq. His website notes he works "with Seattle's most vulnerable population at the Downtown Emergency Service Center as a case manager. At DESC, Preston helped organize workers or higher wages and protections by becoming members of SEIU 1199." That organizing background could signal support in the labor community, but Costa may challenge him for that support given her organizing at Amazon. Anderson has centered his campaign on increasing affordable housing, crime prevention strategies, and "increasing efficiencies in housing unsheltered neighbors" — potentially insights he learned firsthand as a service provider.
Saka is a tech attorney who has worked for Microsoft and Meta and seems poised to win business support and likely snag Mayor Harrell's endorsement — Saka was a name that emerged as a potential candidate after leaked comments revealed Harrell told police officers he was recruiting candidates to back his agenda focused on ramping up homeless sweeps. Harrell appointed Saka to the police chief search committee that ended up hiring interim chief Adrian Diaz. Saka's priorities page is largely platitudes, but some sound okay like "reform our zoning laws to add density where growth makes sense" and "remove red tape to accelerate and improve the permitting process." One would be tempted to see a pro-growth candidate here, although "where it makes sense" could be doing a lot of work here. It will be interesting to see those positions fleshed out in questionnaires and interviews down the line.
Phil Tavel, who ran and lost to Herbold in both 2019 and 2015, is also running again. Tavel is an administrative law judge and his campaign website is pretty generic and vague this time around after a more clearly center-right campaign in 2019 saw him lose to Herbold by 12 points. While he isn't as explicit about evoking a vision of a cop on every corner to lock up all the criminals, public safety and fiscal responsibility are two of his three main campaign themes on his site, again signaling his conservatism. He wasn't a fan of zoning changes in 2019. Relatedly, The Urbanist Elections Committee wasn't a big fan of him: "Phil Tavel is a chamber darling who ironically has a dozen failed business ventures to his name and thousands of dollars in unpaid traffic tickets," the committee wrote in 2019. "Accountability and fiscal responsibility starts at home, dude."
Stephen Brown, founder of Eltana Bagels, has raised more than $20,000 and seems to be running in the middle, backing the Mayor's homeless sweep policy and hinting at a desire for stricter fare enforcement and stricter law enforcement broadly. He could also be a factor in the business lane. His housing page acknowledges there's a housing stock problem but follows that up with word salad rather than a take on zoning, housing funding, or much of anything: "If we don't build affordable housing, our city will become even more stratified. Entrepreneurs are naturally inclined, and practiced, at managing and mitigating risk, and are often called upon to act with imperfect information. I look forward to helping shepherd these vital, time-sensitive projects. It's not a question of whether to drive to short and midterm solutions on housing, it's how we increase our chances for the best outcomes."
Jean Iannneli Craciun announced on April 20 and her website espouses some urbanist positions like considering zoning for more density, addressing housing permitting bottlenecks, and promoting bicycling. Craciun was raised in Cleveland, lived in Alaska, but moved to Seattle with her wife seeking a LGBTQ-friendly community in 2006. She founded a consulting firm called Diversity Center of Seattle in 2018.
Another recent entrant is AnnaLisa LaFayette who opens her throwback 8-bit-flavored website with "I am offering myself to be of service as your well-rounded and deeply grounded choice for Seattle City Council, Position 1, District 1." Later she adds "You may know of me already (I am fabled in some parts)." Her theme is "help raise Seattle."
Best guess is that Saka or Tavel will woo The Seattle Times and Anderson or Costa will win over The Stranger. But there's a lot of campaigning and politicking still to happen. If the Times editorial board follows its homeowner backlash heart to back Tavel like they did in 2019, a business-aligned PAC may still swoop in to buoy Saka with a primary ad buy.
District 3: Capitol Hill
Councilmember Kshama Sawant is not running for reelection and D3 has turned into a candidate logjam with 10 candidates declared thus far. In the urbanist lane alone we see Alex Hudson, Efrain Hudnell, Andrew Ashiofu, and Ry Armstrong all making bids.
The Urbanist has published interviews with Hudson, Hudnell, and Ashiofu, and is in the process of writing up an Armstrong interview.
Central District homeowner and entrepreneur Joy Hollingsworth was the first to qualify for democracy vouchers and has led the district in fundraising. She would appear to have the inside track in the Harrell-aligned lane. She has deep ties in the district Black community and forging ties to the business community. She is also one of four queer candidates in the race. Her platform, which is mostly broad strokes so far, does stress housing affordability and stability, but her take on zoning — "Duplexes, Triplexes, ADUs options for neighborhoods" — is actually less than soon will be mandated across most of her district following the passage of House Bill 1110, which requires fourplex zoning citywide in Seattle and sixplexes near major transit stops.
Hudson, as executive director of Transportation Choices Coalition (TCC), is coming from a proven springboard to office, after former TCC execs including Rob Johnson, Shefali Ranganathan, and Jessyn Farrell all went on to political careers. She is second in fundraising behind Hollingworth and has qualified for democracy vouchers. The main question for Hudson is if she's running as an unabashed progressive or a "pragmatic progressive" after hiring centrist Sandeep Kaushik as her campaign consultant and initially waffling in her support for the social housing initiative (I-135). She ultimately landed in favor of I-135 and it ended up passing easily in February. She has released a five-page housing platform that includes rock-solid policies like permitting reform, inclusionary upzones, direct rental assistance, and eviction protections and a sharp six-page transportation platform. Hudson served on The Urbanist's board and election committee before joining TCC.
Hudnell boasts transportation experience as former executive director of Seattle Subway and criminal justice reform experience as an attorney working in the County Prosecutor's office. However, The Stranger reported on law school dalliances with the right-wing judicial pipeline Federalist Society which included a trip to meet conservative Supreme Court Justice Clarence Thomas, which, though he's disavowed, could hurt his credibility with progressives if he's not able to distance himself and sell his later embrace of progressivism. His campaign website isn't shy about backing boldly dreamy progressive ideas like switching to therapeutic courts for misdemeanors, upzones, parking maximums, rapid transit, and lidding I-5.
Ashiofu is trailing Hudson and Hudnell in fundraising and but has recently qualified for democracy vouchers, and his campaign manager said $30,000 in voucher support is on the way. Ashiofu may be able to stake a position as the bonafide progressive in the race. Ashiofu is an immigrant rights and LGBTQ rights organizer. He ran for the state legislature in LD37 last year and grabbed 10% of the vote, earning the endorsement of the Transit Riders Union in that race. An ethical multifamily zoning proponent, his campaign page underscores he's a big supporter social housing and heavily involved with the I-135 campaign. Ashiofu backs a holistic approach to public safety, with his platform stating "it's beyond time to stop equating public safety solely with punitive and reactive measures, especially when community trust must be built before community safety can be realized."
Ry Armstrong is also staking a bid on LGBTQ, arts community, and Democratic Socialist ties and the prospect to be the first non-binary councilmember elected in Seattle. They became the latest campaign to qualify for democracy vouchers on Monday. Armstrong's campaign page is mostly bromides and biography at this point, but our interview to be released next week will touch on some specifics on policies and values. A Seattle-raised Broadway actor, Armstrong moved back to Seattle during the pandemic and said they fell back in love with the city and decided to stay. Following in New York's footsteps, they propose to establish the right to shelter in Seattle, which would force an expansion of shelter and assistance to homeless people. In 2017, then Seattle Mayor candidate Jenny Durkan ridiculed her opponent Cary Moon for suggesting a right to shelter, deeming it too expensive and hard to implement. Durkan won the election handily, but failed to solve homelessness with her more incrementalist and less focused policies.
Cannabis entrepreneur Alex Cooley (who wants to legalize drugs and housing), computer engineer and condo boardmember Shobhit Agarwal, public defender Bobby Goodwin, medical sonographer Theo Mostert, and perennial candidate Asukaa Jaxx are also running in D3, but as they were yet to raise $2,000, qualify for democracy vouchers, or secure any big endorsements (at time of writing) they don't appear well positioned to make it through this crowded primary, barring a last-minute charge.
Best guess, Hollingworth makes it through the D3 primary (buoyed by what appears to be an easy path to the Seattle Times endorsement) alongside one of the progressive urbanists. Hudson would appear to have the leg up, but in such a crowded race, things could get pretty weird and the percentages to win could get fairly small, opening the door to dark horse bids. It could be a race where The Stranger endorsement isn't a ticket through the primary, but then again the small margins of a logjam could make it all the more important.
Correction: This article was updated with democracy voucher status of Andrew Ashiofu.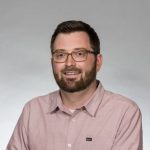 Doug Trumm is the executive director of The Urbanist. An Urbanist writer since 2015, he dreams of pedestrianizing streets, blanketing the city in bus lanes, and unleashing a mass timber building spree to end the affordable housing shortage and avert our coming climate catastrophe. He graduated from the Evans School of Public Policy and Governance at the University of Washington. He lives in East Fremont and loves to explore the city on his bike.