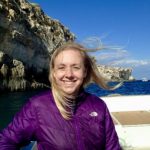 Natalie Bicknell is Senior Reporter at The Urbanist. She is a writer and community college instructor who lives in the Central District with her husband and two dogs. In her research and writing, she is always on the lookout for better ways of creating sustainable, diverse, and vibrant cities. Email her at natalie [at] theurbanist [dot] org.
At a recent light rail station planning event for future Link stations at NE 130th Street NE and NE 145th Street, people crowded into Church of the Nazarene on 5th Avenue NE, and spent hours mapping out their hopes for what the two stations could bring their...
An important milestone in the Lid I-5 technical feasibility study has been reached. Data collected by engineering firm WSP indicates that it is structurally possible construct a freeway lid over Interstate 5 (I-5) in Downtown Seattle within all four of the sub-areas studied, which extend from Madison...
There is probably not much that District 4 City Council candidates Shaun Scott and Alex Pedersen agree on, but one topic on which the opponents seem to see eye-to-eye is the future of University Way, better known as The Ave. Both candidates have come out publicly against...
"The sea levels are rising, and so are we." On Friday, September 20th, over 500 climate strikes are planned across the United States. Additionally, strikers will be taking to the streets in over 117 countries worldwide demanding climate action. It will be the single biggest day of...
I first learned about the release of the Seattle - Future City: Resilience Roadmap from an article published by Smart Cities Dive. Previous to that I had heard the term "urban resilience" thrown around quite a bit, but I did not know that Seattle had been chosen...
2019 is shaping up to be a significant year in the history of residential zoning in Seattle, and despite the dramas that accompanied the passage of "citywide" implementation of Mandatory Housing Affordability (MHA) and backyard cottage reform, hang on to your seat, because the most exciting times...
Since the start of summer, many residents of West Seattle, White Center, and Burien have been plagued by slow bus commutes, particularly when heading out of Downtown Seattle during evening commutes. In recent months, the nearly 30,000 daily riders who rely on workhorse bus routes like the...
Washington State's Joint Legislative Audit and Review Committee (JLARC) could not prove if the millions of dollars developers saved through Multifamily Family Tax Exemption (MFTE) have actually created a "net increase" in housing development across Washington State. Multifamily Tax Exemption, better known by the...