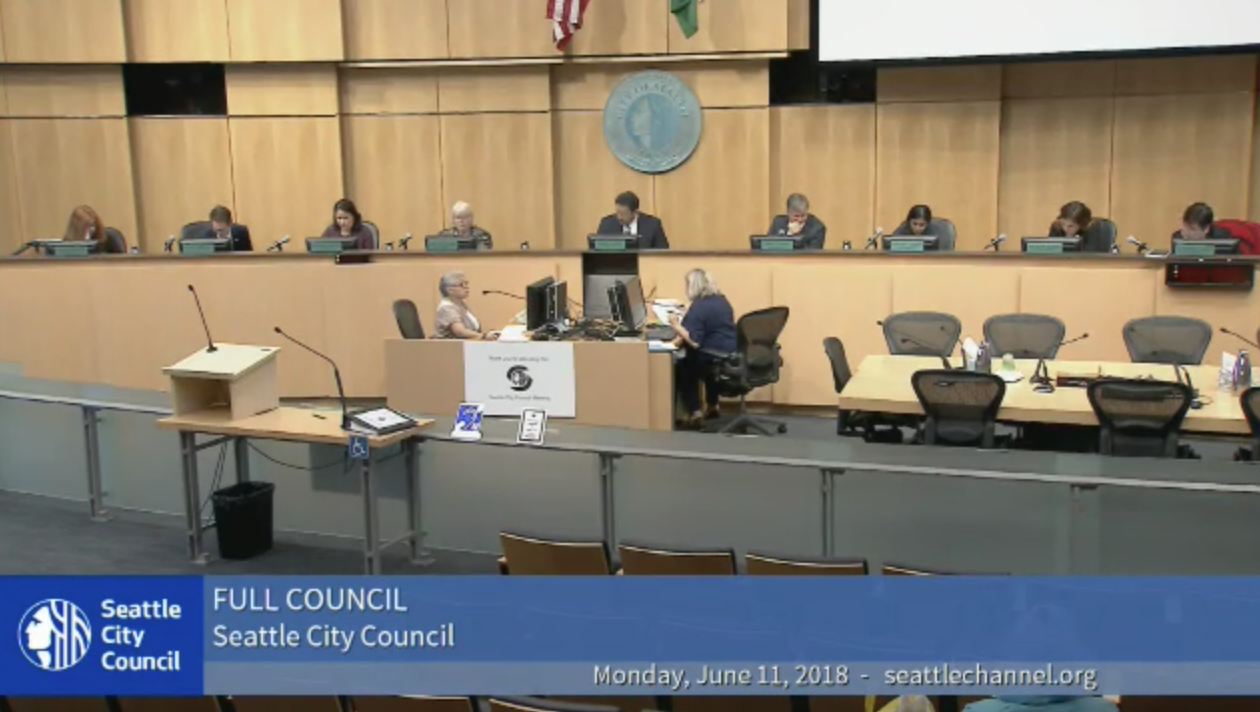 On Monday, the Seattle City Council held its weekly legislative meeting primarily focusing on transportation legislation and new appointments to city commissions and board. The meeting came on the heels of an announcement that the city council would introduce a bill to repeal the recently adopted tax on the highest grossing corporations to fund additional emergency shelter services for the homeless and secure more affordable housing. The bombshell news followed headlines over the weekend that anti-housing tax activists had secured more than 20,000 signatures–enough to get a repeal referendum on the November ballot–despite widespread support for addressing homelessness.
"This week, the City Council is moving forward with the consideration of legislation to repeal the current tax on large businesses to address the homelessness crisis," Mayor Jenny Durkan and seven city councilmembers wrote in a joint statement. "The City remains committed to building solutions that bring businesses, labor, philanthropy, neighborhoods, and communities to the table. Now more than ever, we all must roll up our sleeves and tackle this crisis together."
Only Councilmembers Teresa Mosqueda and Kshama Sawant refused to join in the statement. Both councilmembers expressed opposition to the repeal bill during yesterday's city council meeting citing the urgent need to act to address the housing crisis in the city, especially for those most in need. The city council is expected to vote on the repeal bill today in a special legislative session at noon.
Yesterday's council actions, however, were focused on vacating a portion of Broad Street and establishing new quarterly reporting requirements for the One City Center program.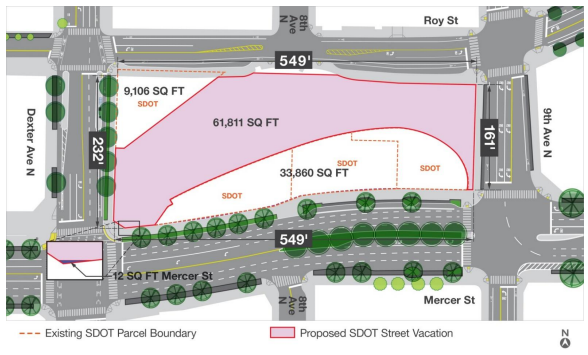 The city council approved vacation of the "Teardrop" right-of-way wedged in between Mercer St, Dexter Ave N, Roy St, and 9th Ave N. The right-of-way originally formed a portion of Broad Street until the city increasingly repaired the grid throughout Uptown and South Lake Union by removing the diagonal roadway of Board Street. Much of the right-of-way has already been incorporated into other private and public sites between 5th Ave N and 9th Ave N.
Vacation of the remaining Broad Street right-of-way follows conditional approval by the city council last year. The vacation allows the property to return to fee simple land, which can be used for private development purposes. SDOT is actively working on a Request for Proposals (RFP) to allow lowrise and midrise development.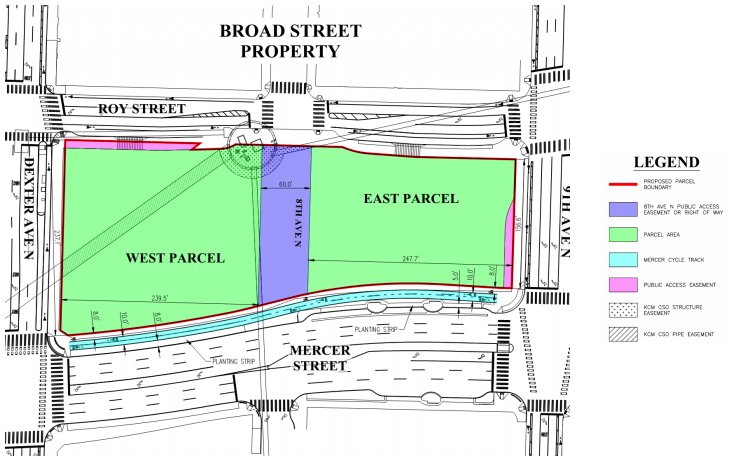 The property will come with several major conditions. Any development of the site will need to achieve green building standards at the LEED Gold level or Evergreen Sustainable Development Standard, involve remediation of soil contamination, and enact a Project Labor Agreement between the developer and contractors. If the site is used for hospitality, Labor Harmony Agreements will be required. Other requirements will be imposed through the development process, including contributions to affordable housing under the Mandatory Housing Affordability program and additional street improvements, such as:
Consistency with the street concept plan for 8th Ave N and Aloha St (approximately $650,000 to $880,000);
Protected bike lanes on Mercer St frontage (approximately $200,000; and
New 60-foot wide 8th Ave N pedestrian street (approximately $400,000 to $700,000).
By 2020, SDOT and its partners will deliver a new 7th Ave N transit hub located between Harrison St and Thomas St. Completion of a protected bike lane on 9th Ave N between Mercer St and Aloha St wrapped up last year. A formal RFP for site development is expected sometime this fall.
In an effort to improve transparency and oversight of large transportation projects, Councilmember M. Lorena González sponsored a resolution requiring the SDOT to provide quarterly updates on the One Center City program. SDOT will need to brief the city council on costs and implementation of the program through 2021. The department will also need to include an evaluation of performance measures related to program implementation to show how the transportation system is responding and specify the type of actions that will be carried out in the following quarter to maintain the system.
The list of project elements that SDOT must report on is fairly extensive, including near-term projects like:
Protected bike lanes on Pike Street and Pine Street;
Streetcar stop removal on 5th Ave S at S Jackson St;
All-door boarding and off-board payment deployment on Third Avenue;
Pedestrian enhancement projects that support transit access;
Montlake Triangle improvements;
Fourth Avenue transit improvements; and
McGraw Square and Westlake Square enhancements.
Another piece of transportation-related legislation was held until at least June 26th. That legislation would change the scope of responsibilities for the voter-approved Seattle Transportation Benefit District (STBD).
The city council's transportation committee had been briefed earlier this month and in May by SDOT on several proposed changes to the STBD, which include: wider availability of free ORCA transit passes for public students, tangible speed and reliability improvements on bus routes, and service boosts on transit corridors that wouldn't qualify for additional city-funded investments under current law. The proposal also would allow SDOT to enter into private contracts for small-scale transit service (e.g., minibuses and vans) to address last-mile gaps in the transit system and certain origin-destination pairs with high levels of single-occupancy vehicle commuters. The last policy, however, appears to be the main hang-up in the overall proposal.
Council Wraps Up Short-Term Rental Legislation, Conditionally Vacates Property in South Lake Union

Stephen is a professional urban planner in Puget Sound with a passion for sustainable, livable, and diverse cities. He is especially interested in how policies, regulations, and programs can promote positive outcomes for communities. With stints in great cities like Bellingham and Cork, Stephen currently lives in Seattle. He primarily covers land use and transportation issues and has been with The Urbanist since 2014.