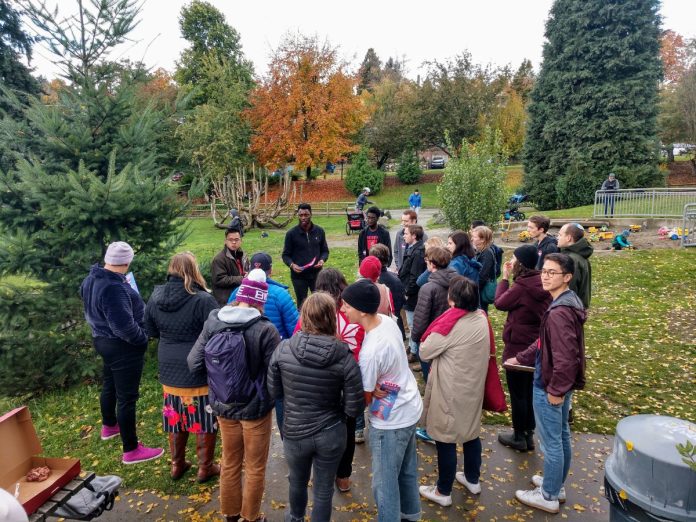 I was reading hot takes on what will happen tomorrow when polls close and early election results are announced. Very few pundits have predicted a favorable result in a race in which I've become invested: Seattle City Council District 4 (D4).
It's my home district and it also happens to represent the sharpest contrast of any Seattle council race. Alex Pedersen is a conservative blast-from-the-past law-and-order single-family zoning protectionist. Shaun Scott is an urbanist-endorsed socialist leading a rainbow coalition of struggling renters, queer folks, criminal justice reformers, and climate hawks under the umbrella of public housing, zoning reform, and a Seattle Green New Deal. Inspiring! The catch is few prognosticators think he can win. But should we be so sure? And should we treat this like any other race?
Is 2019 Seattle the same Seattle we knew four or eight years ago? The massive deluge of corporate spending led by Amazon is a headwind for progressives in this election, but one overlooked dynamic is the huge influx of renters in Seattle, especially in booming districts like D4, D6, and D7. The State's April 2015 population estimate for Seattle was 662,400. Today we've almost certainly blasted past 750,000. In other words, Seattle has gained about 100,000 residents in four years and change.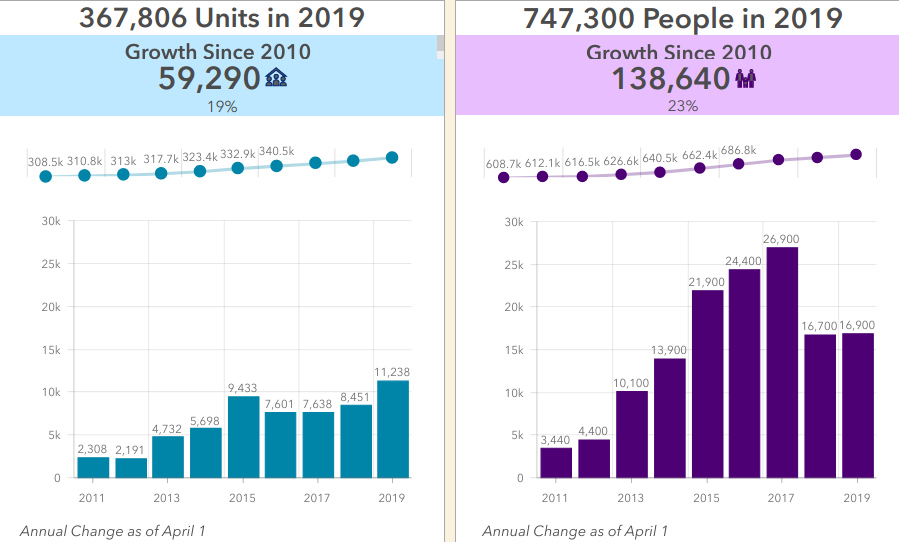 I've written about how 2,000 apartments have been added in the Stone Way corridor in the last decade, and how the University District is also booming. I predict renters will turn out, stand up for the progressive vision for Seattle, and swing this election for candidates like Shaun Scott, Kshama Sawant, Dan Strauss, and Andrew Lewis who have a pro-renter, pro-housing-diversity vision for the city. If Scott is down seven points or less on Election night, he will pull out the victory with a progressive finishing kick-in late returns. That's my punditry right there.
A Big Gap to Overcome
Of course, I get why the cast The Stranger assembled for their predictions didn't want to bet on Shaun Scott–outside of Prism Washington's Riall Johnson who did call a narrow Scott win. Alex Pedersen amassed a large lead in the August primary, securing 10,447 votes, which was 40%. In a crowded progressive field, Shaun Scott hauled in 23%–6,020 votes. Assuming primary voters stay where they're at, Pedersen starts with a 4,427 vote lead over Scott. If you're placing bets, it's risky to call a comeback that dramatic. You can't blame the skepticism when it comes to Scott's chances. Nonetheless, it's happened before (Kshama Sawant over Richard Conlin is the classic example in recent history) and there's reason to think it'll happen now.
This is going to be a high turnout election, relatively speaking. The 2019 Primary's 25,886 ballots cast in D4 already exceeded the 2015 General's 23,019. Rob Johnson won the 2015 general election with 11,808 votes, narrowly edging Michael Maddux. Pedersen cracking 10,000 in the primary is impressive, but we're likely looking at a 30,000 vote election in D4, meaning lots of votes are still on the table. And that gets us to ground game.
Progressive Ground Game
The Scott campaign has the strongest ground game of the election season. Yesterday, he got 60 people (including your faithful author) to show up on a beautiful sunny Sunday to canvass Wallingford. Scott volunteers have been out every day in double digits getting just about every door in the district, often multiple times. I had to apologize to folks who had been canvassed three or four times.
The Scott campaign has also been the most active on social media–as far as I can tell–connecting them to young voters. The Pedersen campaign doesn't even have a Twitter account. Scott also hit the forum circuit hard, while Pedersen skipped most of them–perhaps confident to a fault.
The Elite Try to Buy An Election
Pedersen has been buoyed by political action committee (PAC) spending: $250,000 to Scott's $2,000. His former boss Tim Burgess made a big assist to Pedersen with his generically named People for Seattle PAC which has raised most of its money from corporate executives, Republican donors, and landlords. The Seattle Chamber's Civic Alliance for a Sound Economy (CASE) PAC has dominated outside spending this election and endorsed Pedersen. However, both campaigns used and maxed out their democracy vouchers, which evens the field somewhat.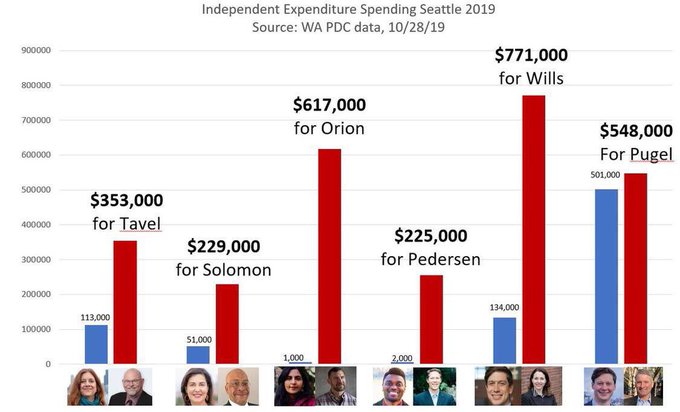 Pedersen's strong showing in the primary was attributed to PAC spending: "Former Burgess legislative aide Alex Pedersen had nearly $70,000 spent on his behalf from three PACs — CASE, People for Seattle and Moms for Seattle — and now enjoys a comfortable lead in the primary count."
Pedersen will continue to benefit from unlimited outside money, but the Scott's massive field operation could cancel that out, as well as backlash against Amazon's attempt to buy the election, which encouraged many progressives to endorse Scott in the race, including presidential hopefuls Senator Elizabeth Warren and Senator Bernie Sanders. UAW 4121 academic workers organizer Emily Myers who placed third in D4 with 3,326 votes also endorsed Scott. This late progressive coalescing around Scott paired with a prodigious ground game could tip the scales.
50,000 New Apartments Mean a Renter-Heavy Electorate
Finally, I want to circle back to the demographic shift in Seattle I alluded to at the beginning. Seattle has added something on the magnitude of 50,000 apartments in the last five years or so. These new homes represent a lot of new voters and most of them skew young and more diverse than the historically White-dominated district, and they're inherently renters so that means Pedersen's "get off my lawn" campaign focused on single-family homeowners and business owners will not speak to them. It's a matter of time before those campaigns fall by the wayside in the face of a renter-dominated Seattle. It could be this election.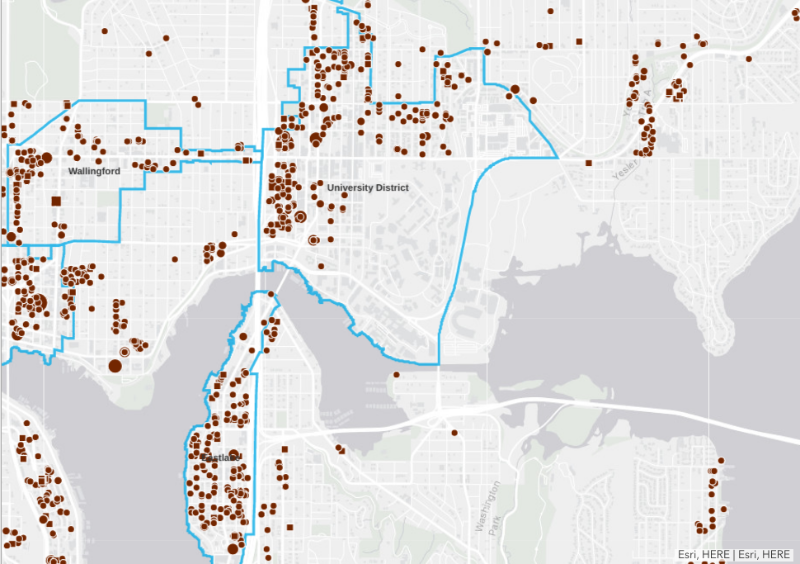 The interesting wrinkle here is that traditionally political campaigns largely overlook apartment buildings. It's harder to canvass apartments because property managers may bar the door, or the campaign may lack a contact to get them inside or not have a very good idea of who lives there due to high turnover. Single-family homes are traditionally the bread and butter of door knocking since they're the most readily available, and typically the residents stay in one place the longest, making it easier for campaigns to find their people.
Another catch is that many of the apartments in D4 are occupied by students, given the proximity to the University of Washington. These students may still be registered at their parents' address. Even if they're registered on or near campus, students are not known for turning out with anywhere near the regularity of a baby boomer homeowner. If the Scott campaign turns out students with their focus on issues like climate urgency, a Seattle Green New Deal, municipal broadband, and expanding housing supply, then this is a whole different race. I've seen it happening when I knock doors. I'm wagering it's enough to overcome the business-homevoter alliance but clearly it would be a huge upset and likely by the skin of our teeth.
So it's anybody's guess what will happen. But when I look into my crystal ball, I see plenty of reason to be optimistic. Keep fighting for the soul of the city.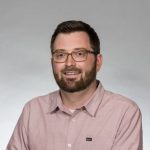 Doug Trumm is publisher of The Urbanist. An Urbanist writer since 2015, he dreams of pedestrianizing streets, blanketing the city in bus lanes, and unleashing a mass timber building spree to end the affordable housing shortage and avert our coming climate catastrophe. He graduated from the Evans School of Public Policy and Governance at the University of Washington in 2019. He lives in East Fremont and loves to explore the city on his bike.