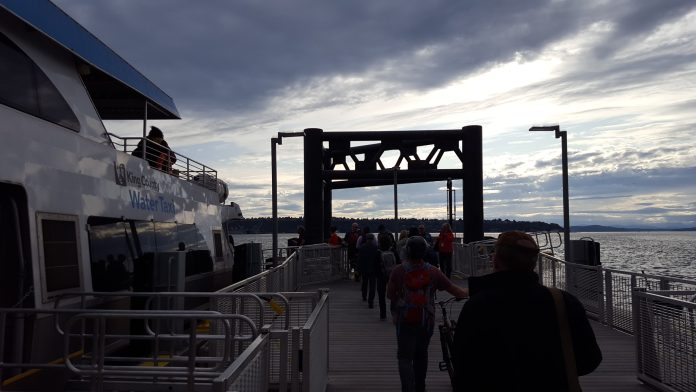 Eight passenger-only ferry routes across Puget Sound have made the cut for inclusion in a detailed study by the Puget Sound Regional Council.
The Puget Sound Regional Council (PSRC) has released a shortlist of eight passenger-only ferry routes to be studied in detail this fall. The eight routes would serve different areas of Puget Sound, including Lake Washington and Lake Union, to fulfill a state-mandated requirement. A draft plan of the study should be released in October for feedback and a final plan will be submitted to the state legislature in 2021.
The eight shortlisted routes include:
Bellingham to Friday Harbor;
Kirkland to Seattle (Union Bay);
Kenmore to Seattle (Union Bay);
Renton to Seattle (Union Bay);
Renton to Seattle (Lake Union);
Tacoma to Seattle;
Gig Harbor to Seattle; and
Suquamish to Seattle or South Whidbey to Everett.
The program budget, however, only has enough funding to fully study either the Suquamish to Seattle route or South Whidbey to Everett route. That is somewhat unfortunate because both routes might be relatively viable.
South Whidbey communities are strongly connected to jobs in the heart of Everett and direct connection could save significant travel time over the Mukilteo-Clinton ferry route. Likewise, Suquamish is a small town situated on the Kitsap peninsula between Kingston and Bainbridge Island and could be a good local connection for mid-peninsula residents to reach Seattle. Kingston-Seattle passenger-only ferry service already is performing well, a testament to pent up demand. However, the Suquamish route could end up poaching from existing Kingston and Bainbridge Island ferry services to Seattle.
Passenger-only ferry service should not only be thought of as just a commuter solution though. Some routes could benefit from midday and weekend service for general and recreational travel. Kitsap Transit has shown that possibility with the Bremerton-Seattle and Kingston-Seattle fast ferries and may well do the same for the Southworth-Seattle fast ferry launches later this year. Places like Langley, Clinton, and Suquamish could benefit from regular passenger-only ferry service bringing in tourism, new business, and improving social connections.
Washington State Ferries (WSF) was the busiest ferry system in the United States, and reached a 16-year high in 2018 with ridership of 24.7 million. Ridership dropped 3.2% in 2019, which the agency blamed on weather and the "snopacoplyse." That allowed the Staten Island Ferry, which had been a close second in previous years, to pass WSF and claim the title of busiest American ferry system thanks to posting solid 3% growth.
WSF isn't planning to stagnate, though, as its long-range plan projects 30% growth by 2040 and aims to upgrade its fleet to handle the load–if the state comes through with funding. New routes like those being studied now could be a part of that vision.
In arriving at the eight shortlisted routes, the PSRC went through a three-phase tiered screening process to winnow down the number of possible routes to be fully studied. The initial list contained 45 routes in Tier 1, which was then narrowed to 36 in Tier 2, and then further narrowed to 18 in Tier 3. The screening process used a variety of criteria to determine which routes would be further reviewed in each phase. In May, the PSRC presented 40 routes with 15 specifically shortlisted for public feedback.
In the Tier 1 analysis, there was 12-county review of destinations and high level screening of confined waterways and land use compatibility. That process screened out waterways with wake/wash issues or impassibility and terminal locations that would not comport with land use.
In the Tier 2 analysis, the PSRC did a travel time savings screening by splitting routes into two categories: urban and non-urban. A route was deemed competitive if it presented about 10 or more minutes of travel time savings during peak commute periods. The analysis treated urban and non-urban routes different by comparing travel times with transit on urban routes and travel times with cars on non-urban routes. Additionally, the PSRC considered local community interest of routes, which were sorted by county and then weighted within county by response rate. Interestingly, the agency garnered over 10,500 responses in its May survey, the bulk of which came from Whatcom County. That over-response rate, however, did not affect other counties or the overall shortlisting process.
In the Tier 3 analysis, the PSRC broke up routes by commute routes (e.g., Tacoma-Seattle and South Whidbey-Everett) and recreational/discretionary routes (e.g., Southworth-Des Moines for airport access and Bellingham-Friday Harbor) and evaluated a variety of key metrics (e.g., ridership potential, modal connections, operations, travel time saving, and seaworthiness). Maintaining plausible routes by subregion within Puget Sound (e.g., North Sound and South Sound) was a key consideration in developing the tiers.
Ultimately, the remaining routes to be studied do present some interesting options, particularly in the North Sound and from Kistap County where ferries can do a lot of good in connecting communities. Long-distances routes like Gig Harbor and Tacoma to Seattle as well as most the Lake Washington routes might not come out as well in the analysis though. Existing options in those corridors are relatively competitive, but perhaps there are unique circumstances that could make them locally useful. Later this fall, the study should bring clarity which routes deserve further consideration and possibly implementation in the years ahead.

Stephen is a professional urban planner in Puget Sound with a passion for sustainable, livable, and diverse cities. He is especially interested in how policies, regulations, and programs can promote positive outcomes for communities. With stints in great cities like Bellingham and Cork, Stephen currently lives in Seattle. He primarily covers land use and transportation issues and has been with The Urbanist since 2014.