What is it about 2020? This year is just a lot. From the pandemic, to ongoing police brutality and accompanying protests, to the West having caught fire for a few weeks, the need for effective, just, compassionate, and smart government has never been more clear.
After all, the links between housing policy, transportation infrastructure, environmental regulation, and people's health and well-being are too well known to ignore; there is much work to be done, and we want to see positions of power occupied by those who understand these critical connections.
Back in primary season (somehow simultaneously eons ago and also somehow only a few months ago??), we arranged our faces into the necessary shapes to have Zoom calls with dozens of government hopefuls–from seasoned incumbents recommitting to their Sisyphean burdens to bright-eyed first-time candidates angling to make sweeping changes. We're thrilled to report that the vast majority of the candidates we endorsed have advanced to the general election–meaning most of our endorsements from the grueling slog of 2.5 days of Zooming still stand.
Below you'll find who we think you should vote for, links to our previous writings about them, and our take on the slew of ballot measures before you.
As you fill out your ballot this year, let the urbanist agenda of safe, healthy, thriving, sustainable urban living for all be a guiding light during these troubled times.
Here's how you should vote: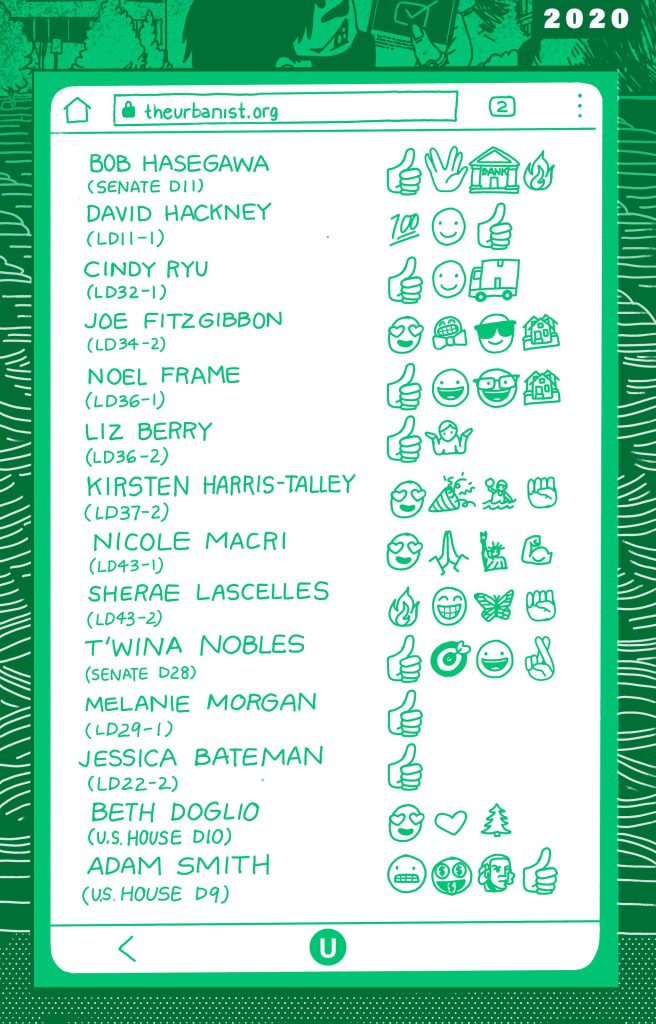 Seattle Proposition 1: Yes #YesForTransit
An essential transit funding source is expiring at year's end and it's imperative we renew it to preserve service and access. The new measure isn't quite as large as its predecessor–the 2014 Seattle Transportation Benefit District (STBD)–because Tim Eyman's Initiative 976 impeded the use of car tab fees–update: I-976 has since been struck down by the state Supreme Court. Known as an office chair thief, Eyman's big ticket thieving has been from transit agencies.
With car tabs in doubt, the Seattle City Council opted to increase the STBD's sales tax from 0.1% to 0.15%, allowing the STBD to pull in about $39 million next year. That haul is likely to increase over the six-year measure, but the lack of car tabs means less money and service overall than the previous measure.
About half the revenue goes into adding bus service, while the ORCA Opportunity low-income fare program pulls in up to $10 million annually. The measure sets aside $9 million for "Emerging Needs" in the first year with West Seattle Bridge closure mitigation in mind. There's also a bucket for transit infrastructure upgrades like bus lanes and queue jumps that help buses make it through busy intersections and traffic jams faster.
On Seattle's busiest bus routes, the STBD represents a 30% boost to service, which can go a long way toward building ridership, reducing overcrowding, and saving riders time. In 2019, 70% of Seattle lived within a 10-minute walk of frequent transit service, which wouldn't have been possible without the 2014 transit measure.
One in three essential workers rely on transit to get to work. The pandemic, with the uptick in work from home and physical distancing, has caused and necessitated a decline in transit ridership. Don't be fooled into thinking this means we can skimp on transit. Our bus service remains as crucial as ever to keep our society functioning and to position us for a strong recovery.
Increasing bus frequencies and lowering cost for low-income riders is a huge win. We can't lower transportation emissions, which compose the bulk of Seattle's carbon footprint, without investing in our bus network. Vote #YesForTransit on Seattle Prop 1.
State Referendum 90: Approve
State Referendum 90 will uphold the new Washington state law requiring all public schools to teach comprehensive sex education to K-12 students. A healthy, safe, thriving urban place must have a populace who share principles of mutual respect and healthful communication, particularly when it comes to bodily autonomy. The comprehensive sex education bill that passed in 2019 lays out requirements for students to learn skills related to respectful and effective communication, and meaningful relationship building.
Imagine an entire generation having the conviction and knowledge to identify, name, and even intervene in situations of intimidation, violence, exploitation, or coercion… that's a city we want to live and/or raise kids in. Add in the widespread establishment of concepts of affirmative consent, and you have a recipe for a safer world, particularly for women, transgender and other marginalized genders, and queer people. Our definition of urbanism is not a silo of zoning, permitting, and the like–but rather an intersection (pun intended) of the many facets of urban life that promote health and resiliency. APPROVE!
Yes on All King County Amendments and Proposition 1
There are seven county charter amendments and one county proposition in front of voters this fall. The Urbanist elections committee recommends voting YES on all of them and APPROVED on County Proposition 1.
Of the seven amendments, four address criminal justice reform. These amendments come in the aftermath of George Floyd and Breonna Taylor's murders, which ignited historic, nationwide civil rights protests. Locally, there's no shortage of unaccountable policing–perhaps the most egregious recent example is the murder of Tommey Le. An independent report of the incident, released in 2020, stated: "[t]he Sheriff's Office went to extraordinary measures in its investigation to advance the theory the Le had a knife at some point in the encounter."
Le did not have a knife. The current sheriff, Mitzi G. Johanknecht, originally distanced herself from the incident because it happened during her predecessor's term, but the investigation occurred under her watch. Shortly afterward, the officer was cleared of wrongdoing and proceeded to hit a pedestrian with his patrol car, causing the person's death. That officer is still an employee. In fact, no police officer in Washington state has lost their commission due to excessive force.
That's just the tip of the iceberg. The Council is therefore proposing some serious reform, oversight and accountability: amendments will require investigations and provide legal representation when people are killed in the criminal justice system, make the Sheriff's position appointed rather than elected, and give the Council and Executive oversight into the Sheriff's duties and union negotiations.
Republicans are not too happy about those last two. From fear-mongering about politicizing the Sheriff's Office, to wringing hands over technicalities, opponents conveniently never directly address if the amendments will actually improve public safety. In fact, they likely will: appointing the Sheriff will allow hiring people from outside a corrupted department, and giving the Council oversight will enable changes such as social workers responding to mental health-related 911 calls.
Overall, charter amendments 1, 4, 5, and 6 are modest efforts at police accountability and the chicken little opposition is evidence of our broken system. It's time to trust Black leaders who support these changes. Vote YES on all the County Charter Amendments.
Beyond the public safety amendments, yes votes on the rest of the bunch will facilitate affordable housing on surplus County property (an ambitious interpretation of which might even open the door for agencies like Sound Transit to use ground leases to fund operations), make charter language more inclusive, and pay for some desperately needed capital improvements at Harborview. We love affordable housing, inclusive language, and critical healthcare infrastructure–vote YES on County Charter Amendments 2 and 3, and County Proposition #1.
Endorsements in brief
*Questionnaire responses are hyperlinked to the candidates' name where available. Read our Primary Endorsements for more details on the candidates.
U.S. House District 9: Adam Smith
U.S. House District 10: Beth Doglio
Governor: Jay Inslee
Lieutenant Governor: Marko Liias
Secretary of State: Gael Tarleton
State Treasurer: Mike Pellicciotti
Attorney General: Bob Ferguson
Commissioner of Public Lands: Hilary Franz
Superintendent of Public Instruction: Chris Reykdal
Senate District 11: Bob Hasegawa
LD11-1: David Hackney
LD22-2: Jessica Bateman
Senate District 28: T'wina Nobles
LD29-1: Melanie Morgan
LD32-1: Cindy Ryu
LD34-2: Joe Fitzgibbon
LD36-1: Noel Frame
LD36-2: Liz Berry
LD37-2: Kirsten Harris-Talley
LD43-1: Nicole Macri
LD43-2: Sherae Lascelles
Referendum 90: Approve
Seattle Proposition 1: Yes (#YesForTransit!)
King County Charter Amendment 1: Yes
King County Charter Amendment 2: Yes
King County Charter Amendment 3: Yes
King County Charter Amendment 4: Yes
King County Charter Amendment 5: Yes
King County Charter Amendment 6: Yes
King County Charter Amendment 7: Yes
King County Proposition 1: Approve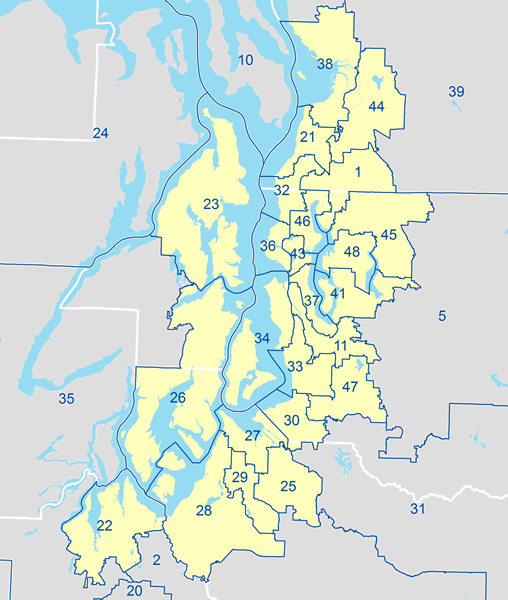 Look up your district and voter information on the state website here. Postage is included, so just drop your signed and completed ballot envelope in the mail or the nearest drop box.
The Urbanist Elections Committee consists of Hayley Bonsteel, Lizzy Jessup, Myra Lara, Owen Pickford, Doug Trumm, and Rian Watt.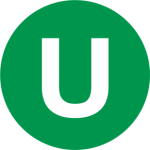 The Urbanist was founded in 2014 to examine and influence urban policies. We believe cities provide unique opportunities for addressing many of the most challenging social, environmental, and economic problems. We serve as a resource for promoting urbanism, increasing political participation, and improving the places we live. The Elections Committee consists of community volunteers and staff members of The Urbanist and is a standing body representing the political values of our organization.