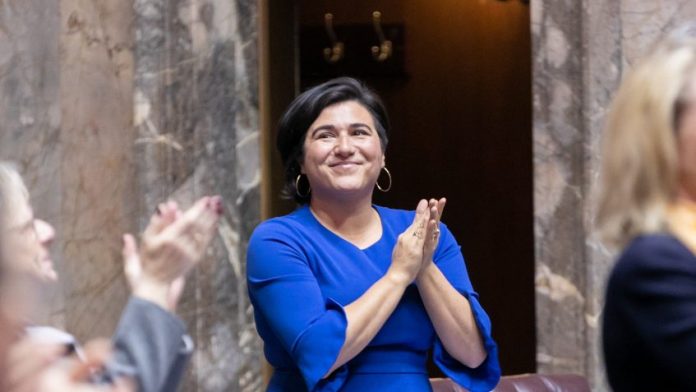 Red wave crashes into reality; blue tides are rising.
Primary results continue to trickle in, but most ballots have been counted, and Republican hope of taking Olympia has all but disappeared with their dismal showing. Republican pundits were bullish that a midterm election with an unpopular president paired with relatively friendly new legislative district boundaries would provide a path to success, breaking a long run of Democratic dominance in state elections. How wrong they were.
Currently, Democrats enjoy a 57-41 advantage in the State House and a 28-21 advantage in the Senate. The primary indicates they're likely to maintain those same advantages, if not gain seats. Looking to ahead to the next few election cycles, it's also hard to see how Republicans would reverse the hole they've dug themselves into. Here's why.
Based on results in the Primary Election thus far, it looks like the new state legislature map, as projected, contains 27 reliable legislative districts (LDs) for Democrats out of 49 total. They're winning at least 53% of the vote in all of these districts, and often much more, thus these aren't close races. Republicans are getting shellacked, which suggests a durable Democratic majority in coming elections.
Beyond these Democratic strongholds, four swing districts have emerged that could go ping pong back and forth. The primary indicates they are heavy favorites in one of these districts and slight favorites in one, which suggests an 29-20 advantage — even facing supposed midterm headwinds.
LD42 is a tossup leaning slightly toward Republicans. Since Democrats hold both House seats in this district, but not the Senate seat, this could be where Democrats lose seats in the House, but, if they lose, it'll be a wash in the Senate. If Democrat Sharon Shewmake wins despite a relatively weak 47% showing in the primary, Democrats' senate advantage appears very likely to actually increase. Redistricting ended up making minor changes in LD42, but by losing a small piece of Bellingham, the district seems to have shifted right a bit.
Keep in mind, that Republican state legislatures (and a few Democratic ones) across the county have thoroughly gerrymandered their maps to cement and increase their control of state and federal politics. A Republican-controlled state would have taken one look at swing districts like LD42 and found a way to pack their voters into to flip it decisively, but instead Democrats let the opposite happen. Already blue LD40 next door to LD42 became even bluer while LD42 drifted away from Democrats as they accepted the gerrymanders of the past (which split reliably blue Bellingham) and ongoing compromises.
In Washington, Democrats had full control of state government, but they opted to continue to use an evenly split partisan commission (composed of two Democrats, two Republicans) to hash out redistricting maps, with Republican proposing some real doozies. The redistricting commission failed to turn in their final map by the required midnight deadline, but because they finished them by morning, the State Supreme Court opted to stay out of it and look the other way.
Why Democrats outperformed in Washington State
A number of explanations have been offered for Democrats relative strength in Washington State. The Supreme Court's assault on Roe v. Wade abortion rights is likely a huge turnout motivator for the Democratic base, as it should be. The Trump brand appears to particularly toxic to Washington swing voters and the State Republican Party has utterly failed to disabuse themselves of it, as Trump-aligned candidates continue to win.
The most prominent example of this is U.S. Rep. Jaime Herrera Beutler, who voted to impeach Trump after the January 6 insurrection, failing in her reelection bid after Trump-endorsed extremist Joe Kent narrowly edged her out in the primary. This represents a troubling purging of non-Trump loyalists from the GOP, but it also should make for a closer congressional race. Democrat Marie Gluesenkamp Perez could pull off an upset if she successfully paints Kent as out of step and dangerous.
I've also pointed out that voters are increasingly worried about housing costs, and Democrats appear to have real solutions on that front, while Republicans promote car-dependent sprawl and shy away from greater housing investment. Likewise, the Evergreen State is one of the more environmentally-attuned states, and Republicans continue in their climate denial ways. Meanwhile, Democrats have passed major climate legislation.
Republicans gambled big on crime fears to sway suburban swing voters, but it doesn't appear to be connecting. Voters appear to agree with progressives that a balanced approach that pursues police reform and accountability and simultaneously addresses root causes of crime rather than doubling down on failed punitive approaches of the past. 'Tough on crime' incarceration-centered approaches that have given the United States the largest prison population in the world, which comes with huge costs, but crime stubbornly persists.
Where the legislative districts are shaking out
Among the swing districts, Democrats have a strong advantage in LD10, where Rep. Dave Paul (D) appears to have an easy path to reelection while his Republican colleague Rep. Greg Gilday is well underwater with less than 48% of the vote in a two-way race with Clyde Shavers. While the Senate seat isn't up in this district, Republicans will have a hard time defending in 2024, making it a likely pickup down the road. The district still includes Whidbey Island, Camano Island, and Stanwood, but picking up more of Arlington appears to have swung it toward Democrats.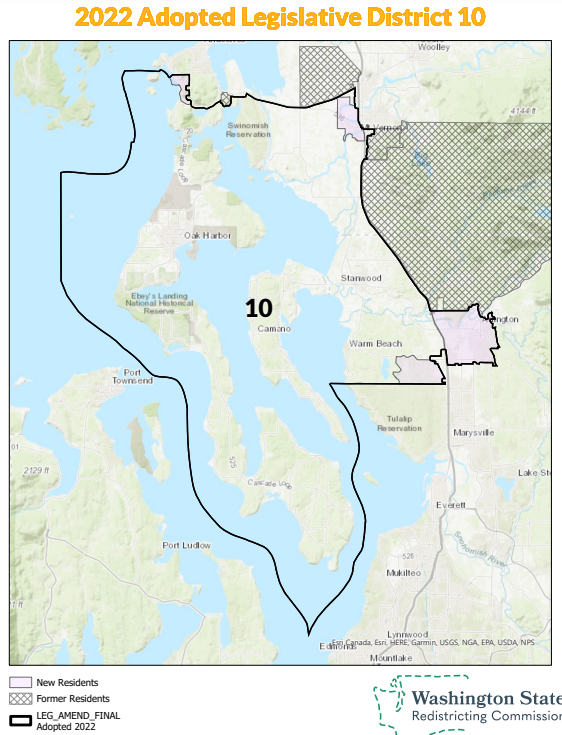 Democrat's advantage is narrower in LD26, but nonetheless, Sen. Emily Randall (D – Bremerton) appears headed to reelection, after grabbing 51.5% of the primary vote. Republicans currently hold both House seats, but Rep. Jesse Young vacated Position 1 to run for Senate. In that open seat, Democrat Adison Richards is leading — albeit by the narrowest of margins: 91 votes as of Monday. In Position 2, Republican incumbent Michelle Caldier appears to be readily fending off Democratic challenger Matthew Macklin with a 55% to 45% advantage in the primary.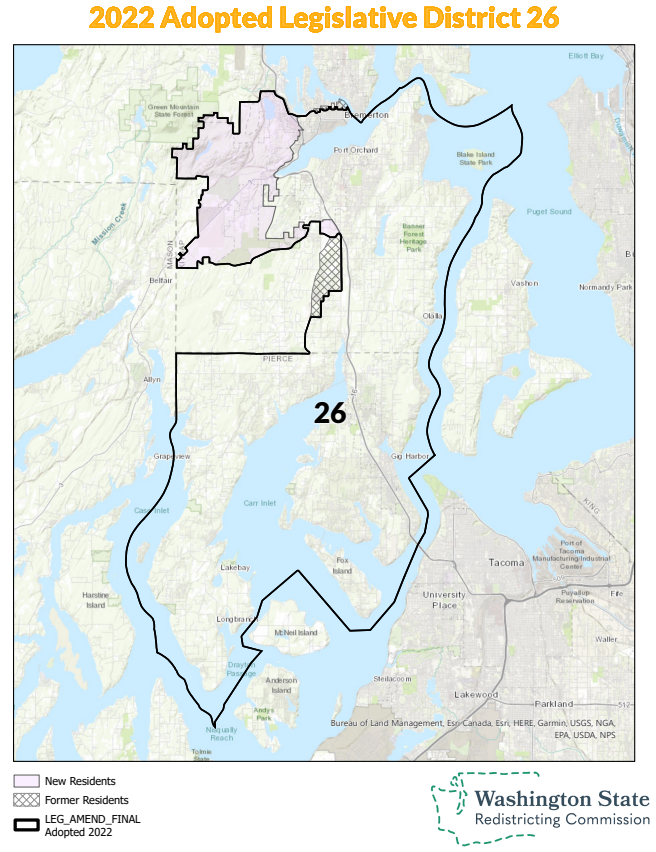 The last of the swing districts is LD18, and this is the one where Republican hold the biggest edge of the four. In an open seat race, Democratic challenger John Zingale grabbed 47% in the primary versus Battle Ground School Board Member Stephanie McClintock. It doesn't appear a likely pickup at this point, but Republicans will certainly need to defend the seat vigorously or risk another loss in a former stronghold. LD18 has entered swing territory after several decades as a conservative bastion.
Redistricting was friendly to Republicans in fast-growing Clark County. LD49, which continues to include central Vancouver, remains a heavy (60%+) Democrat favorite, while LD17 and LD18 were districted to keep their GOP edge, rather than carving out an even or Democrat-leaning district. Of the two, LD17 is more rural and leans more heavily toward Republicans, with Democrats pulling in about 44% of primary ballots. But depending on the political leanings of new arrivals to booming Clark County, the districts could drift to the left over time.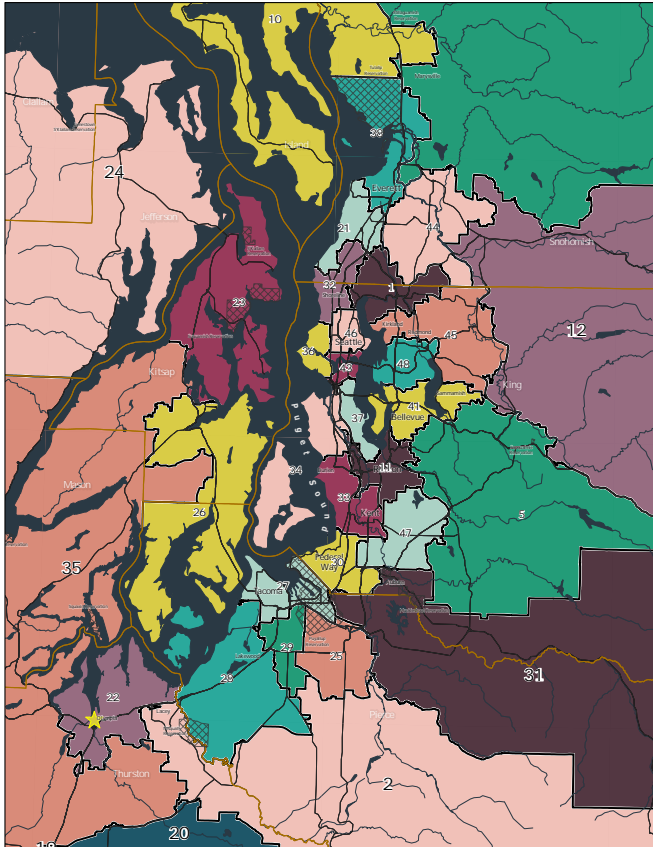 The Seattle metropolitan area, meanwhile, was an absolute bloodbath for Republicans. The only district in the Seattle suburbs that Republicans are prevailing in is LD25, which covers south Puyallup and South Hill. Republican incumbents are getting 55% here, so it's safe GOP territory for now but perhaps not for that long into the future. Every single other LD in the metro appears to be firm ground for Democrats. LD28, where T'wina Nobles narrowly bested Steve O'Ban in 2020, is now giving Democrats double digits leads. The same goes for LD5, LD30, LD44, and LD47 which were supposed pickup opportunities according to conservative pundits. These simply appear to be blue districts now.
No district illustrates Republican failure more than LD47; not only are Democrats poised to retain an open Senate seat, but they also swept the race for the open House seat in the district after the State GOP's chosen candidate, bank executive Carmen Goers, finished in fifth place in a five-way race that included two other fringe-y Republicans. The two Democrats in the race — Chris Stearns and Shukri Olow, who is Urbanist elections committee endorsed — will be advancing. Goers raised more than $200,000, but the conspiracy-addled Republicans voters flocked toward two random White male wingnuts over the Black bank executive that represents a modest effort to diversify the party while still appealing to the stolid business-friendly roots that used to allow the GOP in King County.
Recall in 2018 that Republicans boasted they'd flip the suburbs by stoking car tab backlash in the wake of Sound Transit 3 passage in 2016. That strategy utterly failed then, and it continues to get them nowhere. Puget Sound voters appear more interested in how leaders will improve transit, expand transit-oriented urban housing, and thus advance climate action rather than rewarding politicians that are mainly here to whine about taxes and chase further highway expansion and sprawl. That is heartening to see.
Not every red wave can make it to shore. Some just crap out at sea.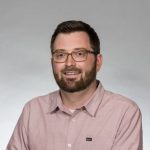 Doug Trumm is publisher of The Urbanist. An Urbanist writer since 2015, he dreams of pedestrianizing streets, blanketing the city in bus lanes, and unleashing a mass timber building spree to end the affordable housing shortage and avert our coming climate catastrophe. He graduated from the Evans School of Public Policy and Governance at the University of Washington in 2019. He lives in East Fremont and loves to explore the city on his bike.