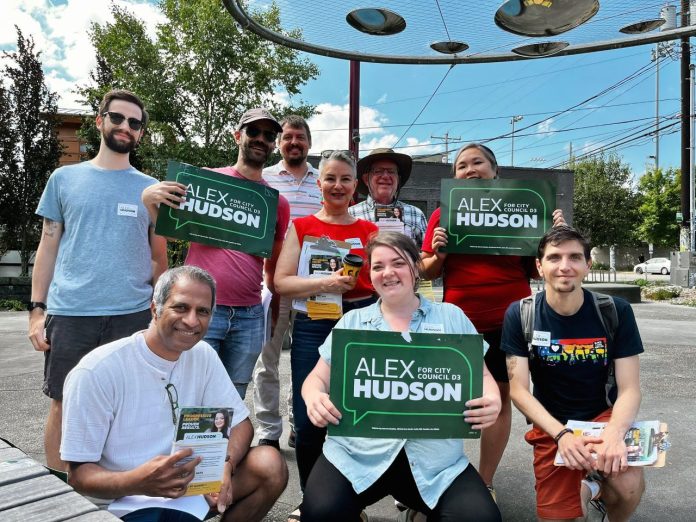 Control of local city councils is up for grabs and candidates are making their closing pitches as they seek to survive the top two vote counts in the primary to earn a spot on the general election ballot. Seattle saw four sitting councilmembers retire and a fifth run for King County Council, which should all but guarantee a changing of the guard to newcomers on the nine-seat legislative body.
Voters have until 8pm Tuesday to weigh in by returning their signed ballot to the nearest drop box or to postmark and mail it by the deadline (no stamp required). Residents who need to update their voter registration before voting can do so until 8pm Tuesday at their nearest county election office. Ballots can be tracked on the Secretary of State website to verify they've been counted.
Most districts have no shortage of candidates, with some races reaching double digits. This could lead to some surprising finishes as relatively low percentages carry the day. Or the old and fairly consistent pattern of the candidate with the (right-leaning) Seattle Times endorsement and (left-leaning) The Stranger endorsement advancing could hold.
The Urbanist Elections Committee (of which I am one of eight members) issued its own set of endorsements earlier this month and backed the following primary candidates:
The Urbanist's 2023 Primary Slate Cheat Sheet
King County Council District 4 – Becka Johnson Poppe
King County Council District 8 – Teresa Mosqueda
Seattle City Council District 1 – Maren Costa
Seattle City Council District 2 – Tammy Morales
Seattle City Council District 3 – Alex Hudson
Seattle City Council District 4 – Ron Davis
Seattle City Council District 5 – Nilu Jenks
Seattle City Council District 6 – Dan Strauss
Seattle City Council District 7 – Andrew Lewis
Port of Seattle Seat 5 – Fred Felleman
Those endorsements had considerable overlap with The Stranger's, but a few differences did emerge.
Barón surges in King County's District 4
Both The Stranger and The Seattle Times backed Jorge Barón, who is the long-time executive director of the Northwest Immigrant Rights Project, in a rare case of agreement for the two ideologically-opposed publications. The Urbanist Elections Committee backed Becka Johnson Poppe in the District 4 King County Council race, but noted all three candidates — with Sarah Reyneveld the third — were strong and all has stressed the importance of boosting the county's beleaguered public transit system.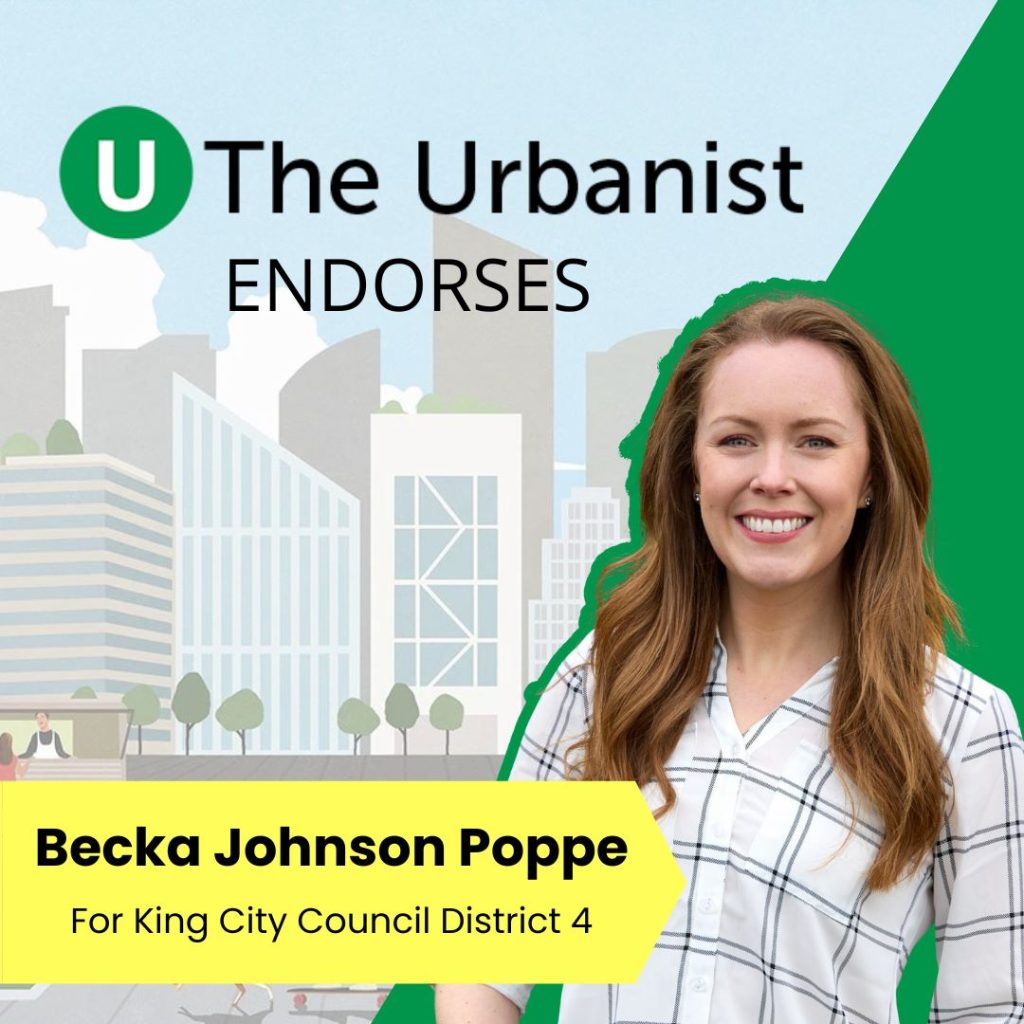 "Ultimately, Johnson Poppe is the person who we believe would most effectively and doggedly champion progressive solutions to our housing affordability crisis, our multimodal transit needs, and our regional public health and safety problems," The Urbanist Elections Committee wrote. "She earned our endorsement despite the stiff competition because of her proven track record as a progressive leader at the county level in her last ten years as the King County Budget & Policy Manager, her ability to articulate what else needs to be done and her plan for making that happen."
Though a late entrant, Barón seems in a strong position to make it through the primary given his broad set of endorsements, which include Congressperson Pramila Jayapal. The question seems to be: Will it be Johnson Poppe or Reyneveld in the other slot?
I'm so grateful to all the volunteers who came out this morning to connect with voters in Ballard for our campaign. Thank you to @PramilaJayapal for inspiring us and to @UFCW_3000 and @ProChoiceWA for turning out so many great volunteers. As Pramila's sign says "Vote by Tuesday!" pic.twitter.com/aKmZ3aS24G

— Jorge L. Barón (@jorgebaron) July 29, 2023
Lefties galore in Seattle's District 5
The District 5 Seattle City Council is the other place where The Urbanist's endorsements landed differently than The Stranger's. The Stranger went with ChrisTiana ObeySumner while The Urbanist went with Nilu Jenks, with an honorable mention for Tye Reed, an organizer who spearheaded campaigns like House Our Neighbors' successful social housing ballot measure. Not being able to schedule an interview with ObeySumner was a big reason why the The Urbanist Election Committee looked toward other quarters even as ObeySumner's questionnaire responses were solid.
"[Jenks] distinguished herself in our questionnaire by pushing hard for Alternative 6 to the comprehensive plan, identifying several specific sources of progressive revenue she'd advocate for, making clear that she'd have voted against the incarceration-focused drug criminalization bill that recently failed in council, and speaking convincingly about improving bike and pedestrian infrastructure across the city and in D5, which is missing sidewalks in many parts of its northern reaches," The Urbanist Elections Committee wrote. "Jenks also stood out to us for her clear commitment — driven by a devastating personal experience — to ending gun violence in our city."
The Seattle Times, meanwhile, went with former King County Superior Court Judge Cathy Moore. Moore is more pro-housing than the typical Times candidate, which is one of the takeaways of The Urbanist's interview with Moore. A former Seattle Human Rights Commissioner, Moore sought to strike a reform-minded balance on carceral policies and policing, although that appears to have involved a flip-flop on Seattle's recent bill ratcheting up penalties on drug possession. It could be she strengthened rhetoric to earn support from the Seattle Times Editorial Board and the Downtown Seattle Association, which ranked her as "aligned."
While the far north of Seattle has historically has been a stronghold for centrists, District 5 has one of the strongest groups of progressive candidates this year, which could present a test case for progressive politics in the district.
Seattle District 4: Rivera gets big right-wing ad buy
In other races, centrists seems more divided than progressives. Ron Davis has snapped up most of the progressive and urbanist endorsements, including The Urbanist's and The Stranger's, but conservatives seem divided in anointing either engineer Ken Wilson or Maritza Rivera, who has served in both the Harrell and Durkan administrations, as their standard-bearer. The Seattle Times backed Wilson citywide in his run versus Teresa Mosqueda in 2021, but has backed Rivera this year. The Downtown Seattle Association threw its weight behind Rivera too with a "strongly aligned" rating, but Wilson is likely hoping appeal among conservative homeowners can provide an end around for the traditional business elite powerbrokers.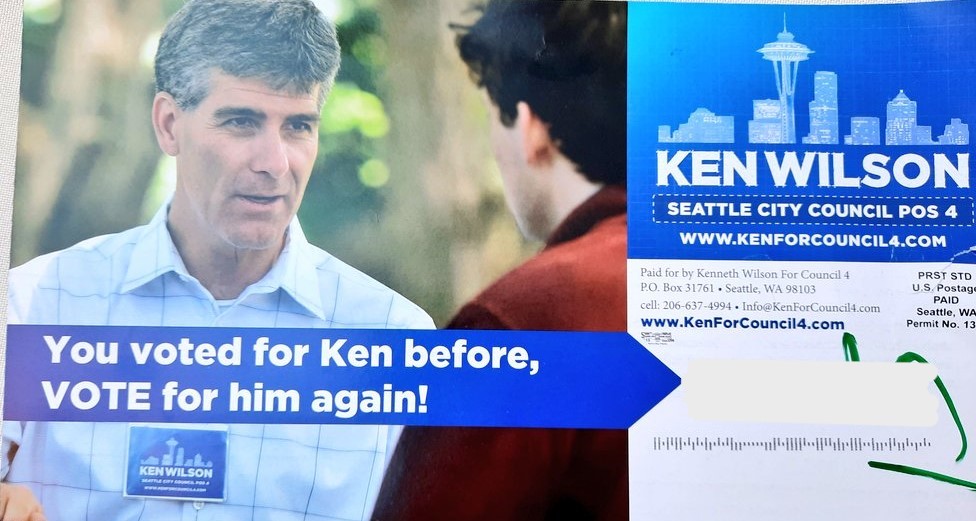 Coasting on his list from his 2021 run, Wilson jumped out to an early lead in fundraising, but Davis later jumped out to a lead on democracy vouchers and Rivera narrowed the gap some. Plus, Rivera recently got a huge assist in outside spending from an independent expenditure group backed by Trump-backing Republican donor George Petrie and other downtown real estate bigshots.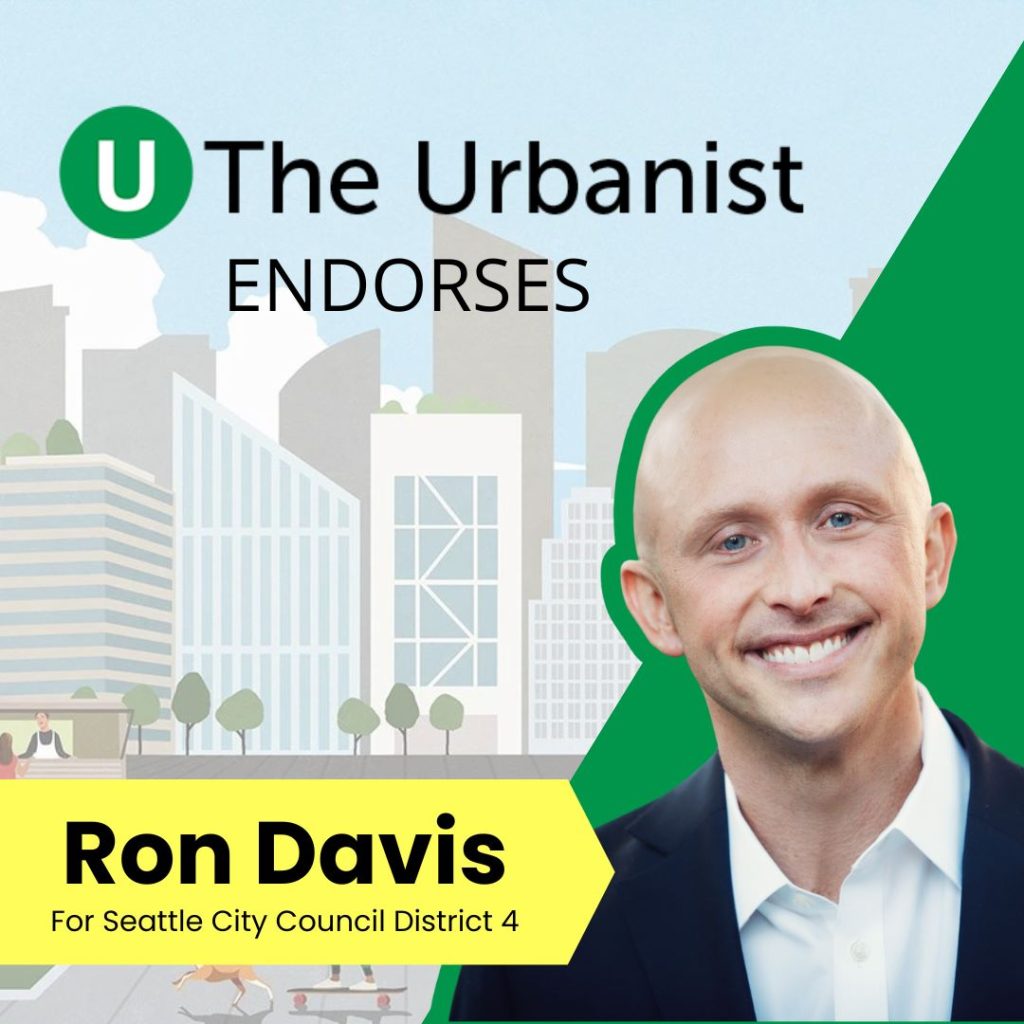 "Elliott Bay Neighbors and University Neighbors, two independent expenditure groups funded by local real estate developers and Republican donors, including Trump 2020 contributor George Petrie, sent out mailers supporting District 1 city council candidate Rob Saka and District 4 candidate Maritza Rivera. The identically worded mailers include the same factual errors about the history of homelessness in Seattle," Erica Barnett reported in PubliCola.
Davis has sought to draw attention to the Trump donors now bankrolling campaign efforts for his opponent. If successful, that late campaign money bomb for Rivera could backfire similarly to how the Amazon money bomb backfired in 2019.
See The Urbanist's endorsement writeup for more insights. We have also done a series of race breakdowns with more context:
Jump to your district: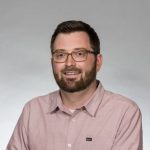 Doug Trumm is publisher of The Urbanist. An Urbanist writer since 2015, he dreams of pedestrianizing streets, blanketing the city in bus lanes, and unleashing a mass timber building spree to end the affordable housing shortage and avert our coming climate catastrophe. He graduated from the Evans School of Public Policy and Governance at the University of Washington in 2019. He lives in East Fremont and loves to explore the city on his bike.