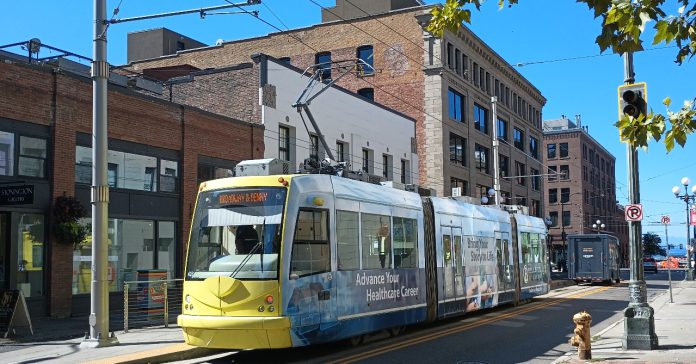 Transportation was essentially a footnote this week as Mayor Bruce Harrell announced his proposed changes to Seattle's 2024 city budget, with housing, police tech, and human service employee wages taking center stage. But the Seattle City Council will still need to grapple with a $706 million budget proposed for the Seattle Department of Transportation (SDOT) next year.
Meaty questions remain. The budget gets the City no closer to determining a future for a streetcar network that is facing a sunsetting of support from Sound Transit and no viable long-term financial plan to maintain service that does not involve finishing the stalled-out Center City Connector streetcar project, which remains unresolved. And with fatal car crashes killing two pedestrians on Thursday alone, some may ask if the budget could do more on road safety.
With some exceptions, the budget the Harrell administration proposed Tuesday was largely a steady-as-she-goes budget for SDOT, with the anticipated renewal of the Move Seattle transportation levy next fall lurking just behind the proposal. There are very few new spending proposals in the area of transportation, and many major projects are in a veritable sprint to get out the door before voters get their ballots. There are also very few spending cuts to existing programs. But that likely won't remain true for very long.
Harrell's overall budget largely ignores the fact that the City is facing a significant budget cliff in 2025, with general fund revenues expected to fall short by $428 million over two years. But Seattle's transportation revenues are projected to be somewhat more insulated from that expected downturn than the sources that feed the general fund, as the property-tax funded transportation levy stays steady and sources like the commercial parking tax or funds from car tabs are projected to go up slightly over the future.
With those tough choices left for another day, the 2024 transportation budget tweaks illustrate Harrell administration priorities: downtown activation and transportation "basics" — but it betrays an overall lack of vision around where transportation in Seattle is heading.
$1 Million for downtown activation
The flashiest new amount of spending for SDOT next year is a $1 million allocation, from the JumpStart payroll tax, to downtown streetscape activation. This is included as part of a larger $4.7 million fund for the Mayor's Downtown Activation Plan, intended to increase economic activity downtown, which is being paired with more long-term changes to central downtown like targeted rezones.
"Under the [Downtown Activation Plan], SDOT will work to support restaurant businesses with load zones for food pick-up and take-out, launch weekend and evening street or alleyway closures for special events and programming, install wayfinding kiosks in the Downtown core to help pedestrians navigate the area, facilitate the proliferation of downtown street eateries, and support public safety improvements like installing new bus shelters, trash receptacles, lighting, etc.," the budget book notes.
Late this summer, SDOT collaborated with Seattle Parks and Recreation to revamp a forlorn "Pavement to Parks" project that the Durkan administration had let fall into disrepair near the intersection of Vine Street and Denny Way. Private donations led by Asteria Pickleball paved the way for the space to become public pickleball courts, in advance of a tournament held in mid-September. When announcing that, the Harrell administration hinted the coming budget allocation for SDOT would fund further improvements around this "park," which remains a city street. The announcement noted that up to $500,000 would go toward landscaping and seating, with Seattle Parks taking lead on maintaining the space.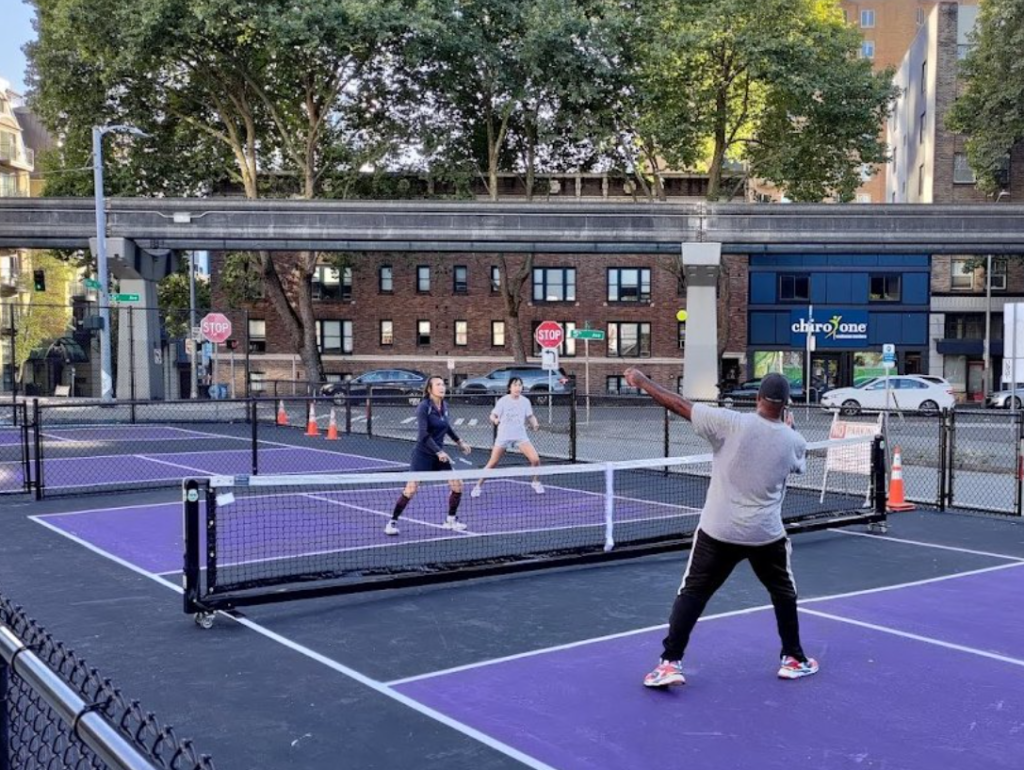 Elsewhere downtown, SDOT was already set to do some fairly substantial upgrades next year, with Third Avenue's transit mall being extended into Belltown, and upgrades on the south end of Third Avenue to some of the street's busiest bus stops and crosswalks. Those changes are all intended to be in service of promoting a larger future vision for the transit corridor, but that has not yet emerged.
A $1 million allocation from JumpStart for downtown activation might end up being a tempting source of funding for City Councilmembers to divert from for other, more pressing priorities, given the original purpose of the payroll tax to fund badly needed affordable housing.
Center City Connector remains unfunded
The proposed transportation budget leaves out a big element of the mayor's downtown activation plan: restarting the Center City Connector streetcar.
Just weeks ago, funding for a study that would get the project, which was put on hold during Mayor Durkan's administration, back on track had been included in a mid-year budget adjustment request. But three councilmembers — Pedersen, Herbold, and Nelson — amended that legislation in committee to strip away streetcar study funding, leaving it just hanging out in SDOT's budget.
At the time, Nelson, who hadn't made her feelings on the streetcar project known before the vote, said she just wanted to wait to have the conversation about the project during the full budget process. But the Mayor apparently didn't feel there was enough support on the current city council to even make the request again, despite the fact that the full council hadn't even been given a chance to vote on it.
Despite support for going after federal grants to help fund the project from some councilmembers — including Andrew Lewis, who represents the district where the streetcar would run — it's likely that this idea will get pushed to the next city council, potentially for another year. In a statement, SDOT noted the project is still moving forward behind-the-scenes, with news likely soon.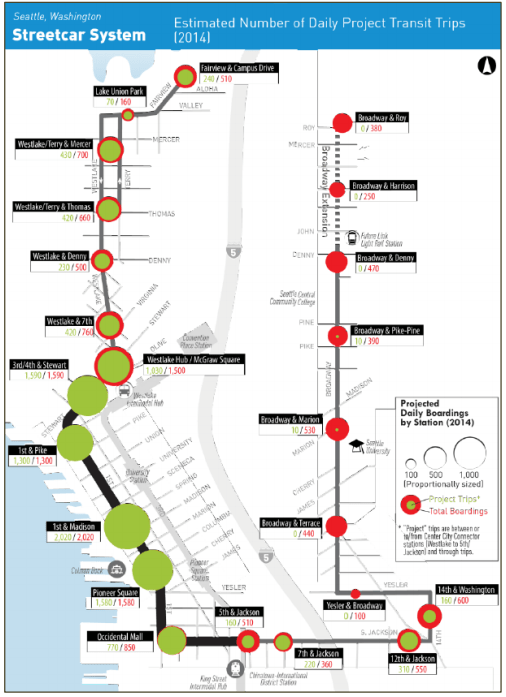 "In 2023, dedicated SDOT staff worked to update previous project assumptions, cost estimates, and timelines," a budget announcement from Director Greg Spotts noted. "While the Proposed 2024 Budget Update does not include design funding, when finalized later this year, the Culture Connector Delivery Assessment Report will inform a path forward."
When it comes to the existing streetcar system, the Harrell administration faced a more looming problem this year: how to fill in a gap in funding for operation of the First Hill line. Since the line opened in 2016, Sound Transit has been providing a large chunk of the funds to operate the line under a prior agreement with the City of Seattle. 2023 is the last year that funding will be allocated. Originally, Harrell's 2023-2024 budget proposed using Commercial Parking Tax revenue to fill the gap, but now the budget proposes to use funds from the Seattle Transit Measure, the lion's share of which goes toward funding Metro bus service, to plug the hole.
Given the available funding in the Seattle Transit Measure's reserves and the hindrances using those dollars for Metro service right now, this might make sense in the short term. But it's unclear if this makes long-term sense, as Seattle may need to tap into those measure dollars down the road to get bus frequencies back up to the level the City has pledged and riders expect after overwhelmingly approved the transit measure in 2020.
For now, streetcar service is treading water, but it will take completing the Center City streetcar to get on firmer financial footing by boosting service and ridership. Ridership on the two disconnected lines is only a few thousand daily rider now, but both City and independent projections show it approaching 20,000 after the Center City project is completed and the system connects.
ADA curb ramp program takes a big hit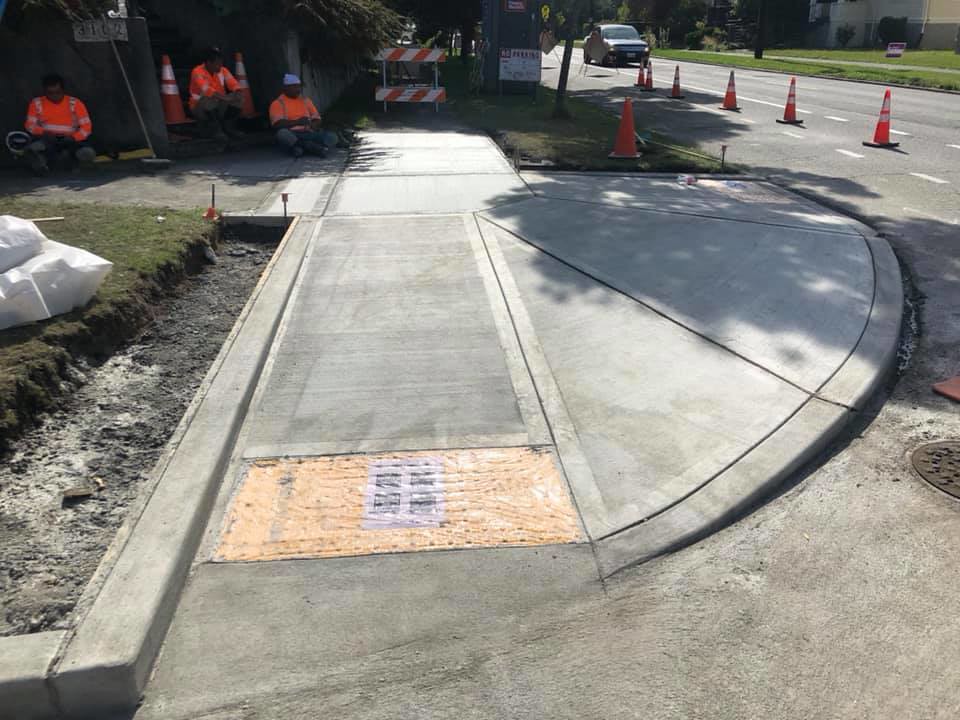 This summer, The Urbanist broke the story that a staffing snafu at the Seattle Police Department, which led to hundreds of citations set to be sent out to drivers who had been speeding in school zones expiring before they could be mailed, would be impacting the city's budget for pedestrian projects. At the time, it wasn't fully clear which areas would have to take the brunt of these cuts.
The proposed budget makes it clear that it will largely be SDOT's curb ramp program, which had been set to add ramps to intersections near schools using camera funds that are specifically earmarked for school-related projects. The mayor is cutting $2.4 million from the curb ramp budget, around 15% of the total anticipated funding in 2024. The City said funding remains sufficient to meet the legally obligated commitment for 1,250 new ramps per year, but that's a floor and not a ceiling, and many intersections around Seattle still lack these basic amenities. Disability rights advocates won that commitment by suing the City under the Americans with Disabilities Act (ADA).
While funding for curb ramps is set to go down, the Harrell administration is proposing a sizable increase to SDOT's pothole repair response program. "Increased storm events and aging infrastructure have increased the amount of necessary pothole response within SDOT's target of 72 hours, exceeding the existing budget," the budget book notes. This aligns with Harrell's pledge to get back to the "basics" of the transportation department.
In the coming weeks, we'll see how different the priorities of the city council are from Mayor Harrell when it comes to these tweaks to SDOT's budget. Pedestrian safety, bridge maintenance, and future streetcar funding are all likely to come up as issues, with larger questions about future transportation funding left for another time.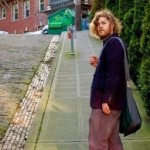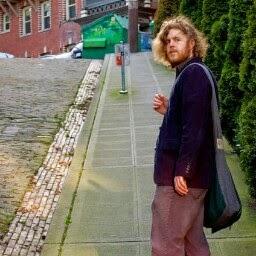 Ryan Packer lives in the Summit Slope neighborhood of Capitol Hill and has been writing for the The Urbanist since 2015. They report on multimodal transportation issues, #VisionZero, preservation, and local politics. They believe in using Seattle's history to help attain the vibrant, diverse city that we all wish to inhabit. Ryan's writing has appeared in Capitol Hill Seattle Blog, Bike Portland, and Seattle Bike Blog, where they also did a four-month stint as temporary editor.