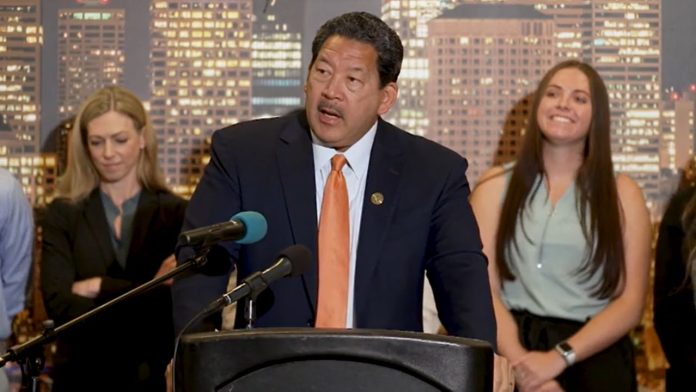 Durable solutions to police accountability, public safety, drug treatment, and homelessness all remain elusive and vaguely defined.
On Tuesday, Mayor Bruce Harrell released his 2024 City budget proposal and delivered a speech laying out his decisions. The 33-minute speech made clear his priorities — boosting public safety, addressing homelessness, activating downtown, and stimulating the economy — but left much doubt on how and when Seattle will achieve these aims.
"Seattle is a different city than when I took office nearly two years ago – we are continuing to see real progress, even while acknowledging the complex challenges still before us. Many of our toughest issues can't be solved overnight, but with a plan and solid investment strategy, we can show meaningful progress towards building the One Seattle we want to see," Harrell said in prepared remarks "This budget doubles down on the priorities that matter for the city, focusing on critical needs like public safety and homelessness, supporting downtown and a healthy climate, and embracing a back-to-basics philosophy needed to advance Seattle's economy, quality of life, and the essential City services residents deserve."
What did not get mentioned in the speech looms larger than what did.
Police stand in the way of safety department
Harrell's team is the midst of negotiating that police labor agreement right as SPOG leaders have been embroiled in scandals. Most recently SPOG's vice president and president were caught on tape laughing at the death of Jaahnavi Kandula, who was run over by a speeding police officer in January. Another Seattle police officer appears to have perpetuated an anti-Asian hate crime against a neighbor.
The Mayor alluded to these incidents and called for accountability, but the mayor has bowed to ongoing investigations via the Office of Police Accountability as sufficient to deal with the matter.
"We cannot have safety without accountability and community trust. Sadly, we have seen that trust fracture through recent events where officers have disrespected or dehumanized our neighbors. Those comments make me incredibly sad – and disappointed," Harrell said. "To our police officers, I join communities across the city in saying: 'You're better than that,' and we expect you to be."
Even as Harrell scolded officers for misconduct, he pledged them resources and support.
"Each of you has taken a sacred oath to uphold the core values of our democracy, to acknowledge and uphold the dignity and worth of every person," Harrell said. "Yes, your job can be extremely dangerous and traumatic, and it can wear you down. This role requires you to rise above that, to serve with honor every day, all the time. Our role is to provide you with the tools, support, and respect you deserve – and we will do that."
Harrell proposes to boost funding to the Seattle Police Department (SPD) by $6.6 million over the biennium plan passed last year, bringing the total to $419 million counting pension obligations. This makes police the single largest commitment in the $1.7 billion general fund by a wide margin.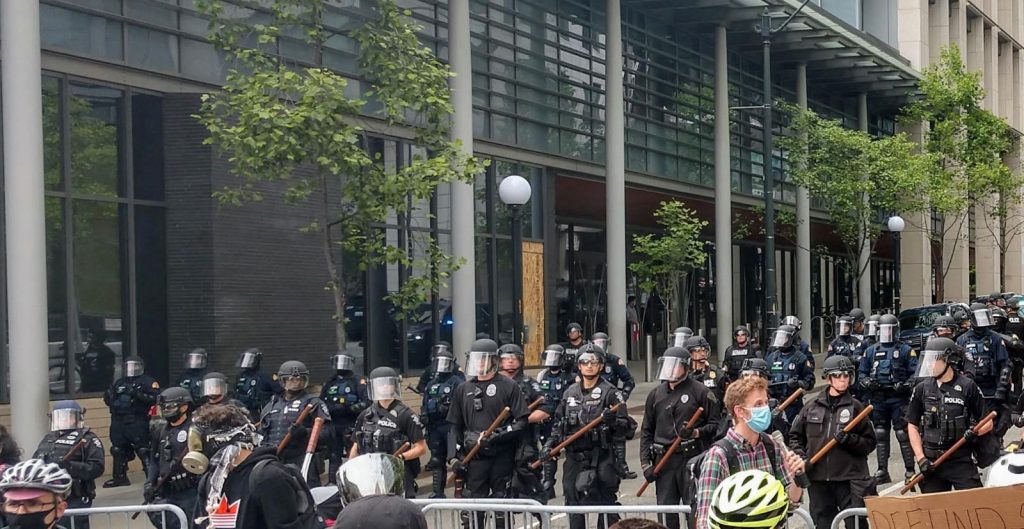 The highest-ranking SPOG officials who laughed at Jaahnavi Kandula's senseless death are who Harrell must convince to accept police accountability measures and clear the way for more civilian responders via the City's new "third safety department" he has touted but been slow to implement. SPOG's resistance is a big reason why the program has been so delayed and watered down.
Framing his newly branded Community-Assisted Response and Engagement (CARE) pilot program as "groundbreaking," Harrell said it marked a "tangible step toward a new paradigm in public safety" — presumably with a greater role for civilian response. The budget allocates $26.5 million to support CARE, an increase of 30% over 2023, the mayor said.
However, the program advances a dual responder model that still includes a sworn officer responding alongside a behavioral health specialist — often a social worker. Thus, the program would fail to lessen interactions between people in crisis and armed officers, a major aim for advocates against police brutality. A dual dispatch model would also offer little help on lessening the burden of an understaffed and overextended police department by having civilians take more calls alone.
Understaffing is persisting even with the hiring bonuses of up $30,000 that Harrell sought and the city council approved last year. Harrell said officer applications are trending up. However, it's still unclear if they are outpacing departures or if SPD is on course to meet its staffing goal of a net gain of 30 officers over the biennium.
The mayor also renewed a fight with the city council over "ShotSpotter" and similar surveillance technology with a proposed $1.8 million investment in "piloting a new suite of advanced safety technologies to protect neighborhoods impacted by recurring gun violence, collect new evidence to solve crimes, and address the increase we see in stolen vehicles."  Council cut the ShotSpotter proposal in last year's proposal, pointing to complaints from the ACLU and other privacy advocates and evidence that the technology was not effective at solving crimes and raised false alarms that may lead to dangerous interactions with community members.
Harrell must be hoping for a different outcome this time around, but opposition is likely to remain stiff.
Mayor Harrell is trying to make ShotSpotter happen AGAIN 😬 https://t.co/sjkMzrSXel

— Crystal Fincher (finchfrii on all platforms) (@finchfrii) September 26, 2023
"Police reform group Campaign Zero launched an effort last year to get cities to 'cancel Shotspotter,' criticizing its ability to accurately detect loud noises, and saying it increases high-intensity interactions between police and civilians," Geekwire reported, noting several cities who have tried the technology are abandoning it due to ineffectiveness.
Homelessness: Still working toward 2,000-unit pledge
Portraying his strategy as a third way between "zero tolerance" belligerence and fully tolerating homeless encampments, Harrell said the city had seen a 43% decrease in tents, a 35% reduction in RV encampments, and "greatly improved access to parks, public spaces, and downtown sidewalks."
But hopes of a more robust regional response to homelessness have been slow to materialize. The RCRHA recently had to shut down an ill-fated foray into program delivery. Launched in February 2022, Partnership to Zero initiative pledged to achieve "functional zero" and nearly eliminate unsheltered homelessness in downtown Seattle in "as little as 12 months." That didn't happen; the in-house peer navigator program struggled, and KCRHA CEO Marc Dones has since stepped down and their successor is winding down the navigator program.
Harrell threatened to cut funding to the KCRHA last year, arguing he wanted to see more results and more support for his encampment removals. This year his budget pledges $106 million to the KCRHA to "support outreach, shelter, and other critical programs."
Harrell said he'd double down on strategies that work. He chose Blake House, a new low-income housing highrise in First Hill as the backdrop for his speech, and set a goal of ramping up production of permanent supportive housing. The Mayor's office noted Blake House builders Plymouth Housing and Bellwether Housing received over $13 million in City investments through sources that include the 2016 Housing Levy — in addition to support from other levels of government, such as a land grant from Sound Transit.
"We need more Blake Houses, more permanent supportive housing with services to help people restore their lives, and more affordable homes that allow people and families of all income levels and backgrounds to live in our city," Harrell said.
The mayor's budget invests $334 million in affordable housing, a 32% increase over 2023. That funding primarily derives from the JumpStart corporate payroll tax, the Seattle Housing Levy, and the Mandatory Housing Affordability program. Plus, Harrell proposed a housing levy renewal that will more than triple the size of the previous levy if approved by voters in November.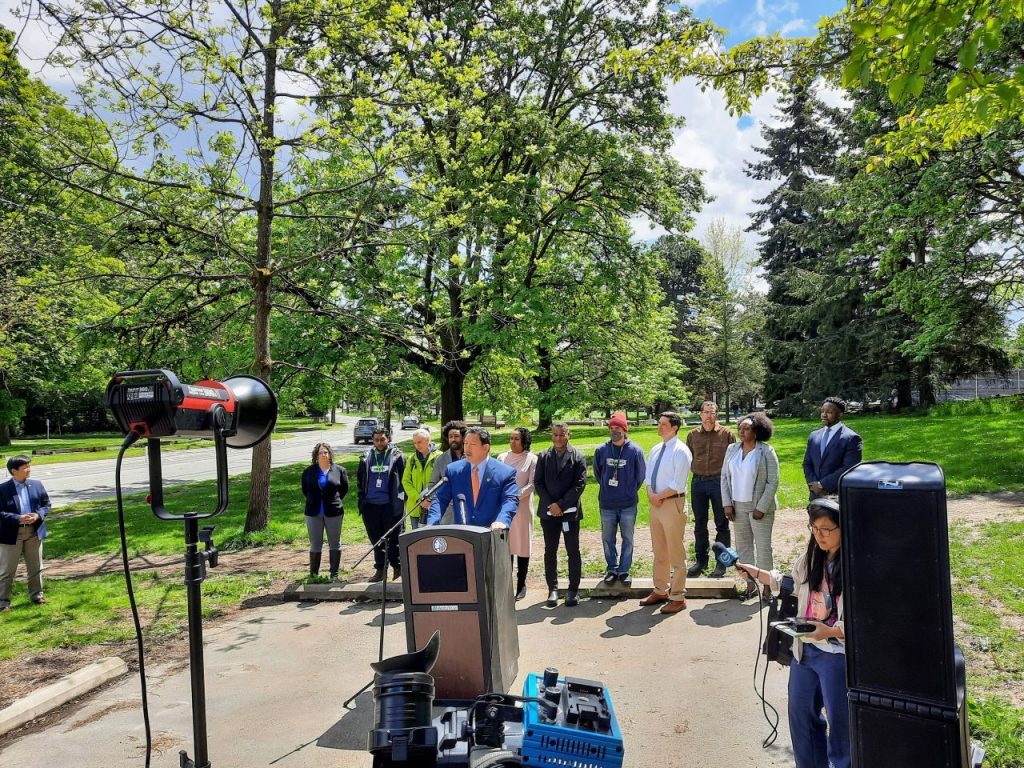 While Harrell has shown a willingness to invest in affordable housing, the actual time it takes to plan, permit, and construct that housing has proven longer than he predicted. On the campaign trail, Harrell pledged to build 2,000 units of housing for homeless people in his first year. He didn't meet that pledge, and instead pivoted to announce a list of "identified" units in planning or production rather than already built. Now 21 months into his term, Harrell's housing dashboard still shows him short of his original pledge, with 922 units opened, 605 under construction, and 538 under a "preparing to build" category.
Harrell's budget includes $850,000 to fund some start-up costs for new Social Housing Public Development Authority, which was approved by Seattle voters in February by a wide margin. The mayor was measured in his enthusiasm for the idea saying diplomatically that he was "open to new approaches to affordable housing."
Looming budget crisis
Since Seattle uses a biennium budget and this is an off-year, the budget makes mostly minor adjustments to the two-year plan laid out and approved last fall.
City budget forecasts have warned of a looming budget shortfall that could reach a quarter billion dollars in 2025, as revenue is trending below added costs from inflation and new programs. The mayor patched together the 2024 with existing funds and did not fully tip his hand as to how he would address the budget crisis projected in the next biennium, but did hint that he would focus on cutting spending rather than new revenue.
Next year, the Mayor said, "We will need to make tough choices about spending and realign our priorities to ensure we are meeting the needs of our residents and providing the quality essential services we all deserve. But we will do the best we can with the hand we are dealt, as I said earlier, following the strategy laid out in this budget, doubling down on the things that work, and investing in the future we want to see."
The City did commission a Revenue Stabilization Work Force that issued recommendations for new revenue sources to explore. However, right as the task force issued its report, the Seattle Metropolitan Chamber of Commerce came out hard against raising revenue for the general fund. While the chamber has supported several recent property tax levies (including the Seattle Housing Levy on the ballot this fall) and sales tax measures, when it comes to a smorgasbord of taxes and fees largely focused on corporations and the rich, they were not so keen on the idea.
Based on initial press releases, Harrell's speech was music to the chamber's ears.
"We applaud that Seattle Mayor Bruce Harrell's budget proposal makes the right adjustments delivering on voter priorities with investments in public safety, homelessness and generating more economic activity – especially in our region's economic engine, downtown Seattle," said Rachel Smith, president and CEO of the Seattle chamber, in a statement. "We hope the city council will do the same, using taxpayer dollars in a way that reflects voter priorities and is focused on delivering results. And after these budget adjustments are passed, we all need to focus on managing the city's impending deficit by getting spending under control, prioritizing existing revenues to meet the city's highest priorities – including public safety and drug use – and increasing the city's tax base by making it easier to do business here."
The budget office projects that the JumpStart corporate payroll tax passed in 2020 will raise $289 million in 2024, which is similar to the forecast for 2023. JumpStart's infusion of revenue has temporarily stabilized Seattle's budget amidst the pandemic recession to close shortfalls in addition to funding affordable housing, Green New Deal investments, and small business support.
The chamber sued to block the payroll tax on behalf of its members, lost, appealed, lost again, and ultimately abandoned it legal challenge.
Climate and transportation
Climate did not get a ton of focus in the mayor's speech, but Harrell did note that is was important for the Emerald City to remain green. He plugged a $350,000 investment "to expand Trees for Neighborhoods program to 1,300 trees planted in 2024 and evaluate siting a One Seattle Tree Nursery to grow trees locally, building on recent $12.9 million grant from the Biden-Harris administration to expand access to tree canopy." The grant was funded through an urban forestry program in Biden's landmark 2021 infrastructure package.
Harrell joked as a Husky graduate he was sick of buying trees from Oregon, as the City of Seattle currently does for its tree planting needs. It remains to be seen if a tree nursery in Seattle proper will be viable given high land costs and the desire to expand tree canopy to 30% as soon as possible rather than move it around via replanting.
Some tree advocates have pushed back against the mayor's recently passed tree ordinance, arguing it doesn't go far enough to protect legacy trees — or even that it was a developer giveaway. Developers, for their part, complained the new tree ordinance would add costs and be a burden on homebuilding. Perhaps sidestepping the controversy, the mayor didn't directly reference the tree reform in his speech, focusing on the planting work instead.
The Mayor did tout Green New Deal investments, many of which had been hardwired into the JumpStart spending plan that Councilmember Teresa Mosqueda spearheaded.
"Our budget includes $20.1 million across three City departments for needed Green New Deal programs and initiatives to support environmental justice, including nearly $2 million for the Office of Housing to support residential oil-to-electric heating conversions," Harrell said.
And while climate advocates have complained that the Harrell administration, facing pressure from landlords, has been slow to strengthen building emissions standards, the Mayor pledged funding and the gumption to make it happen.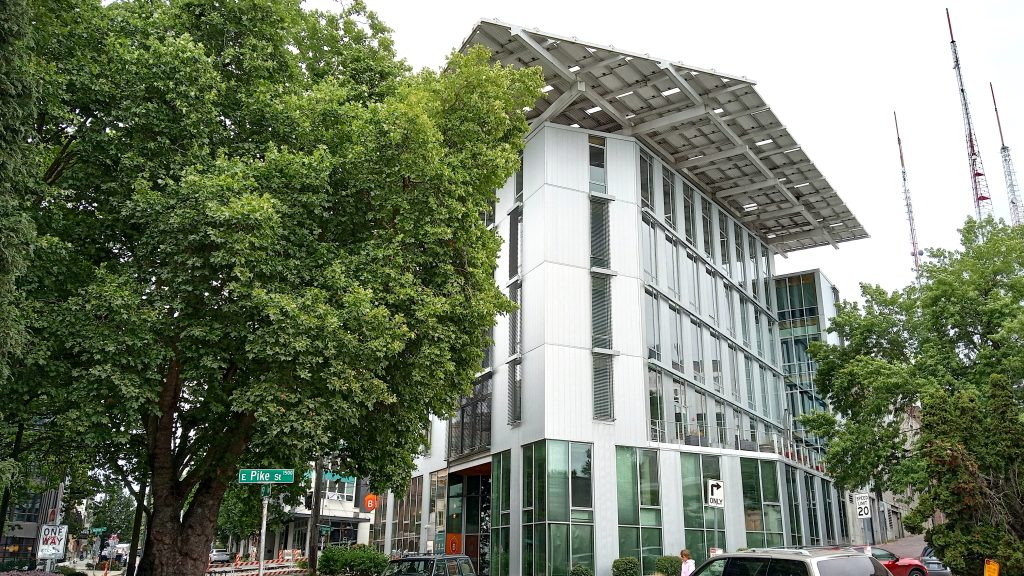 "While we need trees to provide cooling and capture carbon, we also need to produce less carbon from our buildings, transportation, and built environment," Harrell said. "That's why I am including funding for the bold Building Performance Emission Standards I announced earlier this year."
Meanwhile, transportation received even less mention in Harrell's speech, but Ryan Packer will have an analysis of implications of the Mayor's budget on the Seattle Department of Transportation in a subsequent piece. The Seattle streetcar continues to sit in limbo despite some signs of mayoral interest in finishing the Center City Connector. Stay tuned.
Visit the budget office website for a budget summary and full proposed budget.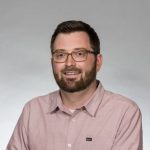 Doug Trumm is publisher of The Urbanist. An Urbanist writer since 2015, he dreams of pedestrianizing streets, blanketing the city in bus lanes, and unleashing a mass timber building spree to end the affordable housing shortage and avert our coming climate catastrophe. He graduated from the Evans School of Public Policy and Governance at the University of Washington in 2019. He lives in East Fremont and loves to explore the city on his bike.