It's been a busy week for candidates jumping in the 2019 Seattle City Council race. The seven district-based council seats will be up, and some of them will be open seats (the two at-large seats aren't up until 2021). In District 4, Rob Johnson announced earlier this month he wouldn't be seeking reelection. Sally Bagshaw made her retirement official on Tuesday, opening up the District 7 seat.
The rush was clearly on in District 4, with Democratic Socialist Shaun Scott (a historian who authored a series on Forward Thrust for The Urbanist) joining the race on capitalist mega-holiday Black Friday. Given the website, former Tim Burgess aide Alex Pedersen is clearly running, and apparently so is Pat Murakami, who ran against Lorena Gonzalez in 2017 and lost mightily. Murakami, a long-time Mount Baker homeowner and tough-on-crime activist, apparently has moved northward, perhaps to be closer to Wallingford's anti-HALA supercrew, which was the namesake on Mandatory Housing Affordability appeal which just got shot down.
Other councilmembers are still in 'will they or won't they' mode. When the City's Employee Hours Tax ("head tax") was introduced, halved and passed, and repealed shortly thereafter, members of the Seattle Metropolitan Chamber of Commerce seemed to smell blood in the water, and promised to take their council back. Whether or not that will lead to an ascendant chamber and success for more centrist or conservative candidates in 2019 council races remains to be seen. Here's the breakdown in the seven districts.
District 1: Herbord Re-election Seems Likely
Councilmember Lisa Herbold seems intent on running again and she's likely to waltz unless some superstar candidate emerges. While The Urbanist has been highly critical of her crusade against the streetcar, she does seem to fit her West Seattle district–where doing car stuff and canceling safety projects is popular, unfortunately.
District 2: Morales Rising?
The council's longest serving member, Bruce Harrell, hasn't announced a re-election campaign and only narrowly won re-election in 2015, besting community organizer Tammy Morales by just 344 votes. Morales could well upset the 12-year council veteran in 2019–and if Harrell doesn't run it would appear to be her race to lose. Southeast Seattle composes the most racially diverse district in the city and it's more progressive than its councilmember, who tends to not rock the establishment boat. The chamber may have aspirations of keeping a centrist in Harrell's seat, but it doesn't look easy at this point.
District 3: The Chamber is Swinging for Sawant
District 3's Kshama Sawant hasn't officially announced a re-election campaign yet, but she is expected to. This week she did get a challenger in the form of Beto Yarce, executive director of the nonprofit Ventures. One problem quickly emerged for Yarce in that he doesn't live in the district although he said he plans to move to Capitol Hill soon and he did live there before moving to leafy suburb Mill Creek with his partner four years ago. Yarce, who contracted bigshot consultant Christian Sinderman, argues that he doesn't need to establish residency until his May filing, but this may be stretching campaign law a bit–not that it might pass muster. Yarce's anti-head tax stance and high powered campaign consultant suggest he's gunning for the chamber endorsement. Whether its Yarce or somebody else, the chamber is going to come hard for Sawant. Pamela Banks ended up falling well short last cycle, even with chamber support, but they're hoping this time will be different.
District 4: Socialist vs NIMBY Smackdown?
Admittedly it's early and a centrist may swerve in to the center lane, but, with Scott in the race and Pedersen campaigning unofficially, this could be a socialist versus disgruntled homeowner champion battle. Pedersen's campaign website is chalk-full of community council leaders singing his praises, from the Wallingford Community Council to the Laurelhurst Community Club to Seattle Fair Growth's Sarajane. Based on their endorsements, Pedersen may run as a referendum on the City's Mandatory Housing Affordability rezones–which are expected to pass "city-wide" sometime next year. Meanwhile, Scott is pushing reform of single-family zoning as an issue. In his announcement manifesto, Scott asked which Seattle do we want: "The buzzing, environmentally-conscious metropolis that established an extensive network of bike lanes in the early 20th century, or the wannabe suburb that tied its neighborhoods to racially-restrictive zoning codes and criminalized the kinds of dense, multifamily housing we need to end capitalism's perpetual crisis of housing unaffordability?"
District 5: Juarez Waltzing to Reelection?
While Councilmember Debora Juarez seemed a little uncomfortable under the public microscope at first, she did seem to grow into the role and seems well positioned to defend her seat. Juarez had been a staunch defender of the North Precinct building and parking structure–which is located within her district and budgeted at $150 million and counting–and called out her fellow councilmembers for opposing it by saying "I'm not afraid of a building." Juarez didn't win that fight yet; North Precinct is on hold now–seemingly until after the election. On the other hand, she helped get a moratorium on new heavy commercial construction (e.g., public storage) in Aurora-Licton Springs Urban Village to allow for time for zoning encouraging dense housing could be put in place.
District 6: You Can't Turn Seattle's Friendliest Councilmember Into a Villain
As much as Lesser Seattle-types want to turn Mike O'Brien into a villain for his tireless advocacy for the environment and social justice, it's not going to happen. If he runs, he will win, at least judging by his easy 23-point victory in 2015. There's been some worry that he would retire. After all, he did get physically thrown out of an event by an angry constituent this year, but he's exactly the kind of leader Seattle needs as it weathers some stormy waters–he's good with a kayak. While his steadfast support for issues like finally finishing the Missing Link the Burke-Gilman Trail may get him shoved and yelled at, it's the right thing to do and refreshing to see a leader who doesn't cave to bully tactics. Anti-homeless prophet Christopher Rufo joined the race and dropped out after 58 days, saying he and his family were being harassed online by upwards of 20 people. He had gotten in this race to harass homeless people, not be harassed himself! Rufo posted that that harassment extended to another city council candidate running foe the 7th district.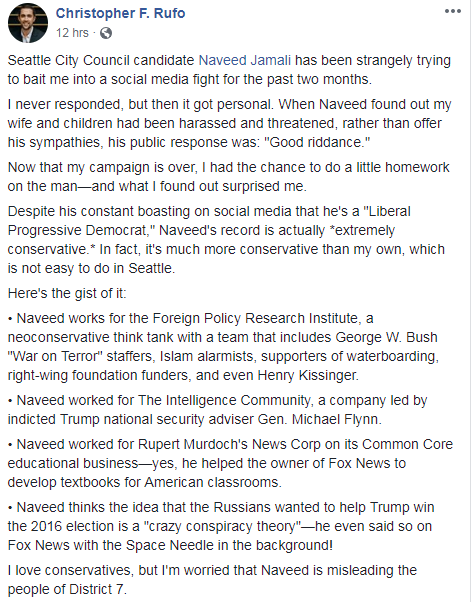 District 7: Anybody's Guess
A former FBI operative named Naveed Jamali is in the race and, as Rufo himself pointed out, is even more fascist-minded than himself. The rivalry between Rufo and Jamali is something alright. Beyond Jamali, anti-housing activist Elizabeth Campbell quietly entered the race, proving there was still room in the clown car. Eventually serious candidates will get into this race. Bagshaw did hint at one successor, as David Kroman reported, "One person is Michael George, a development consultant with the firm Kidder Matthews whom Bagshaw described as an 'up and comer.' He declined to comment on his plans." Update: City prosecutor Andrew Lewis, who previously worked for former Councilmember Sally Clark, declared his candidacy Wednesday which I neglected to mention. 
Author's note: This article has been updated to reflect that Christopher Rufo was (and maybe still is) running in District 6 not in 7. His bickering with Jamali mistakenly led me to believe they were in the same race.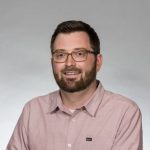 Doug Trumm is publisher of The Urbanist. An Urbanist writer since 2015, he dreams of pedestrianizing streets, blanketing the city in bus lanes, and unleashing a mass timber building spree to end the affordable housing shortage and avert our coming climate catastrophe. He graduated from the Evans School of Public Policy and Governance at the University of Washington in 2019. He lives in East Fremont and loves to explore the city on his bike.