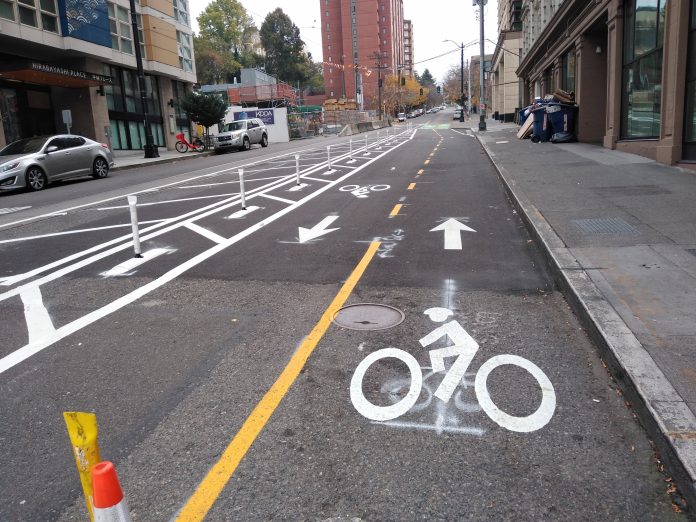 The Seattle City Council is a few weeks into budget negotiations, working out what exactly to do with Mayor Jenny Durkan's proposed 2020 budget. Today they will arrive at discussing the Seattle Department of Transportation's budget for next year, originally endorsed at almost $700 million when it was approved last year as part of the biennial budget.
The biggest change since then is the proceeds from the sale of the Mercer Megablock, which the Mayor (in addition to funding housing) is utilizing to fund some transportation projects. Some $10 million will be allocated to bicycle facilities, but the proposed budget did not specify where the money should go. More on that shortly.
The budget also allocated $3.5 million toward a single intersection in West Seattle, on Highland Park Way, as well as money for the new curbless NE 43rd St in the University District. These are down payments on needed investments in making our streets safer and more accessible, but nowhere near enough.
It's worth noting that, of the Megablock proceeds, $9.2 million will be spent on paying off an unanticipated reduction in commercial parking tax proceeds—almost as much as will be invested in bike facilities. This would likely not have been needed if the Seattle waterfront local improvement district (LID) had not been reduced to take the burden off Downtown condo owners and offset with an increase in the commercial parking tax.
Council Actions on Transportation
Today the council will review submissions from different members on revisions to the proposed budget and once again bike facilities play a big role. Let's start with the Megablock proceeds.
Councilmember Mike O'Brien has proposed specifying in the budget that the bicycle facilities funded by the Megablock be in South Seattle, as laid out by a resolution he shepherded through city council earlier this year. Without additional funding, South Seattle will not be connected to Downtown by the end of the Move Seattle levy.
A Central Staff memo outlines cost estimates for those projects, which include vital links all over the city. The cost comes out to more than three times the proposed $10 million in the budget from the Megablocks, at $32 million, even taking into account the fact that one vital project (Georgetown to Downtown) has no cost estimate yet.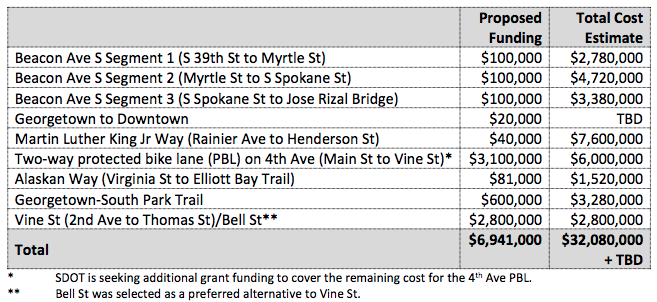 Most of a protected bike lane on Beacon Ave S, for example, could be funded from the Megablock, but nothing else. But picking and choosing is precisely what the Mayor's budget avoided doing.
Councilmember Lisa Herbold has proposed funding the Georgetown to South Park trail but has no funding source identified. At $3.2 million for this project, which would connect two neighborhoods that are relatively disconnected from the rest of the city by bicycle, it is less expensive than the proposed improvements on Highland Park Way that are fully funded at this point in the budget.
Councilmember Herbold has also proposed adding safety improvements on W Marginal Way at the Duwamish Long House. Currently there is no safe way to cross from the Duwamish Trail to the Long House, though SDOT recently made some rechannelizations that should make it easier. This too would cost approximately the same as the Highland Park Way improvements.
Councilmember Sally Bagshaw proposes adding funding for a redesign of the Thomas Street greenway between Seattle Center and Dexter Avenue. Currently the Megablock proceeds fund $2 million in greenway improvements likely to go toward Thomas Street, but probably not to the segment on the east side of Seattle Center, only the west side directly in front of the new arena.
Councilmember Abel Pacheco proposes funding Pedestrian and Bicycle Master Plan projects, with unspecified amounts and an indeterminate project list, though crosswalks at NE 52nd St and Brooklyn Ave NE, safety improvements at NE 45th St and I-5, and safety improvements near View Ridge Elementary School are specifically mentioned.
Councilmember O'Brien has also proposed $1 million to maintain the existing bike lanes that we have, via street sweeper or snow removal equipment. SDOT does have one protected bike lane street sweeper to keep facilities clear, but it's not known what the maintenance program looks like.
All of those projects are essentially competing for similar funding, but without additional revenue it's unclear how the city council will prioritize them.
Additional Transportation Priorities
Further items proposed for the transportation budget include the following:
Councilmember Bagshaw has submitted an item to keep the Waterfront Parking Shuttle operational through 2020. This shuttle was originally funded through the Washington State Department of Transportation as part of the viaduct removal, but it has been filling the role left by the long-departed waterfront streetcar and its successor the Route 99 bus. This would cost $1 million for 2020.
Councilmember Bagshaw also proposes spending $400,000 on lighting improvements to the Market to MOHAI corridor, which would apparently fill in the final spending gap on the entire project. The improvements on the corridor are essentially cosmetic rather than safety-oriented but also focus on wayfinding.
Councilmember O'Brien has proposed adding an active transportation coordinator for Seattle Public Schools, which would ensure that crossing guard positions are filled and oversee walk-to-school and bike-to-school programs. No cost estimate yet available for this.
Councilmember M. Lorena González has proposed a public life study focused on Capitol Hill, which would look at how to activate existing public space and was likely inspired at least in part by her recent trip to Copenhagen with the Capitol Hill Ecodistrict.
Councilmember O'Brien proposed continued funding for the SDOT Transportation Equity Agenda. Currently the Transportation Equity Work Group is funded through early 2020 to be able to present its report, but not continue beyond that or be able to use resources to implement its agenda. This proposal would allow that to continue.
Councilmember Bagshaw proposes adding a Capital Improvement Project for the improvement of Fortson Square, the public space adjacent to the Chief Seattle Club near 2nd Ave S and Yesler Way. This would allow it to be able to more readily receive funding in future years.
Last but not least, Councilmember Kshama Sawant proposes a statement of legislative intent asking SDOT to produce a report by June 1st of next year outlining a budget and plan for making all transit in the City of Seattle free of charge to users.
Provisos for Funds
The city council can also place holds on funds, via proviso, when they want to ensure more oversight over specific projects or slow them down. Two proposals for the 2020 budget would do this, both proposed by Councilmember Herbold.
One regards the Delridge RapidRide project, the next transit corridor project that is not waiting on Federal dollars to start construction. This proviso ensures that spending only occur on design work on the project until city council authorizes further allocations, and follows Councilmember Herbold placing similar provisos on the project earlier in the process to ensure higher levels of oversight.
The other concerns the Center City Connector streetcar. Councilmember Herbold's proviso would require SDOT to submit a funding plan for streetcar operations that wouldn't even begin revenue service until 2026. As a streetcar opponent who has repeatedly referred to it a "shopping shuttle", she has attempted to stymie the project, but with the Mayor's proposed ridehailing fee filling in the final gaps of capital funding, that is getting harder and harder to do. Last year, she submitted a statement of legislative intent (SLI) requesting similar information but apparently SDOT is not yet ready to present that information.
The city council will take up all of these items at 9:30am today, but we likely won't know which items have broad support (and which will die after only being sponsored by one or two councilmembers) until the coming weeks. This coming Tuesday night, October 22nd at 5:30pm, there will be a public hearing on the budget where you can express your support for moving any of these items forward. In the meantime, contact councilmembers who aren't the primary sponsor via phone or email.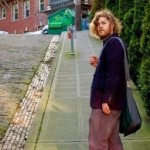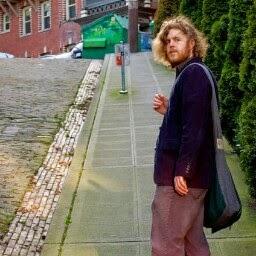 Ryan Packer lives in the Summit Slope neighborhood of Capitol Hill and has been writing for the The Urbanist since 2015. They report on multimodal transportation issues, #VisionZero, preservation, and local politics. They believe in using Seattle's history to help attain the vibrant, diverse city that we all wish to inhabit. Ryan's writing has appeared in Capitol Hill Seattle Blog, Bike Portland, and Seattle Bike Blog, where they also did a four-month stint as temporary editor.