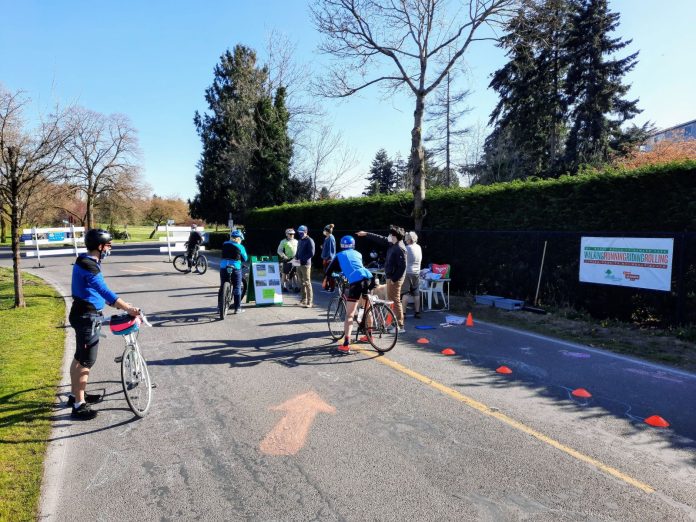 During the height of the pandemic last year, Seattle Parks and Recreation teamed up with the Seattle Department of Transportation (SDOT) to create what it called "Keep Moving Streets." With signs and temporary barriers, the agencies restricted car traffic on the streets to create more space near popular parks for people walking, rolling, biking, and recreating in a physically-distant fashion. The popular program was mostly short-lived. Many Keep Moving Streets reverted back to allowing vehicles at the end of summer, though plenty of people have wished for their return. Fortunately, last week, SDOT announced the status of Keep Moving Streets for 2021's summer season and some are returning.
By the way, a separate but very similar SDOT program called Stay Healthy Streets is still mostly in place now, surviving the winter, sabotage, and battering attempts of motorists. However, usage of Keep Moving Streets in 2020 was higher on a per-mile basis than Stay Healthy Streets, which is another argument for their restoration.
Lake Washington Boulevard
Last Summer, SDOT opened a three-mile stretch of Lake Washington Boulevard between Seward Park and Mount Baker Beach to people walking and rolling, with drivers still able to access driveways along much of the route. This is the same route that has been used for Bicycle Sundays, a 52-year-old Seattle tradition that opened the street one day a week for a few hours. The result was a big increase in people able to use the street when they aren't in a car, with very little traffic diversion seen on neighboring streets, according to SDOT's traffic count data.
Since the summer pilot, SDOT moved to implement a shorter open street on Lake Washington Boulevard over holiday weekends and school breaks. This one-mile closure between Mount Baker Beach and Genesee Park has been tantalizing; venturing down to Seward Park anyway means sharing the road with drivers who may be annoyed at the one-mile closure or navigating the narrow path along the road.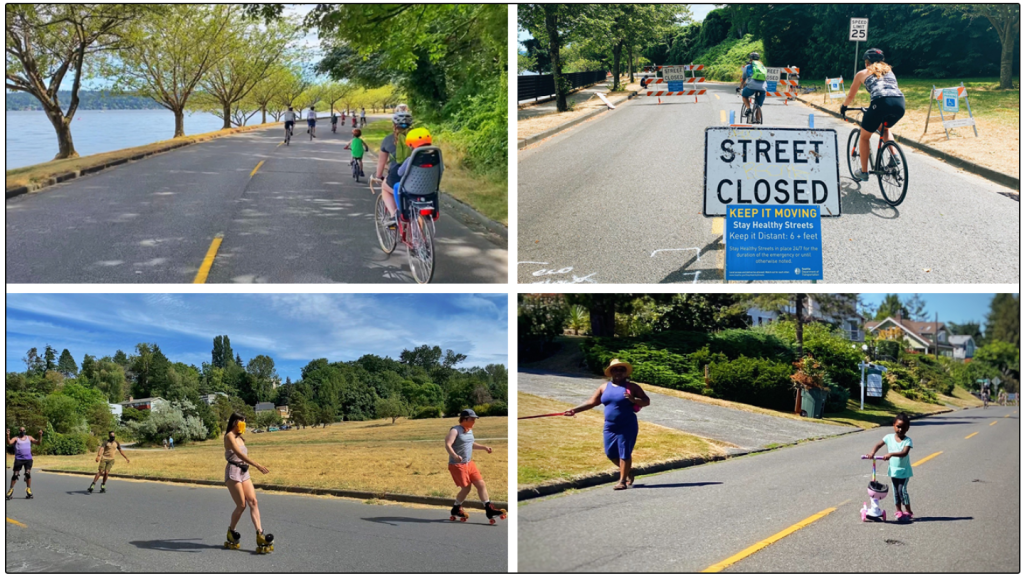 For this summer, both options are on the table, with a new survey asking for input on what the public would like to see. On the table: the three-mile option at all times, the one-mile option at all times extended to three-miles on weekends, the three-mile option on weekends only, and the one-mile option. The survey asks you to rank your choices: the order I have listed them here seems like the best way to rank them in terms of providing an open street to the most people. The three-mile option at all times is clearly the best and safest option.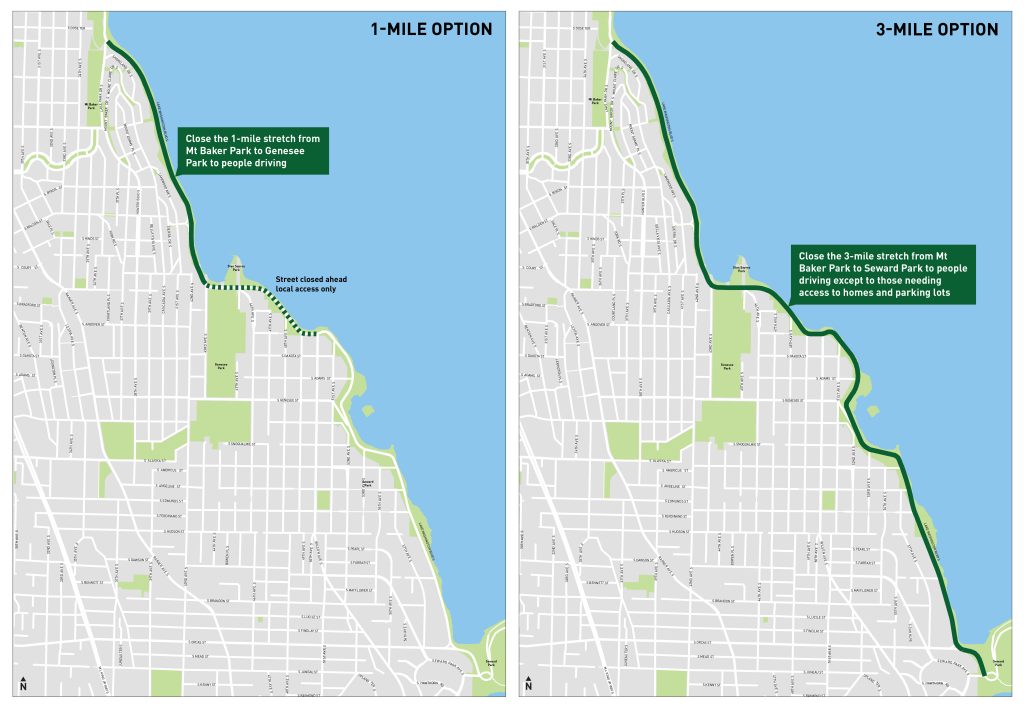 The long-term future of this stretch of Lake Washington Boulevard remains unclear. Permanent diverters where the one-mile stretch has been implemented would definitely cut down on the amount of through-traffic on the corridor as a whole and is hopefully explored further — there are almost no driveways that would be impacted on that stretch.
West Green Lake Way
Until recently, SDOT had opened nearly the entire southwest quadrant of the street circling Green Lake. But late this winter one of the travel lanes allowed vehicles again, to provide access to the parking lots along the street, to the off-leash dog park in particular. After reports of some people driving cars in the wrong lane, this configuration will be reverted back on most of the street, but the segment between the parking lots and East Green Lake Way will be available for people driving to use. This change is expected any day now.
Advocates are still hoping to see SDOT implement a proposal it developed last year to close the curbside lane on Aurora Ave N next to Green Lake Park. It would provide a more continuous connection for people walking and rolling while the inner loop in Green Lake Park remains open to people walking in one direction only and closed to people biking.
Alki Beach
The streets around the tip of Alki Point, Beach Drive SW and Alki Ave SW, have been local-access only since last year. Unlike the other Keep Moving Streets, this street is moving toward becoming a permanent fixture as part of the 20 miles of permanent Stay Healthy Streets that the department intends to install to fulfill a promise that the Mayor made last year. That could end up looking different than the street does now — one lane could be opened to people walking and rolling, for example.
While that conversation takes place, SDOT says that the current Alki Keep Moving Street will stay in its current form until next spring, unless funding is secured earlier. The Mayor's promise of permanent infrastructure was made without a funding source identified, though SDOT is still trying to identify a source for the funds after its proposal to use some other bike infrastructure funds was not well-received by the City's advisory boards.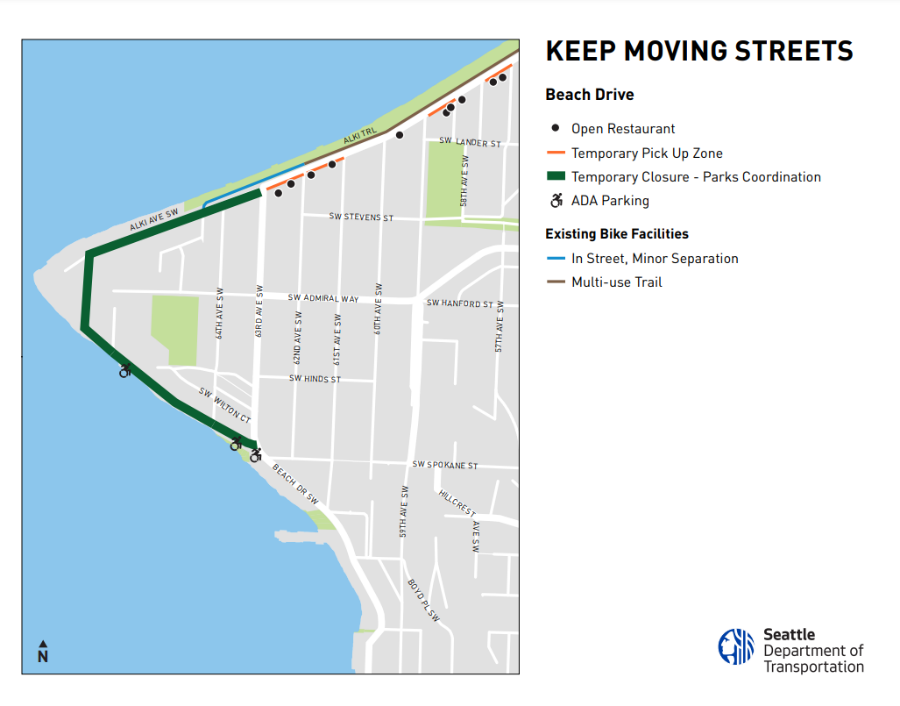 Golden Gardens
Golden Gardens Drive, the street between the park and Crown Hill above, being open to people during 2020 was paired with parking lot closures by Seattle Parks and Recreation in order to discourage park overcrowding. Now we have very little scientific basis for measures to discourage park overcrowding given the lack of evidence that outdoor transmission is a major way that coronavirus spreads. Plus closing those options pushes people to socialize inside where the risk is much higher. Nonetheless, Seattle Parks and Recreation (SPR) says it has observed "crowding and mask-noncompliance" at Golden Gardens and is considering parking lot closures that would be paired with opening the street to people to walk and roll. These shouldn't need to go hand-in-hand; open the street to increase open space, not to discourage people from using a park.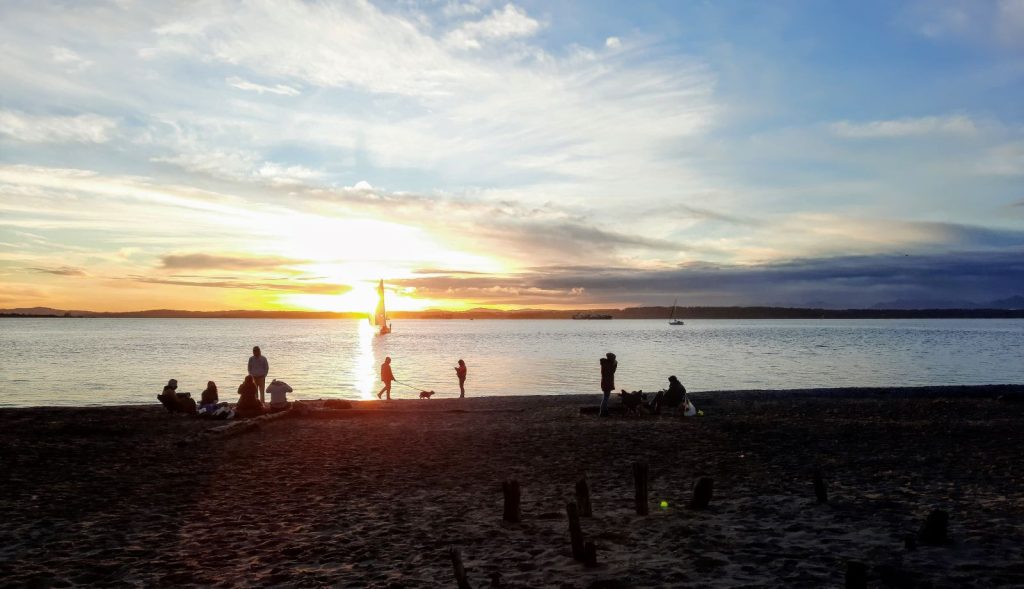 SDOT says "regular communication between SDOT and SPR will determine whether to move forward with this Keep Moving Street." Hopefully common sense prevails here.
Of course, it's never too late to add more Keep Moving Streets and Stay Healthy Streets. Center City neighborhoods like Downtown, Belltown, Capitol Hill, Uptown, and the University District all have far more streets than they have open space. The goals of the open street announcements outlined above all align with adding more open streets overall. Taking a fresh look at what areas may have been overlooked in 2020 would be a great exercise for the Keep Moving Street program.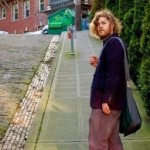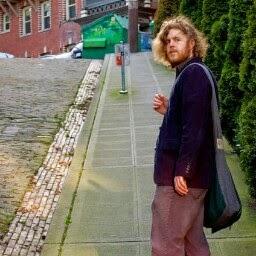 Ryan Packer lives in the Summit Slope neighborhood of Capitol Hill and has been writing for the The Urbanist since 2015. They report on multimodal transportation issues, #VisionZero, preservation, and local politics. They believe in using Seattle's history to help attain the vibrant, diverse city that we all wish to inhabit. Ryan's writing has appeared in Capitol Hill Seattle Blog, Bike Portland, and Seattle Bike Blog, where they also did a four-month stint as temporary editor.