The chamber and friends are focused on homeless sweeps and pinning blame on progressive councilmembers, rather than housing solutions.
On Monday, the Seattle Metropolitan Chamber of Commerce released a poll and proceeded to spin the findings to promote their long-time agenda of increasing police spending and seeking to make homeless people disappear by confiscating their tents. The Seattle Times editorial board was all too happy to pile on and had an editorial ready to go early Monday morning based — working off with an advance copy of the poll and a preconceived narrative, it would seem.
"These findings should be a cold-water shock to any political leader still deluded that the city's degeneration has escaped voters' ire," Seattle Times publisher Frank Blethen and his editorial board cohorts wrote. "The poll adds to evidence that people aren't looking away from the persistent tent encampments under Interstate 5 and in Woodland Park, the closure of Little Saigon fixture Seven Stars Pepper Szechwan Restaurant or the drug-centric lawlessness plaguing grimy downtown streets."
The numbing power of Szechuan peppers may have helped Blethen weather the pain, but he'll have to look elsewhere. It's tough being heir to an oligarchic dynasty living in a hellscape of degenerates who just won't pull themselves up by their bootstraps or inherit a fortune like he did.
As convenient as it would be if encampment removals, tough talk, and positive vibes were enough to eliminate homelessness, this oft-tried policy incantation has yet to deliver. Abracadabra, we say, but alas homeless people do not disappear or magically get housed after their encampments are destroyed without enough supportive housing to shelter them. Often, they just relocate.
Overall homelessness has climbed in Seattle, even with a steady diet of sweeps early in the administrations of both Jenny Durkan and now Mayor Bruce Harrell. Aggressive measures to boost affordable housing and social services have been much slower in coming than sweeps and tough talk. Voters, however, are ready for housing solutions that drive down costs. In fact, they are increasingly considering moving elsewhere if they don't get that relief. Crime and public safety was the second most cited reason for thinking of leaving Seattle, but most of the Chamber and Blethen conversation centered around it.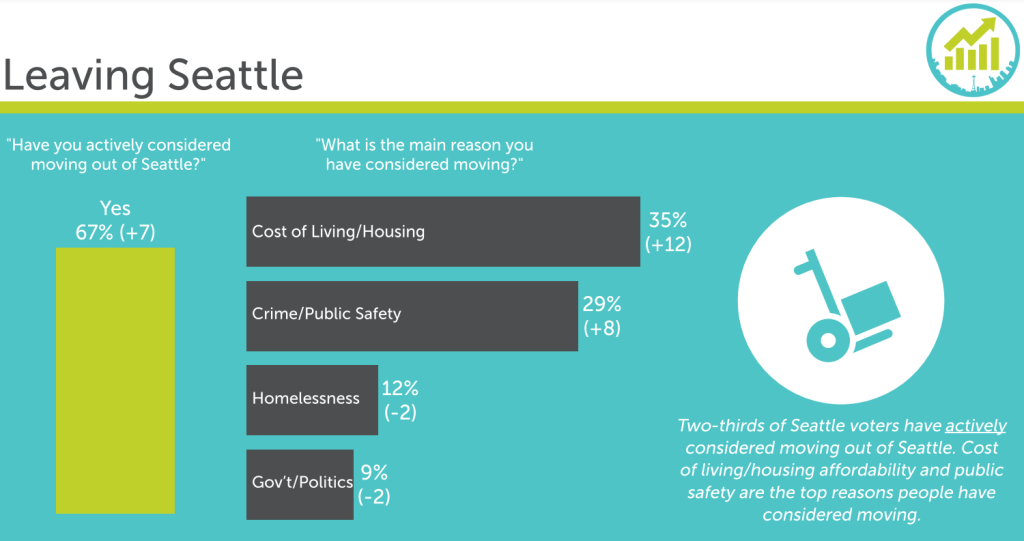 Voters overwhelming favor adding more housing near transit by a 82% to 17% margin, which is up 3% since the Chamber's last poll. And in Seattle that's the majority of the city. Moreover, Seattleites are supporting changes to single family zones in increasing numbers, favoring triplex zoning in most areas by a 61% to 39% margin. The only subgroup to oppose this change is people who identify as Republicans.
That shift didn't happen because Seattleites read about it in Seattle Times opinion pages. The Seattle Times editorial board has a long history of defending single family zoning and housing exclusion. But people are feeling higher housing prices and living costs in their pocket books and appear increasingly frustrated about the lack of progress. Housing prices jumped double digits across the region this past year. Most of the Eastside has exceeded $1 million for the average home price, and Seattle isn't far behind.
EMC Research conducted the poll between March 13 to 20, surveying 700 registered voter respondents via text-to-web and phone interviews. The margin of error was 3.9%, according to EMC. The March timing gives us the first glimpse of how public opinion has shifted after three months under Mayor Harrell. So far, the number of Seattleites saying the city is on the wrong track is only increasing reaching 76%, up 8 points from the Chamber's last Index poll. Plus, 81% said Seattle's quality of life is worse than four years ago. Nonetheless, 50% said they were optimistic about the future.
The poll registered growing concern about crime, but homelessness remained the top concern with 61% citing it, while 46% cited crime and public safety, and 22% cited affordability and housing. Rachel Smith, president and CEO of the Seattle Metro Chamber, painted the poll as a mandate to act with urgency.
"The voice of Seattle voters is crystal clear: we are united on the most pressing issues, we are united on the solutions, and we are united in our need to address them with urgency," Smith said. "While some of the numbers in this research are tough to see, I have a great deal of optimism because the voters have laid out a clear path, one that rejects ideological binaries and embraces an 'and' approach to solutions. One that centers our values and will enhance our quality of life here for everyone. And one that the Seattle Metro Chamber is ready to get to work on."
While Mayor Harrell has repeatedly said no one is more determined to tackle the problems of homelessness and crime than him, exactly how he'll turn that enthusiasm into policy, let alone results, is less clear. The Mayor has promised 2,000 additional units of emergency housing in his first year, echoing promises the Compassion Seattle campaign made before their charter amendment was struck down as invalid by the courts. But he's made no progress report yet as to actually meeting this ambitious goal, and production seems to be progressing at about the same pace as before he took office.
The search for a new police chief start is only starting in earnest four months in his administration. Interim Chief Adrian Diaz remains in the running to keep the job, despite racial disparities in use of force persisting and crime headed in the wrong direction under his watch. Diaz was also the SPD top brass that covered up and potentially greenlit a ruse operation in the Capitol Hill Organized Protest that the Mayor condemned as unethical and breaking trust with the public. While the rhetoric has been urgent, it's hard to point to policy innovations. We've heard about police hiring incentives, which haven't been demonstrated to work yet, but less so boosting youth violence prevention programs that have.
In total, violent crime is up 61% since Mayor Mike McGinn's last year in office in 2013. Despite being maligned as a poor executive and police reform obstacle, he had the best track record on violent crime in recent Seattle history. While the Seattle Times editorial board and moderate talking heads railed against McGinn for supposedly mismanaging police, public safety, and just about everything else, ironically, he has delivered more results that his three successors who both they and the chamber endorsed.
Along the way they surely pointed to broad polls like this one to add a veneer of seriousness and rigor to their narratives. But designing solutions is more complicated than wrong track numbers and melodramatically sharp binaries, such as those presenting perfectly executed encampment sweeps with referrals to abundant supportive housing (that almost never happen in real life) versus no sweeps ever, let's "enable" public camping hardline positions that are rarely espoused.
Actual problem solving is more nuanced and complicated than that. And despite the Chamber's insistence that they're seeking an "and" approach rather rigid ideology, so far sweeps have been all too real and the other solutions mostly hypothetical — pledged at a later date at best.
The Index poll numbers are interesting, but take them with a grain of salt. Despite talk of leaving town, apartment vacancy rates are low and housing prices are still skyrocketing. There's no exodus in the hard data yet. A hardline stop the sweeps position wasn't popular in this poll, but spending more to solve homelessness was, despite some questions that appeared designed to tease out tax fatigue.
Voters are frustrated, that's probably fair to say. But it's not clear if Mayor Harrell is the "One Seattle" savior he's framing himself as, or just another leader to make a lot of promises but fail to move the fickle masses or deliver tangible results.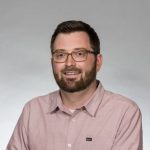 Doug Trumm is the executive director of The Urbanist. An Urbanist writer since 2015, he dreams of pedestrianizing streets, blanketing the city in bus lanes, and unleashing a mass timber building spree to end the affordable housing shortage and avert our coming climate catastrophe. He graduated from the Evans School of Public Policy and Governance at the University of Washington. He lives in East Fremont and loves to explore the city on his bike.