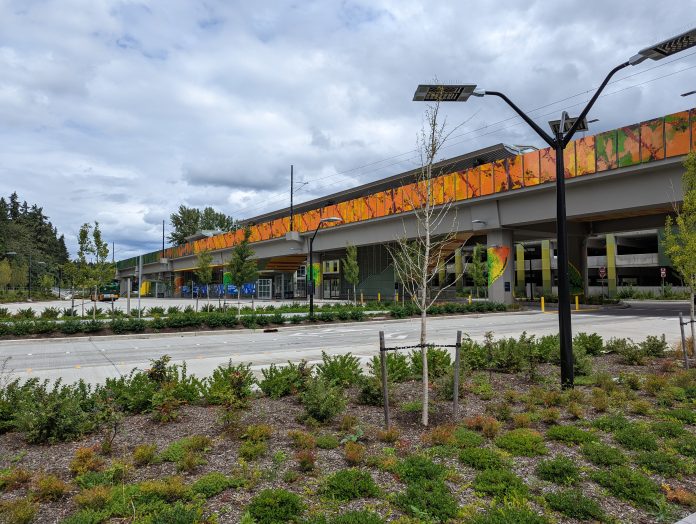 From a transit-oriented development perspective, in the nearly $3.7 billion East Link light rail extension, the most shameful station area, by far, is around South Bellevue Station (although there is plenty of competition). The potential of the station is choked by unmatched suburban sprawl. Large-lot single-family zoning, a multitude of cul-de-sacs, and three highways are clear features of the station's context, suppressing its development capacity and accessibility for future riders.
However, these limitations don't mean that ridership will be terribly low. Many, including myself, will be using this station for it is located near beautiful parks and trails. Mercer Slough Nature Park, next door to the station, being a clear jewel among the city's fantastic park assets. The greatest silver lining here is that the undeveloped nature of the station area will allow for a reimagining of the station, and Bellevue, for a better and transformed future.
Spy some problems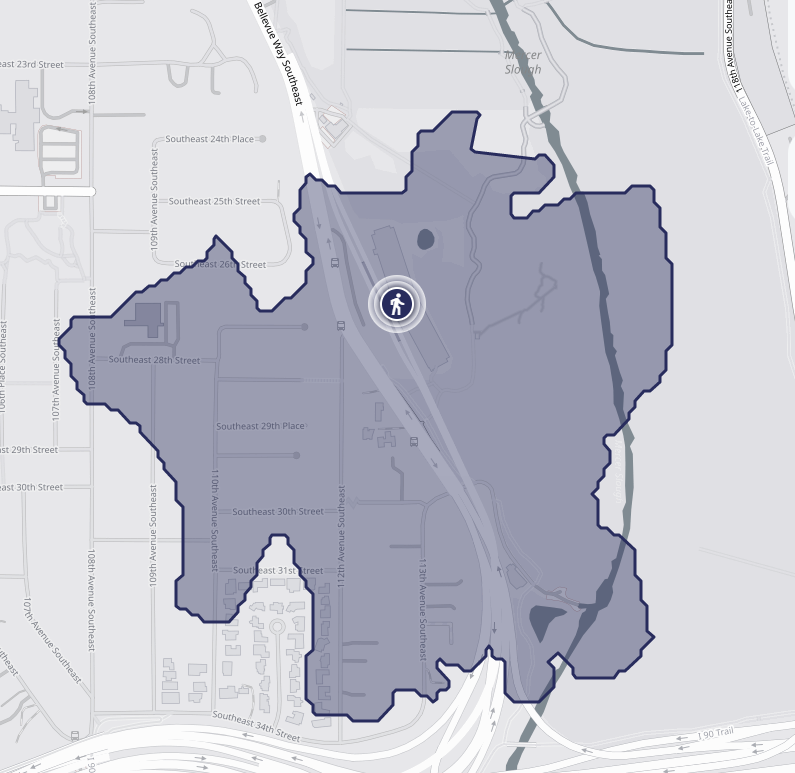 Let's spot some of the transportation issues around the South Bellevue Station area with the illustrative walkshed and bikeshed maps above. They roughly indicate where you can walk or bike to in 10 minutes from the station, given the available rights-of-way. Both walking and biking are restricted by minimal access into nearby residential areas due to just having two openings into the neighborhood to the west. 112th and 113th Avenue SE are the only two entrances into the residential area within half a mile of the station and they're both south of the station. To go north, one has to trek two thirds of a mile to find access into residential areas.
Very little pedestrian and bike infrastructure exist here. The little that does includes trails around the park and a stretch of 108th Avenue SE and Bellevue Way SE. Both walk and bikesheds are hemmed in by highways and cul-de-sacs. The primary barrier, Bellevue Way SE, that effectively is a highway separates park and station from residences and directly abuts the station.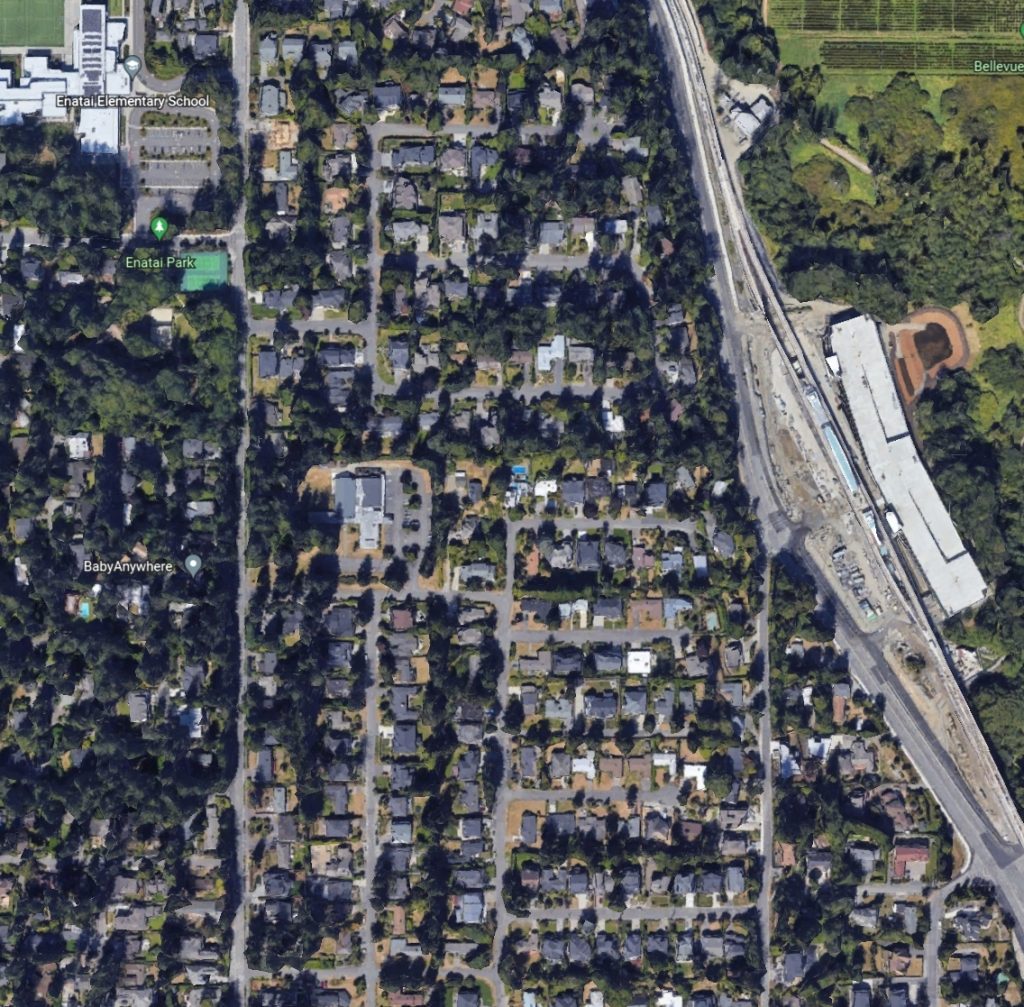 Zoning in the station area ranges from one to five single-family homes per acre, with the bulk of the zoning allowing for around four units per acre, producing a suburban landscape dominated by McMansions, lawns, and yards. Trees are primarily on private property, with few public street trees protected by the City.
Opportunity for transformation
Low density and a poor transportation infrastructure, actually, might be a rather clean slate to work with. Unlike existing station areas such as the one around Roosevelt Station in North Seattle, low-medium density subdivided townhomes aren't being built around South Bellevue Station. Existing large parcels, typically between 8,000 and 25,000 square feet, would allow for an easier acquisition of parcels fit for larger missing middle housing types. Piecing two or three parcels together can easily get a developer the lot area for a highrise. The dearth of large streets that currently limits walking and biking access might be a blessing in disguise, as it also limits the capacity for cars.
There's so much that the city could do to improve the station area, so let's practice some fantasy urbanism.
The pedestrian connection proposed in Polaris at Lake City's EDG packet (Courtesy of Olson Projects)

The parcels and right of ways around the South Bellevue Station (Map generate with GIS)

.5 mile and 1 mile radius around the South Bellevue Station to demonstrate potential walk and bikesheds around the station. (Mapping by Author)
Midblock pedestrian/bike connections would be one way to expand the walk and bikesheds of South Bellevue station. These connections could be easements on private land to establish pedestrian and bike connections between two public rights-of-way. In Seattle, they have been provided on streets with large block faces like Lake City Way NE to give pedestrians and bicyclists more access to nonarterial streets.
For example, the Polaris development in Lake City (pictured above) has provided a pedestrian connection between Lake City Way NE and 33rd Avenue NE, potentially cutting out a quarter of mile of travel for a pedestrian or bicyclist. These connections could be provided between Bellevue Way and the many cul-de-sacs on the other side of parcels abutting Bellevue Way, increasing pedestrian and bike access into the surrounding neighborhood without increasing capacity for car traffic.
Another transportation treatment might include putting Bellevue Way South on a road diet, reducing the width of the roadway. With I-90 and I-405 so close by, Bellevue Way S does not need to be a highway as well. The road is at its widest in the south, by the light rail station, where it expands to six lanes. Necking down the roadway to allow for three or four lanes would give the city the space to fit in non-car transportation, such as curbs, sidewalks, bike lanes, and street trees.
Generally, increased transit service, bike infrastructure, and pedestrian infrastructure would also be needed to support increased capacity for another necessary reform, major upzones to increase the utility of South Bellevue station. Transportation and land use policy can complement each other here, with the requirement and incentive for developers to improve their frontages. These improvements can include sidewalks, street trees, mid-block pedestrian connections, or any other public benefit that in turn supports an increased volume of residents/customers/workers etc.
Whatever the zoning ends up being implemented will have to be accommodated with an appropriate transportation network. If freight access is necessary for a mixed employment and residential future for the station, then maybe Business Access and Transit lanes could be a compromise that retains a still somewhat wide Bellevue Way S.
There are many zoning possibilities that would offer a better use of the proximity to light rail than the large-lot single family that exists now. Small middle housing like townhouses may not even be appropriate in the immediate station area. Highrises multifamily and mixed-use buildings should be considered given the acute regional housing shortage and leadership from our neighbors to the north — Vancouver's regional metro system is a champion of such highrise transit/oriented development.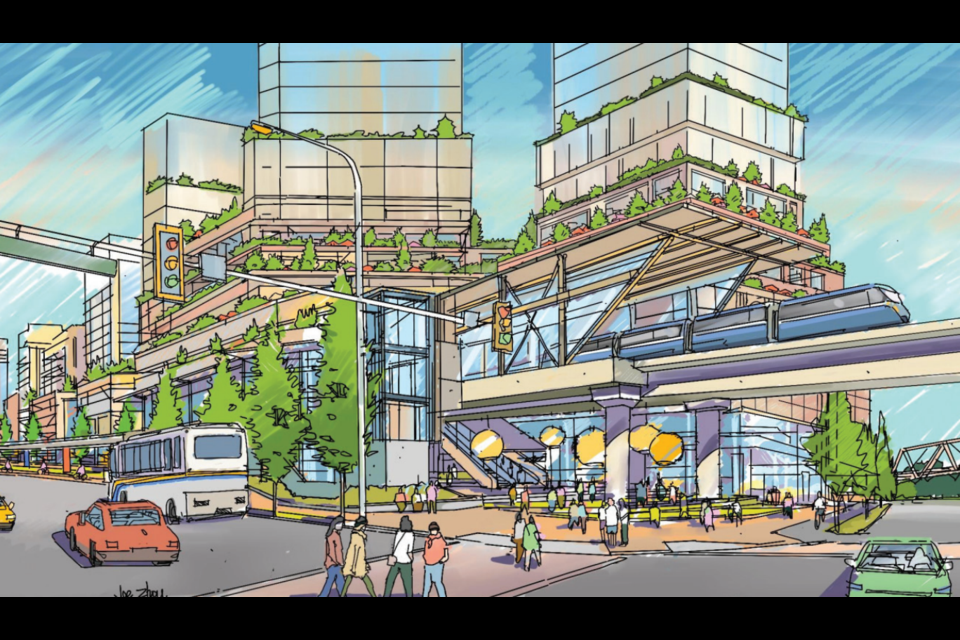 No matter what, Mercer Slough Nature Park will be a part of that future, as critical wetland and parks space. While it unfortunately makes up the entire eastern half of the station area, Bellevue should embrace this park connection with improved connectivity to the station and neighborhood by increasing crossings across Bellevue Way S. The park and blueberry farm should be improved to accommodate more visitors and studied for public leisure or activity infrastructure improvement such as ball fields, tennis/pickleball courts, a visitor center, etc.
To continue the green theme, Bellevue should at least overlay a strong street tree requirement in the South Bellevue Station area. Bellevue should be requiring trees to be planted in public right-of-ways to reduce the percentage of trees on private property. Street trees enhance the public realm with shade, safety, and a green aesthetic.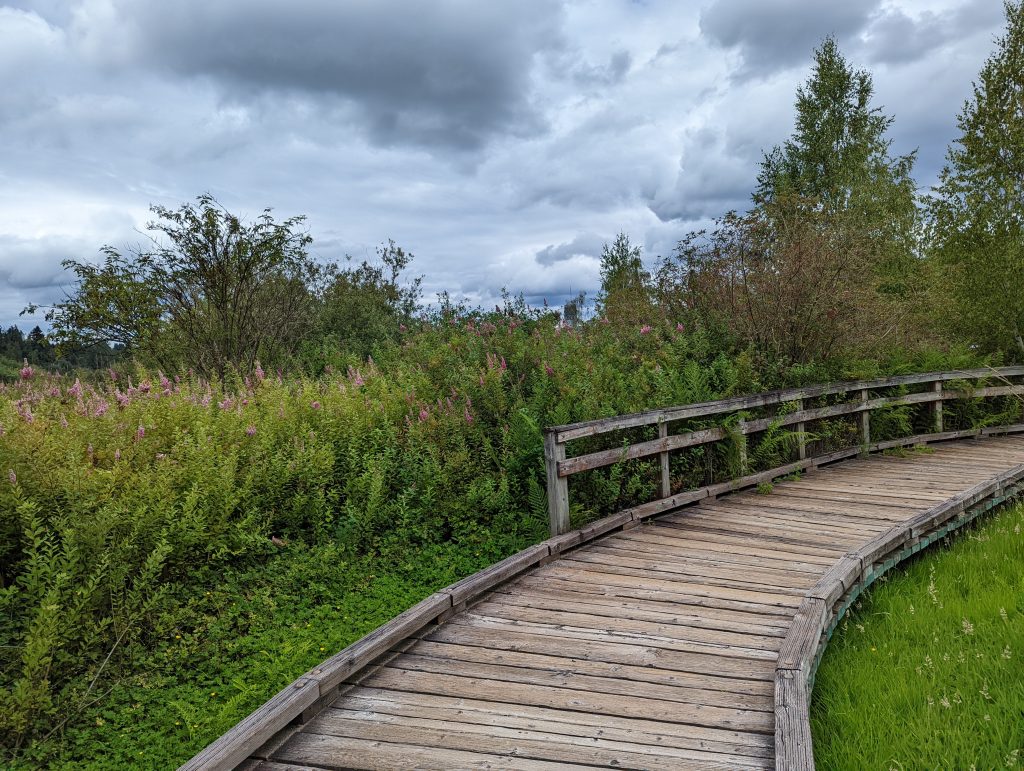 Leisure, however, shouldn't be the only use of this station, residence, commerce, and employment should also encompass the station's utility. Making good use of the station requires Bellevue to make major changes to the land use nearby. However, not everything needs to change. The limited streets for vehicles and wetland park should remain to give the station area a strong pedestrian, bicyclist, and park focus. Ultimately, the planning will be up to Bellevue, but as the development capacity of the Downtown and BelRed neighborhoods quickly deplete, maybe it's time to revisit South Bellevue to actually take advantage of new light rail infrastructure.
There's also the elephant in the room, Beaux Art Village. The affluent and 300-resident-strong town is separate from Bellevue and less than half a mile away from that station. Perhaps that tiny municipality is even out of reach of fantasy, but it's also possible the arrival of light rail might inspire positive change there too.
Shaun Kuo is a junior editor at The Urbanist and a recent graduate from the UW's Jackson School. He is a Seattle native that has lived in Wallingford, Northgate, and Lake Forest Park. He enjoys exploring the city by bus and foot.