This Transpo Notes roundup touches on a mix of transit and bike stories, including:
An update on staffing levels a local transit agencies;
Details on a forthcoming study of candidate RapidRide corridors;
News on the opening of and equitable transit-oriented development in Roosevelt;
An update on the Green Lake Outer Loop; and
Details on competing King Street Sounder platform improvements to be studied.
Staffing levels still mostly down at local transit agencies
Once again, transit agency operator staffing levels are largely down this month compared to August.
King County Metro is budgeted for 2,723 transit operators, including about 2,100 full-timers, but short about 163 operators. In the past month, however, many part-time operators moved into full-time roles, which will likely help with operations in addition to schedule changes that just went into effect.
| | | | |
| --- | --- | --- | --- |
| Month | Full-Time | Part-Time | Total |
| July | 1,982 | 585 | 2,567 |
| August | 1,982 | 578 | 2,560 |
| September | 2,002 | 558 | 2,560 |
Trainees: Nine part-timers currently in training. Addition five additional training classes of operators split between full- and part-time will begin over the next three months.
For Link 1 Line, staffing is seeing some fluctuations as Link operator numbers as well as reserve trainees. However, the number of Seattle Streetcar operators has held steady.
| | | | |
| --- | --- | --- | --- |
| Month | Streetcar Operators (including reserve) | Link Operators | Link Trainees |
| July | 31 | 105 | 11 |
| August | 31 | 104 | 9 |
| September | 31 | 98 | 4 |
Community Transit is down another seven operators for the month, continuing a trend of slow staffing shrinkage.
| | | | |
| --- | --- | --- | --- |
| Month | Full-Time | Part-Time | Total |
| July | 328 | 4 | 332 |
| August | 326 | 4 | 330 |
| September | 319 | 4 | 323 |
Trainees: 14 trainees are currently taking classes and will graduate between September and mid-November, depending upon when they started training.
Pierce Transit staffing levels were up slightly this month two net new full-time operators, but there's hope that numbers will grow even more in the next few months. The agency has a target of 430 full-time operators and budgeted for 515 operators total.
| | | | |
| --- | --- | --- | --- |
| Month | Full-Time | Part-Time | Total |
| July | 430 | 8 | 438 |
| August | 424 | 0 | 424 |
| September | 426 | 0 | 426 |
Trainees: A class of 13 trainees graduated on September 6th and are not represented in the numbers in the table. Another class of 26 trainees started on September 12th and is the largest one this year — and in years, in fact.
Candidate RapidRide corridors may get study
Next week, King County Metro will brief the Regional Transit Committee — a federated board of city and county officials — on candidate RapidRide corridors that the agency wants to study. Five to six corridors could be selected to advance to the study phase, setting them up for project development and implementation as part of Metro Connects' 2035 Interim Network.
RapidRide is best characterized as an enhanced bus service with off-board payment capabilities, all-door boarding, higher service frequency and expanded span service, modest right-of-way priority, and lower stop frequency. It, however, generally ranks fairly low under the bus rapid transit standards.
Metro is already work on developing several RapidRide projects, including the G, H, I, and J Lines which are either under construction or soon to be and the K and R Lines which in the early project development phase. The G through J Lines have planned openings through 2026, but there is no set timing for construction and opening of the K and R Lines since there is no identified funding and implementation plan for them yet.
There are candidate corridors in the Metro Connects Interim Network plan, which are described in the following table:
| | |
| --- | --- |
| Metro Connects Corridor Number | Candidate Description |
| 1012 | This candidate project would be a new RapidRide line and follow much of the Route 44 corridor running from Ballard to Children's Hospital via Wallingford and University District. |
| 1049 | This candidate project would be a new RapidRide line and follow much of the Route 150 corridor running from Kent to Downtown Seattle via Southcenter. |
| 1052 | This candidate project would be a new RapidRide line and follow much of the Route 181 corridor running from Twin Lakes to Green River Community College via Federal Way. |
| 1056 | This candidate project would be a new RapidRide line and follow much of the Route 165 corridor running from Highline College to Green River Community College via Ket. |
| 1064 | This candidate project would be a new RapidRide line and follow much of the Route 36 and 49 corridors running from Othello Station to the University District via Beacon Hill, First Hill, and Capitol Hill. |
| 1993 | This candidate project would be a new RapidRide line and follow much of the Route 40 corridor running from Lake City to Downtown Seattle via Northgate, Crown Hill, Westlake, and Ballard. |
| 1999 | This candidate project would be a modification and extension of RapidRide line and follow portions of the RapidRide B Line and Route 226 corridors running from Redmond to Eastgate via Overlake. |
| 3101 + 1028 | This candidate project would be a modification and extension of RapidRide line and follow portions of the RapidRide B Line and Route 271 corridors running from Crossroads to the University District via Downtown Bellevue and Medina. |
The study is expected to confirm representative alignments and develop clearer information on cost estimates, capital needs, and operation plans as well as develop a prioritization framework for the projects. The study should be delivered in early 2024.
New Roosevelt equitable transit-oriented development open
On Wednesday, local officials gathered at Cedar Crossing, a new equitable transit-oriented development at Roosevelt Station, to celebrate its opening. The development totals 254 income-restricted homes for households making 30%, 50%, and 60% of the area median income. A good share of the homes are designed for larger families with 91 two- and three-bedroom homes. Sound Transit, which owned the property, determined that it could be repurposed for affordable housing development once station construction was completed. Bellwether Housing and Mercy Housing Northwest worked jointly to deliver the project and won a significantly discounted price for the land at $6.75 million from Sound Transit. The project is immediately adjacent to the station and will also feature first-floor retail, a daycare, and a public plaza space.
New Green Lake Outer Loop coming very soon
Earlier this week, the Seattle Department of Transportation (SDOT) announced that construction on the Green Lake Outer Loop bike project will begin later this month. This bike network improvement will reconfigure various streets and the northbound portion of Aurora Avenue N — a state highway — along Green Lake Park. The highway section has three northbound lanes, but SDOT will modify it two lanes and convert the easternmost lane into a bidirectional cycletrack. SDOT will also install a Jersey barrier between the cycletrack and highway lanes to protect people biking.
The Outer Loop is broken into two segments that essential snake around the lake from Densmore Avenue N intersection at W Green Lake Drive N to the N 63rd Street intersection with W Green Lake Way N. SDOT expects that construction on the bike improvements should will wrap up by December. An additional pedestrian crossing Winona Avenue N, however, associated with the project may be delivered in 2023.
The new cycletrack can be used by other active transportation users, such as people roller blading and using scooters. This facility will likely be very welcome to people who bike, especially since Seattle Parks and Recreation imposed a ban on biking within the inner loop of Green Lake Park earlier this year — though that may change again. Trimming down the number of car lanes on Aurora Avenue N will also likely have a positive safety impact, reducing speeds and collisions in the area.
The project has been in the planning process for quite some time. In early 2021, our transportation reporter Ryan Packer broke the news on Seattle Bike Blog that SDOT was contemplating a cycletrack on the west side of Green Lake Park.
Competing King Street Sounder platform improvements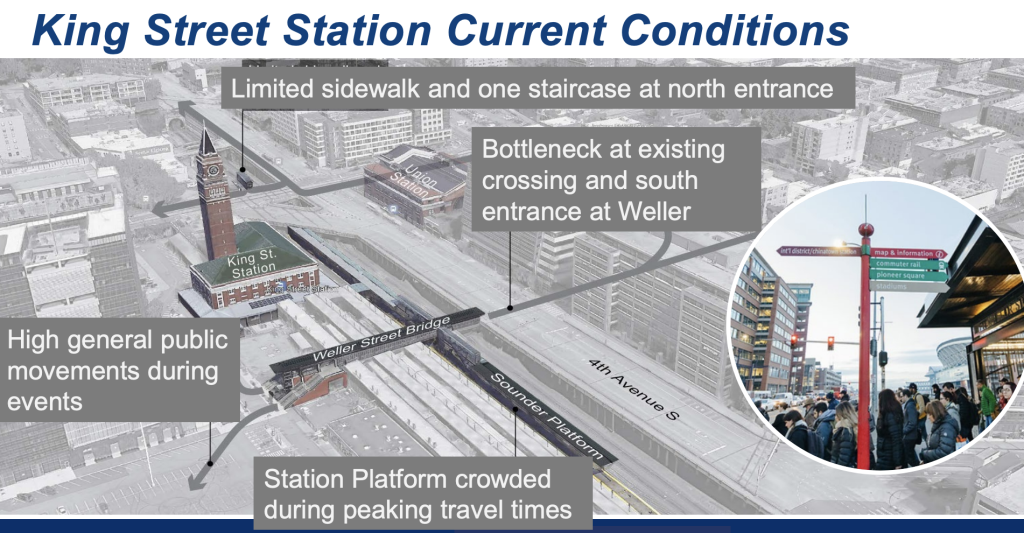 Sound Transit has unveiled competing options to improve King Street Station platform access. In a brief this month, agency staff ticked through options that would help alleviate elevator and stair congestion with up to two additional elevators and five additional staircases. The options are primary contends, each of which would involve construction of a new concourse above the Sounder platform, extend the platform, and a new southern pedestrian bridge over the railway to 4th Avenue S and Seattle Boulevard S. Whether or not additional pedestrian bridges are incorporated with the new concourse is where the options really diverge.
The baseline option would merely connect the concourse with the existing Weller Street Bridge and King Street Station plaza. The grade-separated option would do the same but provide a pedestrian bridge connection from the concourse to the east side of 4th Avenue S. This would happen at the north end of the concourse lining up approximately where the Union Station passageway is. This would be a big benefit to Link and First Hill Streetcar riders and may be useful the new Link tunnel station for the Ballard Link extension. Conversely, the at-grade option would focus on at-grade crossings of 2nd Avenue Extension S and 4th Avenue S. The at-grade crossing of 4th Avenue S approximately where the where the Union Station passageway is would still require a short pedestrian bridge crossing of the tracks to connect with the concourse.
Of course, some the work happening here may be premature since the details of the Ballard and West Seattle Link extensions haven't been solidified and ridership on Sounder is still a small fraction of what it was prior to the pandemic. It is possible that 4th Avenue S will be torn up and where the new Link station is placed could raise new questions of how King Street Station access should be configured. For instance, it may be desirable to consider an underground passageway or complex that connects King Street Station, the new Link station, Union Station, and existing Link station together. Long-term lower ridership may also mean that longer trains and platforms aren't a worthy capacity priority. Ultimately, the timing of this King Street Station access project may be just a bit too far ahead and would be better off paused to suss out these issues.
Nevertheless, the project is targeted for completion by 2036 and would be a notable piece of the agency's $1 billion South Sounder corridor capacity capital improvement program. Engineering and design on the project will continue over the next few years and the Sound Transit board would select a project to be built in 2025.

Stephen is a professional urban planner in Puget Sound with a passion for sustainable, livable, and diverse cities. He is especially interested in how policies, regulations, and programs can promote positive outcomes for communities. With stints in great cities like Bellingham and Cork, Stephen currently lives in Seattle. He primarily covers land use and transportation issues and has been with The Urbanist since 2014.