Route 44 is a workhorse, but it's far from a racehorse. 9,300 daily riders pack themselves into the lumbering beast of burden and suffer the route's sluggish pace and unreliability. Running east-west 5.3 miles across town from Husky Stadium to the Chittenden Locks, the Route 44 is a vital lifeline between the University District and Ballard. At three drop-in sessions this week, riders will give feedback on plans to improve service in 2023.
The first session is today (November 19th) at the UW Bookstore in the U District from 2pm to 3:30pm. The second is tomorrow in Leif Erikson Hall from 6pm to 7:30pm, and the third is Thursday, November 21st at Wallingford Community Senior Service Center.
The Seattle Department of Transportation (SDOT) says it will consider the following upgrades to the corridor:
Dedicated bus lanes and queue jumps;
Signal upgrades (e.g., transit signal priority);
Road channelization changes and/or turn restrictions; and
Safety, pedestrian access, and intersection improvements.
The Move All Seattle Sustainably (MASS) coalition is pushing the City to add dedicated bus lanes along key Route 44 stretches in the U District and Ballard. The U District bus lanes will become even more important as a surge of light rail riders arrive in 2021 with the opening of U District Station. A more north-south-oriented city, Seattle doesn't have many frequent crosstown bus routes, and the ones it does have are plagued by congestion and reliability issues (cough: Route 8). With smart upgrades, Route 44 could be the exception and show that Seattle can excel at crosstown bus service.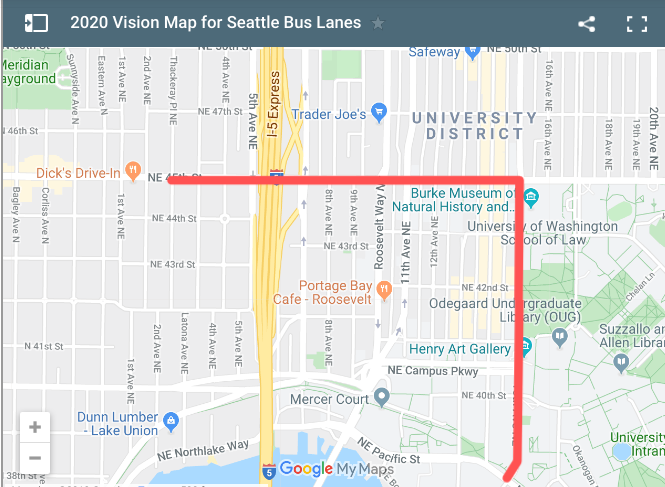 What is not being considered at this time is RapidRide branding, which includes red upgraded articulated buses, red upgraded bus stops, and off-board payment. The City promised a full "RapidRide+" upgrade of Route 44 with the Move Seattle Levy, which passed in 2015 with 58.7% of the vote. Seven new RapidRide corridors were pledged in all. But as for keeping that promise, a number of obstacles emerged.
A brief trip down nightmare lane
After Move Seattle passed, construction costs continued to escalate rapidly in red-hot Seattle, Donald Trump got elected and gutted federal transit grant programs, and then-Mayor Ed Murray spent 2017 battling back against multiple allegations of sexual abuse before resigning in September 2017 after the fifth claim surfaced.
This set up the year of four SDOT heads in 2018, as newly elected Mayor Jenny Durkan pushed out Scott Kubly without a replacement director ready–and she went through two interim directors before finally selecting Sam Zimbabwe to fill the role at the end of the tumultuous year. Without permanent leadership, the transportation agency struggled to build momentum in 2018–more often backtracking or delaying.
Even an agency humming along like a well-oiled bicycle on a straight away would have struggled with the headwinds it was facing. But for a City led by four different transportation directors in a year's time it was debilitating. The Mayor began floating a "Move Seattle Reset" in the spring of 2018 to address shortfalls in the transit, bicycle, and pedestrian budgets. By September, it was clear that the Move Seattle Levy would no longer deliver Route 44, Route 40, and Route 48 as RapidRide lines and the four remaining corridors would have delayed timelines.
For Route 44 (and 40 and 48, too), what we get instead is lesser upgrades. Still, the changes could greatly improve service and quality of life for riders if they focus on the highest impact areas, which center around freeing buses as much as possible from traffic congestion.
RapidRide Rollout Schedule after "Reset"
| RapidRide Corridor | 1st Revision | Reset Date | Existing Route | 2015 Daily Ridership | 2016 Daily Ridership | Platform Hours |
| --- | --- | --- | --- | --- | --- | --- |
| Madison "G" | 2021 | 2021 | 12 | 3,500 | 3,300 | 84 |
| Delridge "H" | 2020 | 2021 | 120 | 8,700 | 8,600 | 226 |
| Rainier | 2021 | 2024 | 7 | 11,500 | 10,800 | 255 |
| Roosevelt | 2021 | 2024 | 70 | 5,300 | 7,500 | 182 |
| Market/45th St | 2022 | cut? | 44 | 7,500 | 8,400 | 167 |
| Fremont | 2023 | cut? | 40 | 10,600 | 11,400 | 284 |
| E 23rd Ave | 2024 | cut? | 48 | 11,200 | 5,500 | 183 |
| West Seattle | 2012 | 2012 | C | 8,800 | 11,100 | 289 |
| 15th Ave NW | 2012 | 2012 | D | 11,800 | 14,300 | 256 |
| Aurora Ave | 2014 | 2014 | E | 15,800 | 17,000 | 299 |
The U District and Ballard bus lanes serve this purpose and they are relatively cheap to add. The biggest cost drivers for RapidRide projects are procuring new branded vehicles, repaving (especially if drainage or curbs are affected), and upgrading stops. Simply painting the outside lanes bus-only can speed up service without hitting those cost centers.
We have to get this right. Sound Transit isn't planning crosstown light rail so the City and Metro are on their own. Despite its reliability issues, Route 44 is seeing rapid growth. Ridership averaged 7,500 daily riders in 2015, while it's averaging 9,300 today. Rapid population growth in Ballard, Fremont/Wallingford, and the U District continues to drive up transit demand, as does climbing enrollment at the University of Washington. Demand in the Ballard-to-U District corridor is so strong, I even argued for a second frequent bus corridor along the waterfront. But first let's get this Route 44 upgrade right.
UNIVERSITY DISTRICT
Tuesday, November 19
UW Bookstore
4326 University Way, Seattle 98105
2 – 3:30pm
BALLARD
Wednesday, November 20
Leif Erikson Hall
2245 NW 57th St, Seattle 98107
6 – 7:30pm
PHINNEY RIDGE & WALLINGFORD
Thursday, November 21
Wallingford Community Senior Service Center
4649 Sunnyside Ave N #140, Seattle 98103
6 – 7:30pm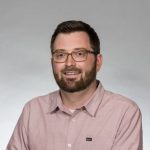 Doug Trumm is the executive director of The Urbanist. An Urbanist writer since 2015, he dreams of pedestrianizing streets, blanketing the city in bus lanes, and unleashing a mass timber building spree to end the affordable housing shortage and avert our coming climate catastrophe. He graduated from the Evans School of Public Policy and Governance at the University of Washington. He lives in East Fremont and loves to explore the city on his bike.