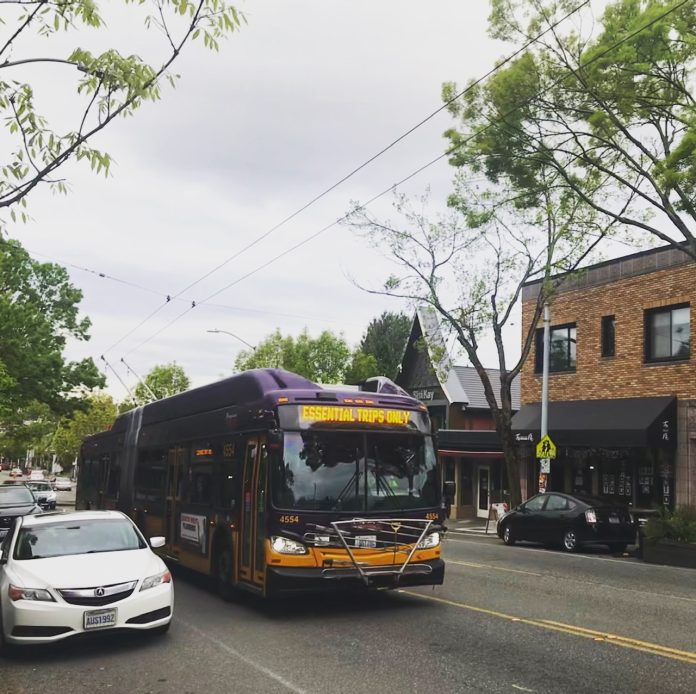 Fares are coming back to King County Metro buses in October. The agency has been busy putting September service changes into effect and rolling out new onboard Covid-safety features. To lower transmission risk, Metro is not doing fare enforcement for the remainder of the year. Metro also has indicated programmatic changes in the longer-term budget; bus frequencies are decreasing to cut costs and grapple with revenue shortfalls.
Covid-safety improvements and fare collection
Earlier this month, Metro announced that the agency would be installing new automated flexiglass safety partitions at the front of 1,444 buses. The partitions separate the the bus operator from front entrance area. Metro says that the partitions are meant to reduce interactions between passengers and bus operators. So far 944 buses have been equipped with partitions as of Wednesday. Metro says 90% of buses will be equipped with the partitions by October 1st and 100% of buses by the following week.
The partitions are being build in-house and will be installed on all Metro buses, including those operated on behalf of Sound Transit. The individual unit cost of each partition is about $3,200, which is about half the cost of similar products from private vendors. Funding for the equipment is being provided from federal CARES funding allocated earlier this year for this type of emergency use.
In addition to the partitions, Metro has been installing face mask dispensers on 106 buses on seven of the busiest routes–including the RapidRide A and F Lines as well as Routes 7, 36, 43, 44, and 49–allowing for free use of them by riders who may not have their own on hand (riders are required to wear a face mask on Metro buses). The dispensers are capable of holding 150 masks each and staff are refilling them as needed. Other high volume routes will eventual get dispensers in the future, Metro says. Along with this effort, deep disinfection of buses is still occurring regularly.
"With the addition of safety partitions–designed, engineered, and fabricated by Metro's in-house vehicle maintenance staff–we have a new, first-of-its-kind innovation in the fight against this pandemic," said King County Executive Dow Constantine. "Along with new mask dispensers and all the other safety measures Metro takes every day, we are proving Metro is 'Ready when you are,' whether you're currently using transit or planning to resume your commute in the future."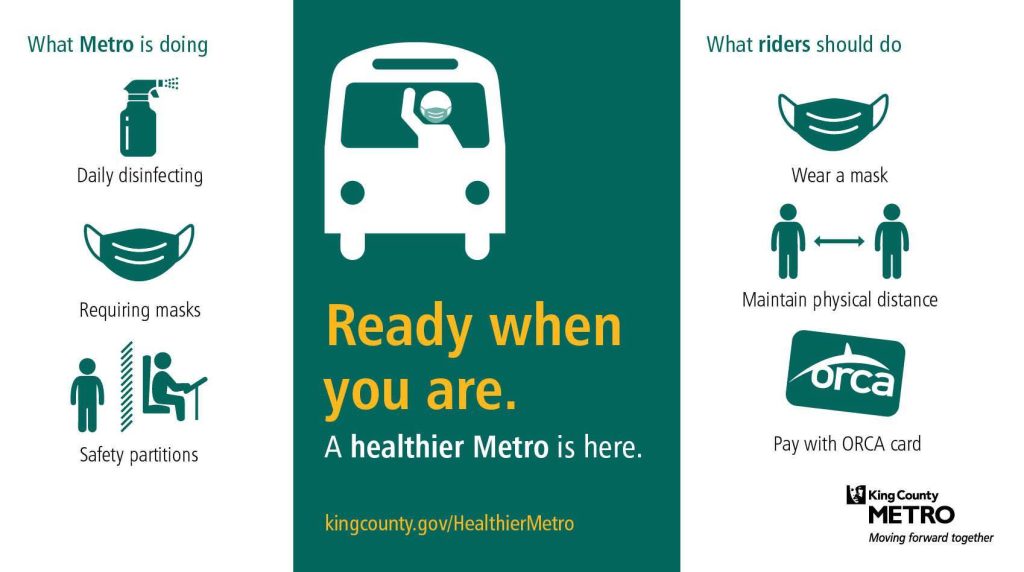 Restoration of fare collection on Metro-operated routes has been largely contingent on improving bus operator safety at the front of buses where fare collection occurs on regular routes. As a result of the rapid partition installation, Metro has announced a firm date for fare collection restoration, which is set for October 1st. Fare collection will apply to all services operated by Metro, including Metro buses, Access paratransit, King County Water Taxi, Via to Transit, Seattle Streetcar, and vanpools. Normal fares will apply, though fare enforcement officers will not be checking fares through the end of 2020.
2021-2022 Metro budget highlights
On Tuesday, King County Executive Dow Constantine released the 2021-2022 biennial budget for Metro. In a three-page brief, the Executive highlighted the key changes anticipated in the years ahead that are largely the result of the pandemic. The brief paints a bleak financial outlook:
Projected sales tax revenues for 2021-2022 are approximately $200 million less than the pre-COVID-19 forecast. Fare revenues are also down due to temporary suspension of fare collection and significant loss of ridership. Metro received $243 million from the federal government for COVID-19 response, which was used to maintain service and support safety and cleanliness procedures. Costs to maintain the existing service levels and assets are anticipated to exceed revenues in 2020 and beyond, drawing down fund balance. This structural deficit will require either new revenues, a change in policy, or service reductions in outyears (likely 2025-2026), as Metro's fund balance is exhausted. A further temporary financial uncertainty is the outcome of the City of Seattle's November 2020 ballot measure to renew the Seattle Transportation Benefit District (STBD).
With this in mind, Metro has slashed annual service hours by 400,000. These annual service hours are technically "suspended" meaning that they could be restored if the financial situation and ridership improves, but the suspensions represent a 15% reduction in service. The outlook fortunately has improved, perhaps allowing the agency to avoid the 30% service cuts suggested in June.
Similar cuts are planned for the not-fully-funded Metro Connects long-range plan that had envisioned a wider network of 13 additional RapidRide Lines by 2025, but had been scaled down to just seven lines by 2027. Only three lines are now expected to be fully funded by the budget, including the RapidRide H Line (Delridge RapidRide in 2021), RapidRide G Line (Madison BRT in 2023), and RapidRide I Line (Renton/Kent/Auburn RapidRide in 2023). The capital program is being particularly hard with 30% to 40% in expenditure cuts.
The Executive's budget suspends the RapidRide K Line project, a line between Bellevue and Kirkland the had been in the early planning process, and a yet-be-named line for East or South King County. Though the RapidRide J Line (Roosevelt RapidRide) is not expected to be funded as a Metro project for now, the Seattle Department of Transportation is considering a pared back line between Downtown Seattle and U District Station that might still qualify for federal funding. Likewise, the RapidRide R Line (Rainier RapidRide) is not expected to be funded by Metro for now, but the Executive did indicate that Metro would "seek federal funding for the Rainier RapidRide line in the future."
Though the budget is not banking on it, federal funding could be significantly increased on the horizon if Democrats take control of the White House and retain at least the lower house in Congress after the November election. Vice President Joe Biden has a very pro-transit climate and infrastructure plan that he hopes to pass early in his presidency if he win election. Huge sums of capital grants are promised in the plan, which could bring back some projects Metro is seeking to construct.
On the flipside, the Executive's budget will facilitate further conversion to a zero-emissions fleet, reform fare enforcement and transit policy, implement a new subsidized annual transit pass program, and pause fare increases:
Metro will continue with acquisition of 40 new battery-electric buses and associated charging infrastructure for the South Bus Base. The bus base is expected to be able to support up to 260 battery-electric buses by 2028. The incremental cost of these investments through 2028 is $270 million, which will be funded by direct cash outlays and debt.
Fare enforcement will remain suspended through the end of the year, instead focusing these staffing resources on ambassador services for riders. In 2021, Metro will go through a community-driven process to reevaluate policing and fare enforcement on transit, which will result in programmatic changes, such as funding levels, policies, and protocols, that could be implemented in late 2021 or 2022.
A delayed fully subsidized annual transit pass pilot program will be launched for qualifying low-income individuals. The pilot program is expected to last 24 months and cost approximately $24 million.
Lastly, the Executive intends to pause fare increases across all services. The pause is meant to allow time for the pandemic recovery and not discourage the return of riders (Metro has one of the highest cost fares for local service in the country). The implication of this is that Metro will continue to operate well below the agency's arbitrary farebox recovery goal of 25%. Fares will thus be increased in 2023 alongside implementation of the generation of the ORCA system (ORCA Nextgen).
The Metro budget, all told, is a mixed bag and the unfortunate result of painful financial realities. However, the King County Executive remains resolutely committed to delivering transit to communities.
"Our task in the next biennium is to rebuild the mobility system, and meet our region's transit needs where they are greatest. We will transform the Burien route 120 into RapidRide H line, to serve 13,000 daily riders with more weekday, night-time and weekend service," Executive Constantine said in his budget address. "We will create a single frequent service route between Renton, Kent, and Auburn that will ultimately become the new RapidRide I line. And we will align bus service with the opening of Northgate Link light rail next fall, and Eastlink in 2023. Despite the financial challenges, we remain steadfast in our commitment to greening the fleet, and transforming Metro into the nation's cleanest transit agency."

Stephen is a professional urban planner in Puget Sound with a passion for sustainable, livable, and diverse cities. He is especially interested in how policies, regulations, and programs can promote positive outcomes for communities. With stints in great cities like Bellingham and Cork, Stephen currently lives in Seattle. He primarily covers land use and transportation issues and has been with The Urbanist since 2014.