Build roads for freight, bikes, and transit, not peak cars
Streets in Seattle's industrial neighborhoods show massive disinvestment in the basic maintenance of curbs and pavement. It's a discrepancy that the freight industry shares with cyclists and pedestrians in the city. The immense cost to maintain the largest roads for cars has left everyone else — truckers and cyclists and pedestrians — fighting over scraps. Overspending for automobile speed has also pitted any group interested in safer streets against one another instead of working towards common interests.

The pavement and street safety situation in the Duwamish and Interbay neighborhoods is dire. Roadways are ground to gravel. Muddy water pools in the streets. Asphalt erodes from exposed train tracks. 
Most travelers move through the Duwamish industrial area on SR-99 or one of the Marginal Ways. Going east-west got easier with the S Lander Street overpass. Then it got bad with the West Seattle Bridge closed. Some of the narrowing to just arterials is purposeful, with gates keeping vehicles from turning into the airport or a Boeing parking lot. But there are hundreds of other businesses in the neighborhood, and their streets are crumbling. 
For the many public industrial streets that intersect arterials, shoulder paint and lane stripes last a few dozen feet. Complete curbs and sidewalks, less so. The industrial streets loop and connect along the curves of the river. Every connection is a different type of road surface. A grid of old railroad tracks crosses the industrial area. Where they meet a street is almost always a gully filled with water and more cracked asphalt.
Similarly, a car easily moves around Interbay on 15th Avenue or Thorndike Avenue, which access the places most cars go, like groceries and mini-storage. But stepping off those largest roads is treacherous. Pavement changes from asphalt to concrete to loose stones. The rough edge of the streets fades into grass, or more likely, mud. Shocks and struts get a solid workout.
Street condition has a massive impact on the way drivers operate because it puts the drivers and anyone standing nearby at risk. Everyone moves by inches because it takes time to figure out exactly how to avoid craters. Equipment is battered by the shocks from potholes. If you want proof that road design impacts speed, drive down one of these streets. You will slow down, or you will lose parts of your chassis. If not more.
The state of industrial streets is kind of an amazing thing to consider. Voices representing manufacturing and industry are often the loudest and most forceful in supporting the maintenance and expansion of the city's road network. Proposals to change streets are immediately met with paid studies and litigation raising the impact on truck traffic. In this view, only through investing in wider, free-flowing surface highways connecting to interstates can Seattle's industrial base hope to survive.
However, the numbers tell a different story. Local industrial street repair and bike/pedestrian infrastructure fight for scraps after all of the car highways are repaved and rebuilt.
Many lanes, but not for you.
The basis for most calculations in the Seattle Department of Transportation (SDOT) is the lane mile. That is one mile of 12-foot wide pavement. Seattle has about 3,900 miles of general purpose lanes under SDOT's control. About 1,500 miles of these lanes are clustered into bigger arterials of four or five lanes each. While it sounds like anyone is allowed to use a general purpose lane, the size should offer some pause. The fact that they're measured at 12 feet wide has its basis in highway construction so that even the largest vehicles have enough clearance to safely go highway speeds. Most of SDOT's budget goes to the repair and maintenance of these roads.
It appears that such a large budget for roads would benefit freight. Freight companies are very concerned about congestion relief, and rightfully so. Time is money and time spent in traffic is money just pumped into the atmosphere. Freight studies frequently cite pollution control among the many reasons to keep traffic moving.
But congestion relief is necessary because there are too many cars on the road, not trucks. Trucks constitute 2% of the vehicles on Seattle's roads. If trucks are moving slowly, it's not because of other trucks. It's because they're surrounded by cars. Or they're avoiding a giant mud pit.
Similarly, freight is abandoned by the way we measure congestion. Plans to relieve congestion are bent towards timing traffic signals and building big enough roads to keep vehicles moving at rush hour. How does that fail freight? Because those are not the hours that trucks are on the road.
The Ballard Bridge Study is an excellent example. Traffic engineers measured the level of service at certain intersections north and south of the bridge. The studies suggest that the roads need to be bigger in order to allow vehicles to flow more freely through the intersections. Those measurements were done during the morning rush hour and the evening rush hour. Peak travel for freight traffic over Ballard Bridge is just before noon, sliding right between the two peaks. None of the level of service tests are about freight.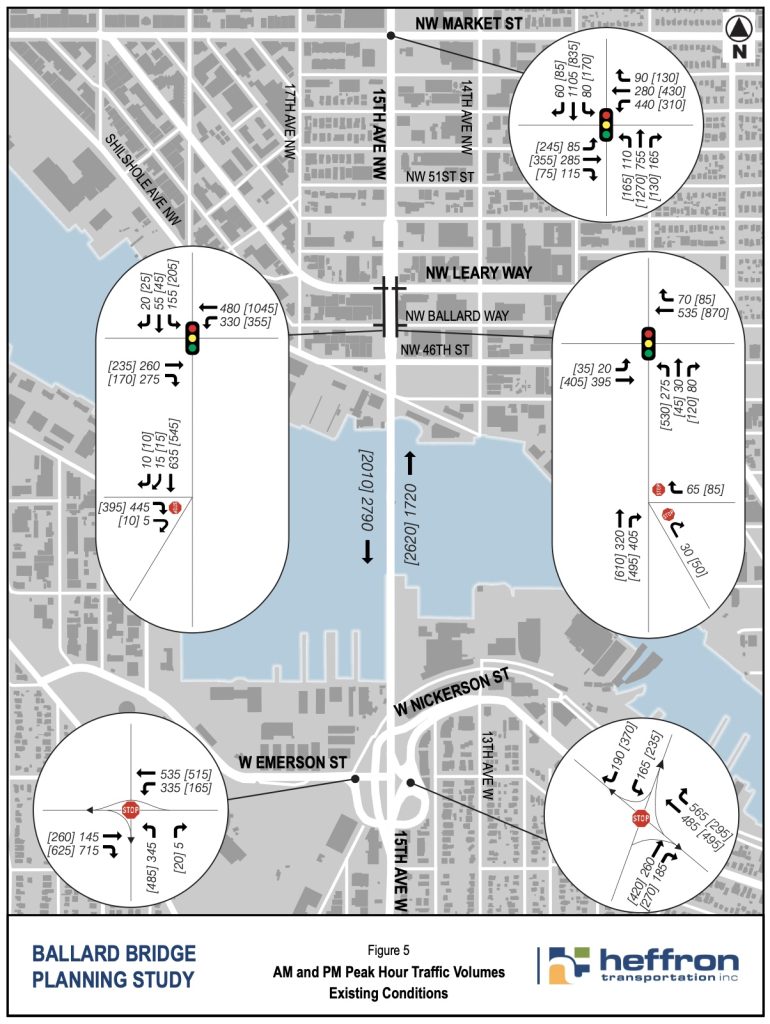 More broadly, $2 billion was spent on the SR-99 tunnel to replace truck capacity on the viaduct. Son of Viaduct — the new connection between Alaska Way and Elliott Way — is in the hundreds of millions. And we're using pandemic funds to backfill construction on SR-520. These major roadways may have been built for trucks, but most freight trips in the city don't reach these places. 
Half of all truck trips in Seattle are less than five miles and 60% of all truck trips start and end within City limits. Five miles from Dravus Street and 15th Avenue W. barely reaches I-5 at Northgate. Five miles from Spokane Street and 1st Avenue is the south end of the King County airport runway, and doesn't even get across Lake Washington. The big budget items and interstates that are supposed to move Seattle are not built for the manufacturers in the city. This means that trucks spend most of their time on Seattle's cratered and deteriorating industrial streets.
And all those fresh highway lanes that were designed and built for the easiest flow of manufactured goods and industrial products? They're filled more cars, making traffic worse and fueling the calls for even wider highways. That's induced demand.
An alternative alliance
Unfortunately, industrial interests tend to pick fights against transit and pedestrians. It's difficult to see general purpose lanes given to buses or bikes when freight has to struggle with the other cars and traffic on the road. Freight rarely gets dedicated streets, and ones they get by accident are left to crumble. It's an understandable then to view that bikes and trucks are at opposite ends of a fight over road space.
But there is something shared by everyone who has to live and work on the road, and isn't inside a car. Cyclists and pedestrians are acutely aware that a single mistake with a car is straight up death. Transit riders and drivers are left to navigate stops on narrow curbs near loud, speeding highways. Truck driving is a skilled profession where health and livelihood are put at risk due to the the mood of the cars around them. In short, truck drivers, transit, and cyclists see safety very differently than do car drivers do.
It would be best for Seattle if that common interest in road safety were a springboard for these groups to build upon. In many parts of the city, dedicated transit lanes could accept freight traffic because the schedules compliment each other. Awful pavement conditions wreck bike tires and truck alignments alike. And too many cars choke pedestrians and deliveries. An alliance between these two groups would be unconventional, but it could be highly effective for making our roads safer.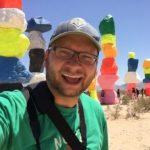 Ray Dubicki is a stay-at-home dad and parent-on-call for taking care of general school and neighborhood tasks around Ballard. This lets him see how urbanism works (or doesn't) during the hours most people are locked in their office. He is an attorney and urbanist by training, with soup-to-nuts planning experience from code enforcement to university development to writing zoning ordinances. He enjoys using PowerPoint, but only because it's no longer a weekly obligation.