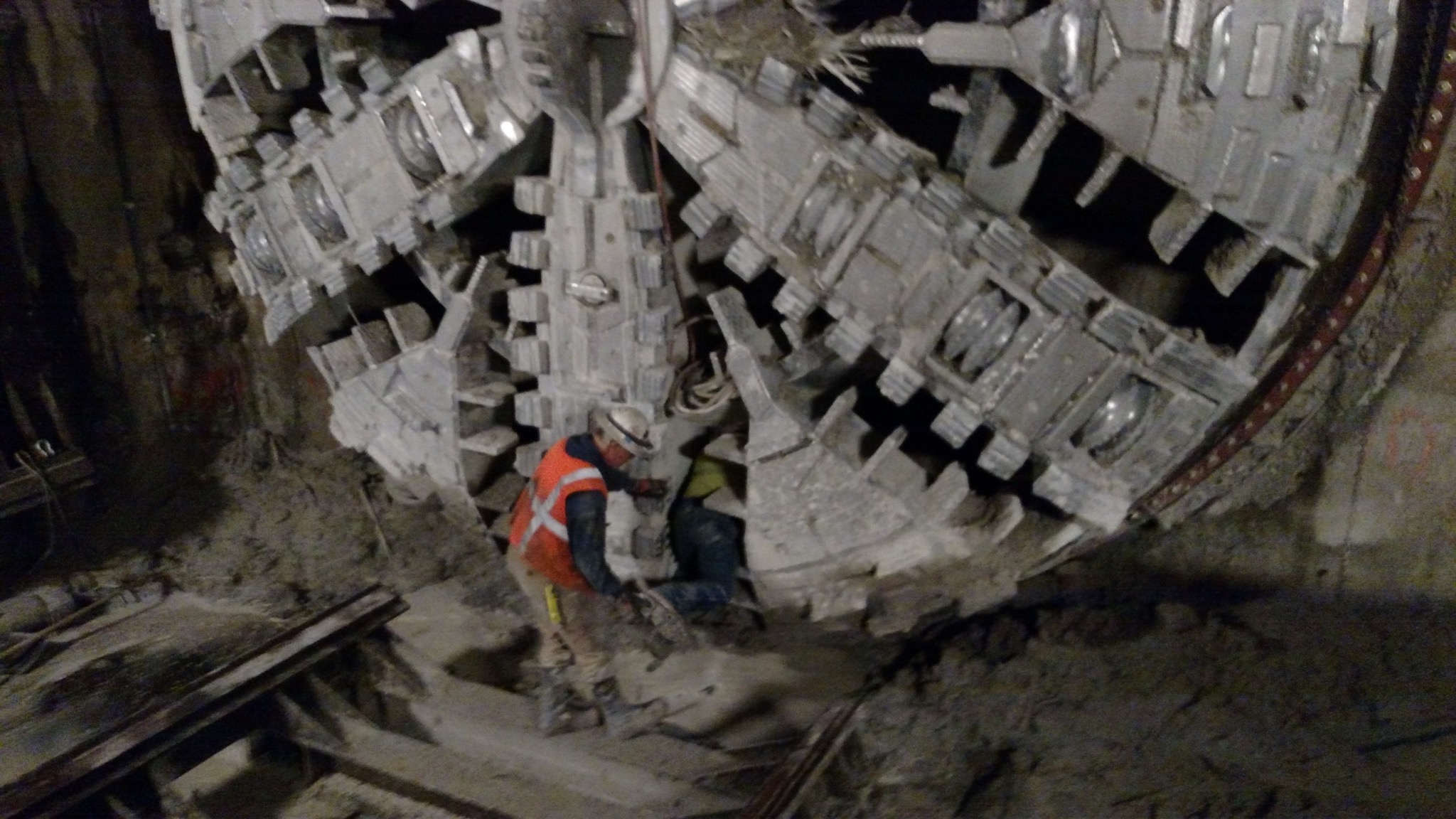 Sound Transit "TBM #1" (née Brenda) successfully holed-through yesterday at the University of Washington Station, marking the end of tunnel boring work for the Northgate Link extensions. TBM #1 made two trips on the University District-to-University of Washington leg, in part because its sister "TBM #2" (née Pamela) was damaged on the way from Roosevelt, and was relaunched in June.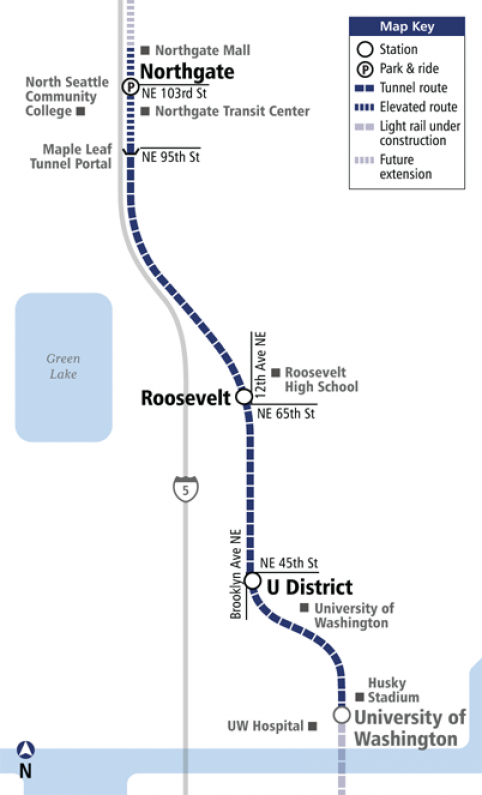 While this leg was fairly short at about one mile in length, TBM #1 was a workhorse digging four of the six tunnel segments from the Maple Leaf Portal. TBM #1 turned in a scorecard with about 4.5 miles of tunnel digging for the extension while TBM #2 only managed 2.5 miles. In the coming days, contractors will pull TBM #1 out of the tunnel boring machine retrieval pit, located just north of the station platforms.
Contractors are already beginning the process of excavating the 23 cross-passages, located every 800 feet or so, that are needed to connect both of the twin tunnel tubes–for electric equipment, maintenance as well as safety in case of a fire or other unforeseen incident. Once the cross-passages are completed, the remaining systems such as fire-suppression, communication, signaling, electric, and drainage will be installed and the roadbed for the track will be pored. Once the roadbed sets, then the rails and overhead power system will be installed and the tunnel will be ready for testing.
The completion of tunnel boring to University of Washington Station also happens to mark the end (for now) of Sound Transit's foray into subway tunnel mining. Sound Transit has had an almost continuous series of tunnel boring projects since 2006 when contractors began mining the first of the two Beacon Hill tunnels with TBM "Emerald Mole". Over the last decade, Sound Transit and their contracting partners have mined a total of 12 tunnels stretching around 40,000 feet (about 7.6 miles or 12 kilometers). Utilizing four TBMs, over 1.5 million cubic yards of spoils (e.g., earth, rocks, bones, and Jimmy Hoffa) were removed and approximately 30,000 concrete rings were installed, lining the 21-foot diameter tunnels.
While these endeavors have not been problem free–a contractor died during the construction of the Beacon Hill tunnels, a number of minor sink holes appeared, and a TBM experienced temporary damage–overall, the effort has been rather successful. In comparison, Washington State Department of Transportation's SR-99 tunneling project under the streets of Seattle, that began digging in 2013, has only traveled about 4,100 feet out of 9,200 and installed 625 rings out of 1,426.
Contractors for the East Link project are also excavating an additional tunnel under downtown Bellevue. This tunnel is being mined, utilizing the New Austrian tunneling method (NATM) / Sequential Tunneling Method (STM) of construction. Unlike tunnels bored through the earth by a TBM which have a constant diameter, the NATM/STM method of excavation allows for variation in the diameter and shape of the area being excavated, essentially carving the required space out from within–in much the same way one would dig a cave in wet sand at the beach.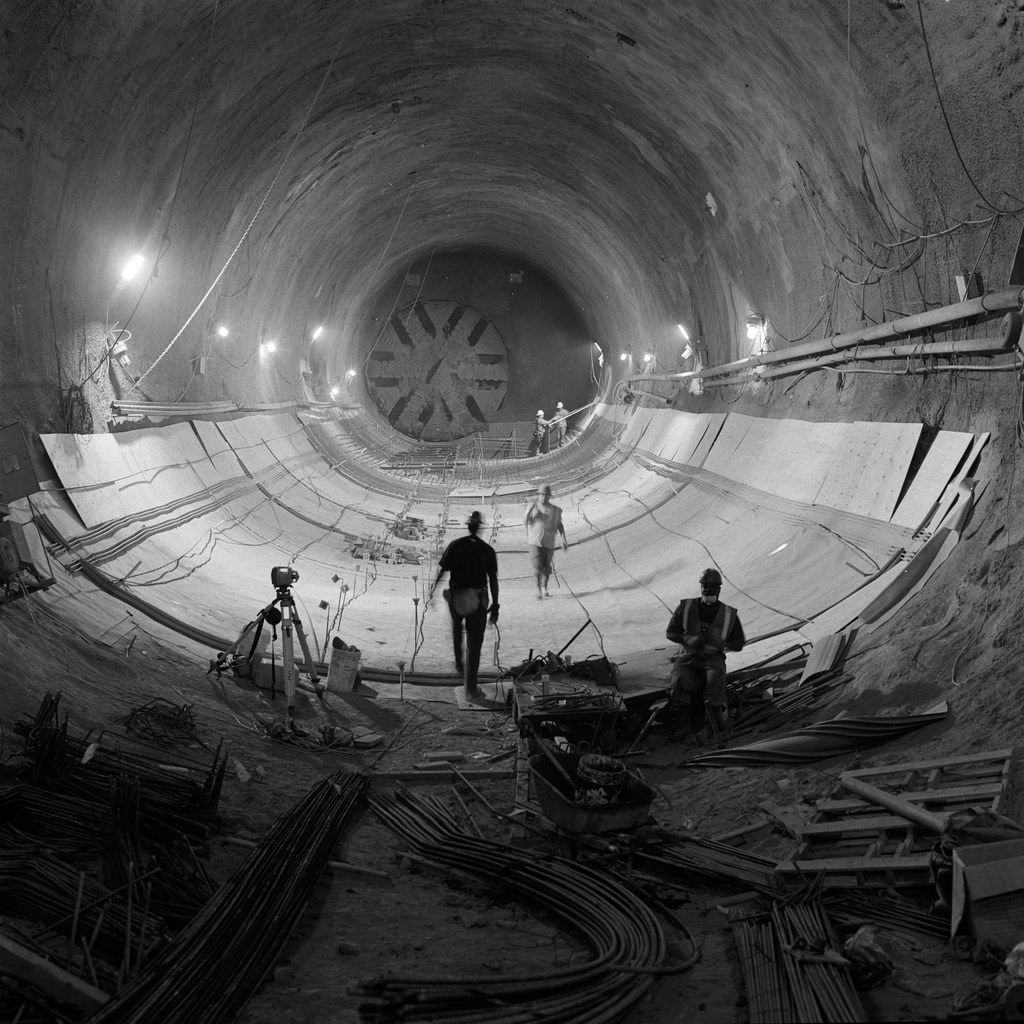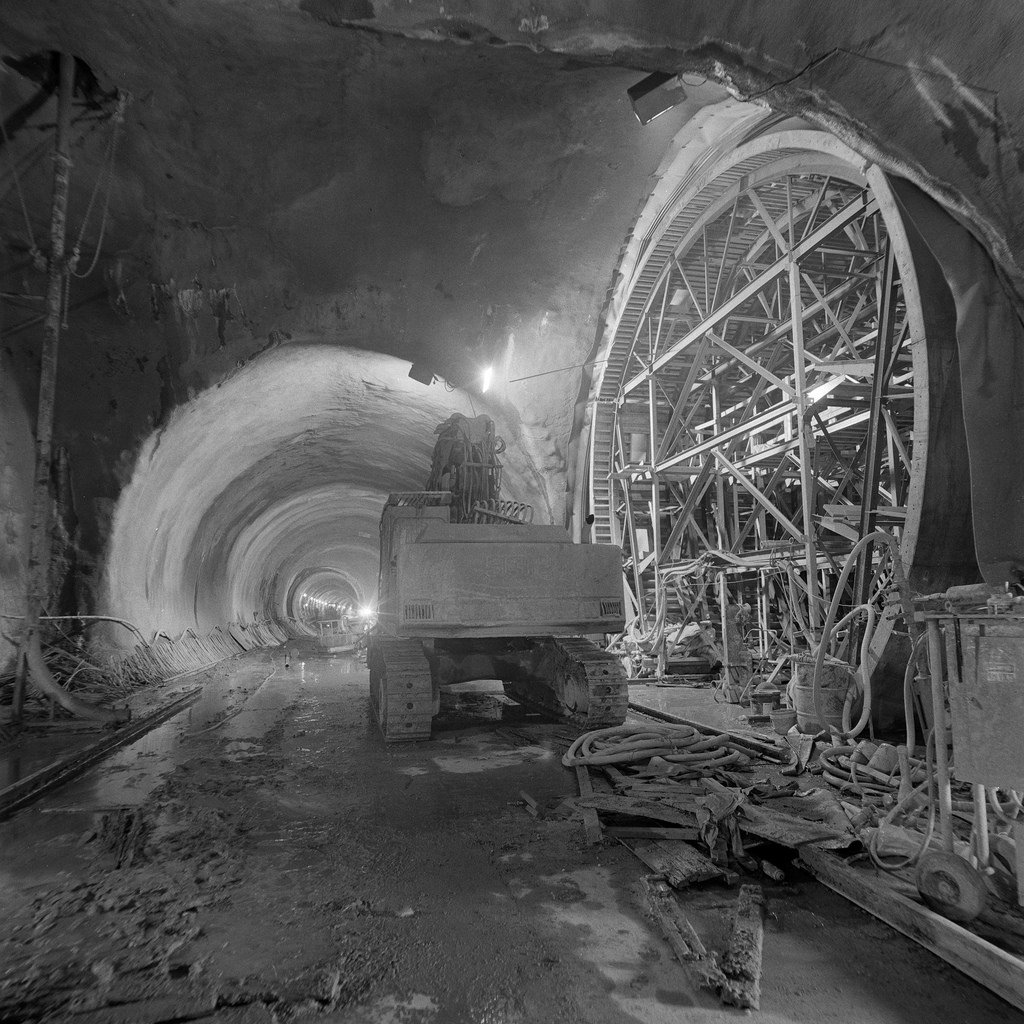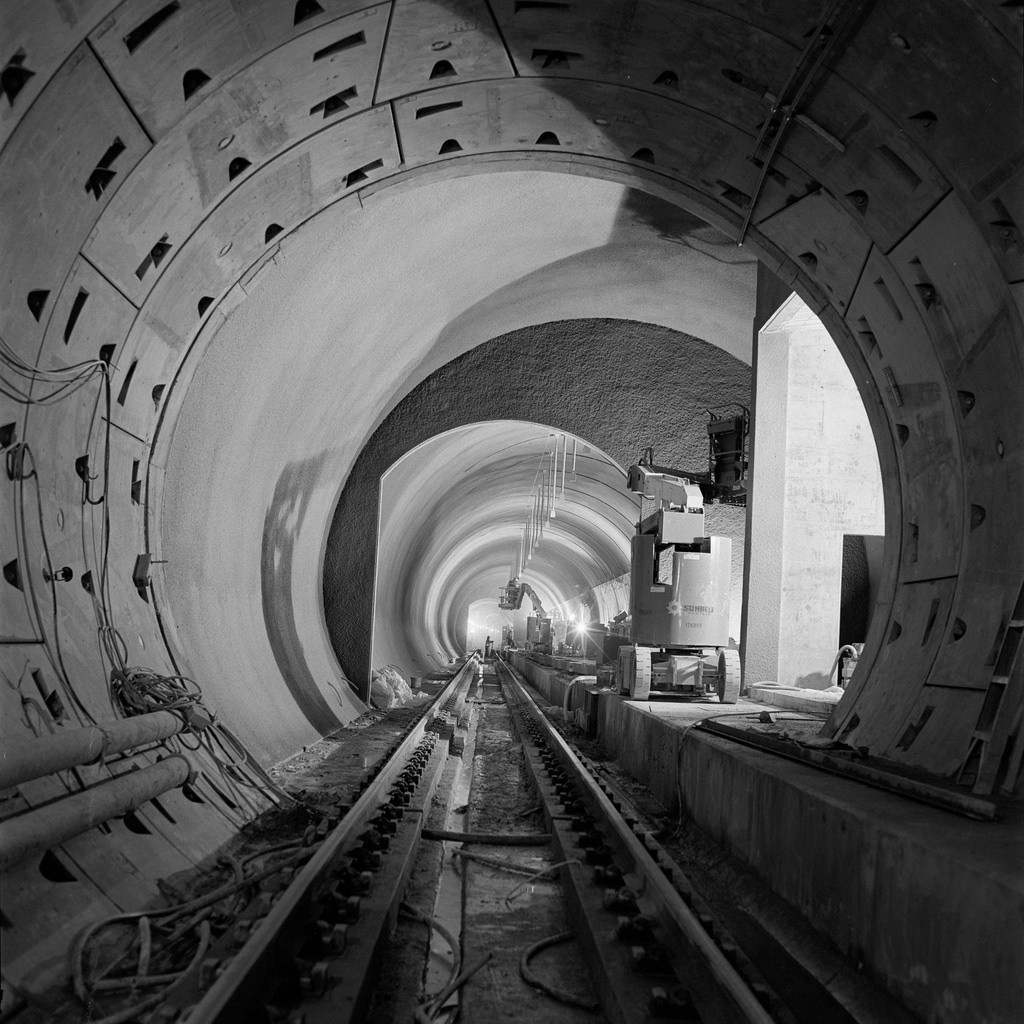 This method of mining is not new as it is used to construct all of the cross-passages between tunnels and was the selected method for excavating the Beacon Hill Station. When finished an NATM/STM tunnel may appear to be indistinguishable to one that has been bored even though the manner of construction is completely different. So while new tunnels are being constructed, they aren't being bored.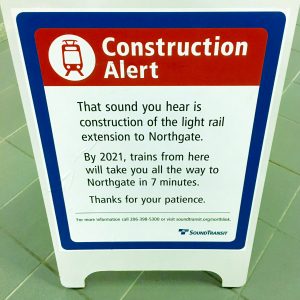 Indeed, this is the end of the line for tunnel boring, but it might not be forever–if Sound Transit 3 (ST3) passes this November. ST3 will require the mining of a second Downtown Seattle Transit Tunnel (DSTT) preferably under First Hill, but otherwise under Fifth Avenue connecting the International District/Chinatown Station with Westlake Station. In addition, some additional tunnels may be required to complete the planned lines to both the West Seattle and Ballard neighborhoods.
Thankfully, Sound Transit has proven to be adept at boring tunnels through heavily populated urban areas through ground conditions that could best be summarized as "non-optimal" and they have the record to prove it–something lacking at other regional agencies. Provided that the ST3 ballot measure passes this November, we can look forward to more "Boring Reports" in the coming decade.
Sound Transit Tunnels
Tunnel
Tubes
Length (each tube)
Spoils
Rings
TBMs
Beacon Hill
2
4,300 ft / 1,310 m
100,000 yd3 /
76,455 m3
1,600
Emerald Mole
University Link
2
16,632 ft / 5,069 m
400,000 yd3 /
305,821 m3
12,960
Togo, Balto, Brenda
Northgate Link
2
18,480 ft 5,633 m
1,000,000 yd3 /
764,555 m3
14,400
TBM 1 née Brenda
TBM 2 née Pamela
Note: Numbers are rounded and averaged in some cases. Northgate to UW = 6 tunnels, UW to Westlake = 4 tunnels.
Gordon is a native New Yorker who wisely chose to leave the Northeast in the early 1990s. A past resident of Belltown, and Queen Anne, he currently calls First Hill home. He is a board member of the First Hill Improvement Association (FHIA) as well as the FHIA Transportation Committee Chair and is constantly looking for ways to improve transportation up the hill.