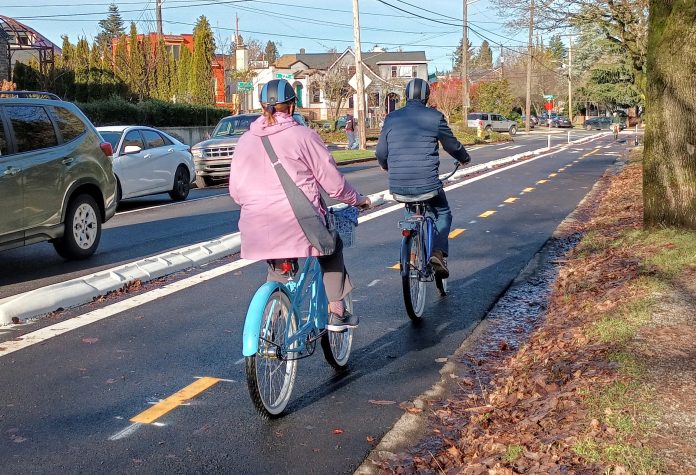 Seattle's network of safe bike facilities continues to expand, if not at the pace that many safe streets advocates would like to see. According to data from the Seattle Department of Transportation (SDOT), the city built just over two miles of new protected bike lanes through September of 2022, meeting the planned goal of two to three miles for the year. But 2023 is set to be a year where disruptions to the city's existing bike facilities may outweigh the gains that are seen from expanding the network.
As Seattle heads toward the renewal of its citywide transportation levy in 2024, the city is set to start construction on a number of transportation projects filling in key gaps in the city's protected bike lane network, and hardening existing segments to make them more self-enforcing. Unfortunately for people biking around the city in 2023, those projects are going to add up to more construction sites to navigate than it is brand new facilities opening up by the end of the year, and these sites include some of the city's most highly used bike corridors.
With a number of projects that were originally slated to break ground this year delayed, like Beacon Hill's planned north-south bike route and the Georgetown to South Park trail, SDOT is currently on track to wrap up a large number of projects in 2024, months before voters are poised to head to the ballot drop box with a vote on the next transportation levy, which is set to be crafted during the months before the city council's vote next summer.
Here's a look at some of the projects expected to break ground this year, and a status check on some that are already in progress.
Eastlake Avenue E
A project illustrating the contrast between progress and disruption that will be seen across the city this year is a planned connection between South Lake Union and Eastlake along the west side of I-5. The first phase of the project, on the south end between John Street and the entrance to the Lakeview Boulevard overpass, is being completed as part of King County's new bus layover space along the street and was originally intended to be started first. Delays impacting that layover project mean the second phase, between Roy Street and Fairview Avenue N, is set to be put in place as soon as this spring just as work starts on the first phase.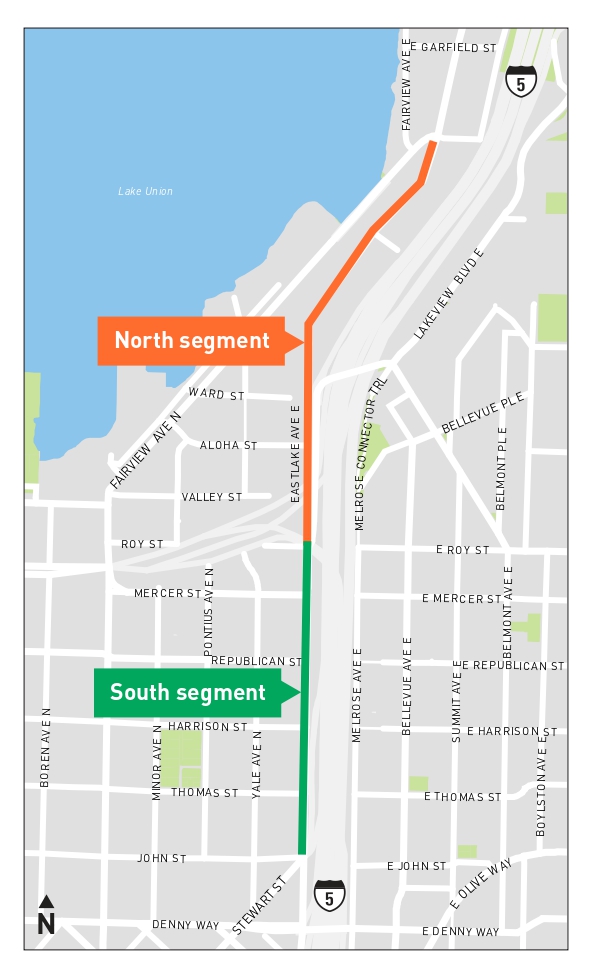 Those two projects will wrap up just in time for construction to begin in earnest on the RapidRide J line, which will add protected bike lanes along the rest of Eastlake Avenue and truly make this project a valuable connection between South Lake Union and the entire northeast quadrant of the city. With work starting in 2024, that project isn't expected to wrap up until 2026 or 2027, well into the life of the next transportation levy, if one passes.
8th Avenue
Already started work this year is a facility upgrade happening to the 8th Avenue protected bike lane from Pike Street to Westake Avenue. As part of the Washington State Convention Center expansion (opening this month), permanent bike lane barriers were funded as part of a community benefits package, negotiated by community members. Those barriers should minimize incursions by drivers looking for a place to park, though unfortunately the upgrades won't extend north of Westlake, where the current facility turns to a door-zone bike lane and parked drivers become even more frequent.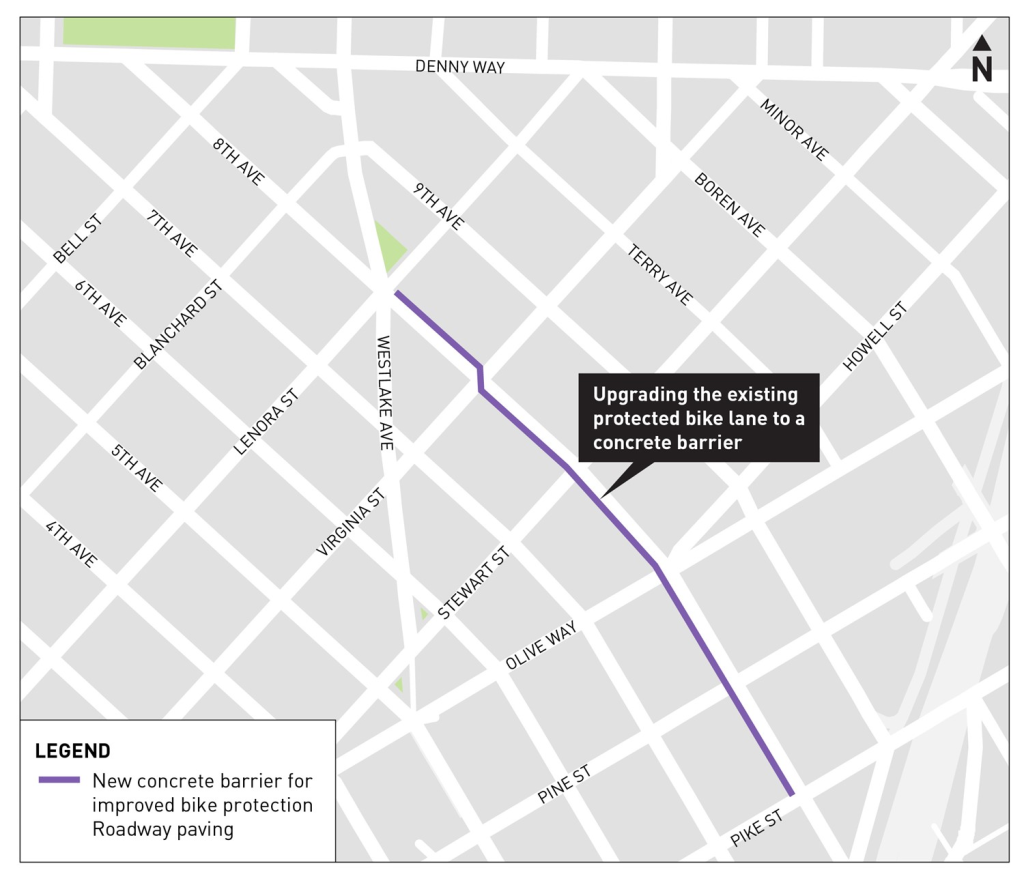 Unfortunately, the construction detour being provided here isn't anything better than directing cyclists a full four blocks out of their way to 4th Avenue, an approach that will likely need to change. Detours for vehicle routes during construction are never so circuitous, but it's considered standard practice to not create a temporary safe facility while another one is being upgraded, either in the case of a bike lane or a sidewalk.
Pike and Pine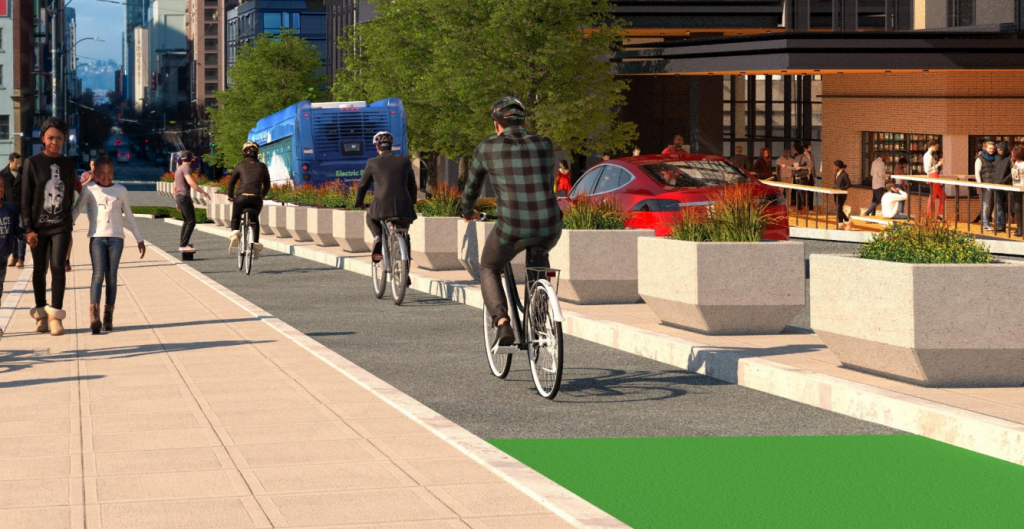 Also around the Convention Center, another large project is about to start construction this year: the full revamp of both Pike and Pine Streets all the way from Pike Place Market to Capitol Hill. Another project not set to be completed until 2024, construction here will impact some heavily used bike routes to Capitol Hill, but once it's done, the corridor will have wider sidewalks and rebuilt protected bike lanes that finally fill some of the harrowing gaps, including Pine Street around Boren Avenue and the uphill merge with traffic underneath the Convention Center on Pike.
Part of the waterfront redevelopment, this approximately $40 million project was first covered by The Urbanist in detail in 2017, and has gone through numerous iterations of design, including a period where the uphill protected bike lane on Pike Street across I-5 was not set to receive an upgrade to its bike lane barrier from the current paint-and-post due to concerns over the impact of additional weight on the bridge. Thankfully, that plan was reversed, with a robust bike lane barrier planned to extend the entire corridor with badly needed sidewalk expansions around I-5 still in the plans.
East Marginal Way S
The routes of people biking between downtown and the southeast part of Seattle were disrupted by the sudden closure of the Spokane Street swing bridge just before Christmas. When it became clear that the closure was going to last several weeks, emergency bike lanes were added using cones to 1st Avenue S to connect people on bikes with the 1st Avenue S bridge. The Spokane Street bridge re-opened on January 13th, but the emergency bike lanes are sticking around, as additional maintenance closures are planned and the bridge will take about 15 minutes longer to open to let ships pass until the hydraulic system is fully repaired.
This year, work will start on another segment of the route between Downtown and West Seattle: East Marginal Way S. The approximately $40 million project will completely rebuilt the street for freight traffic, and separate bike traffic on the east side of the street with a two-way cycletrack, reducing conflicts between turning trucks and people on bikes. This project is going to include one of the most closely-scrutinized bike detours in the city, and we don't quite know the details yet.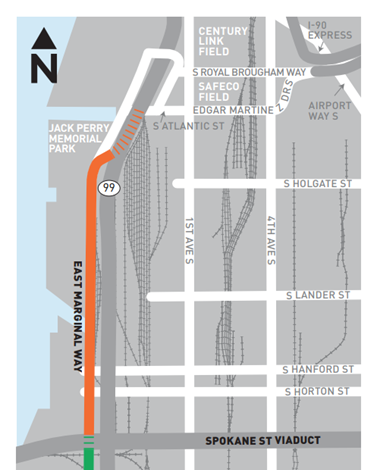 "We'll maintain freight truck access to the Port of Seattle terminals along East Marginal Way S but anticipate detouring all non-Port of Seattle vehicle traffic in the North Segment project area," an SDOT blog post from November noted. "We will maintain a way for people biking and walking to use East Marginal Way S, but the route will shift to avoid active construction areas. We'll have mitigation and detour plans in place to minimize the effects where possible."
There aren't a lot of alternative routes to use, so we'll be watching to see how well the detour is actually maintained.
Madison Street
Work along the Madison Street corridor to create the RapidRide G Line, which broke ground in late 2021, will continue for the entirety of 2023, with a planned grand opening for the new transit line in 2024. Around half completed, the project will add dedicated space for buses along with center-boarding bus islands and unique-to-Seattle five door buses that board on both sides. This year, King County Metro will start engaging with local residents to figure out what should happen to the buses that currently use Madison — the 11 and the 12 — and the other routes in the network once the G Line opens.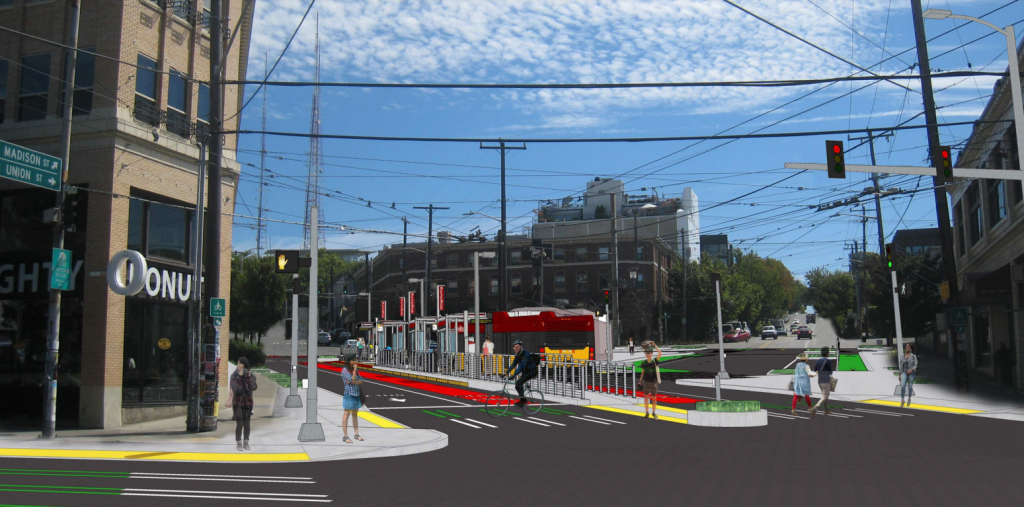 For people on bikes, there aren't facilities planned on Madison Street itself, but the intersection of 12th and Madison will be completely remade as a cyclist transition point, with people on bikes directed onto the sidewalks and through the intersection with their own dedicated signals. One of the biggest benefits of the project will be a new pedestrian and bike crossing at Madison and 18th, where the Central Ridge Greenway is planned. Crossing there today is a harrowing experience.
Seattle Waterfront
Last year, The Urbanist reported that even as the newly rebuilt Alaskan Way would be fully open to vehicle traffic by the end of 2022, the planned bike trail, apart from a short segment now open between King Street and Yesler Way, would not be complete until the rest of the pedestrian "promenade" alongside the new roadway was finished in 2024. This year, Waterfront Seattle is moving toward opening a new four-lane roadway between Pike Place Market and Belltown, which will allow vehicles to bypass the at-grade railroad crossing at Broad Street and head directly through one of the densest neighborhoods in the state. That new street, Elliott Way, will have separated bike lanes on either side, as you can see in a photo that the Office of the Waterfront shared (below) of current construction progress late last year.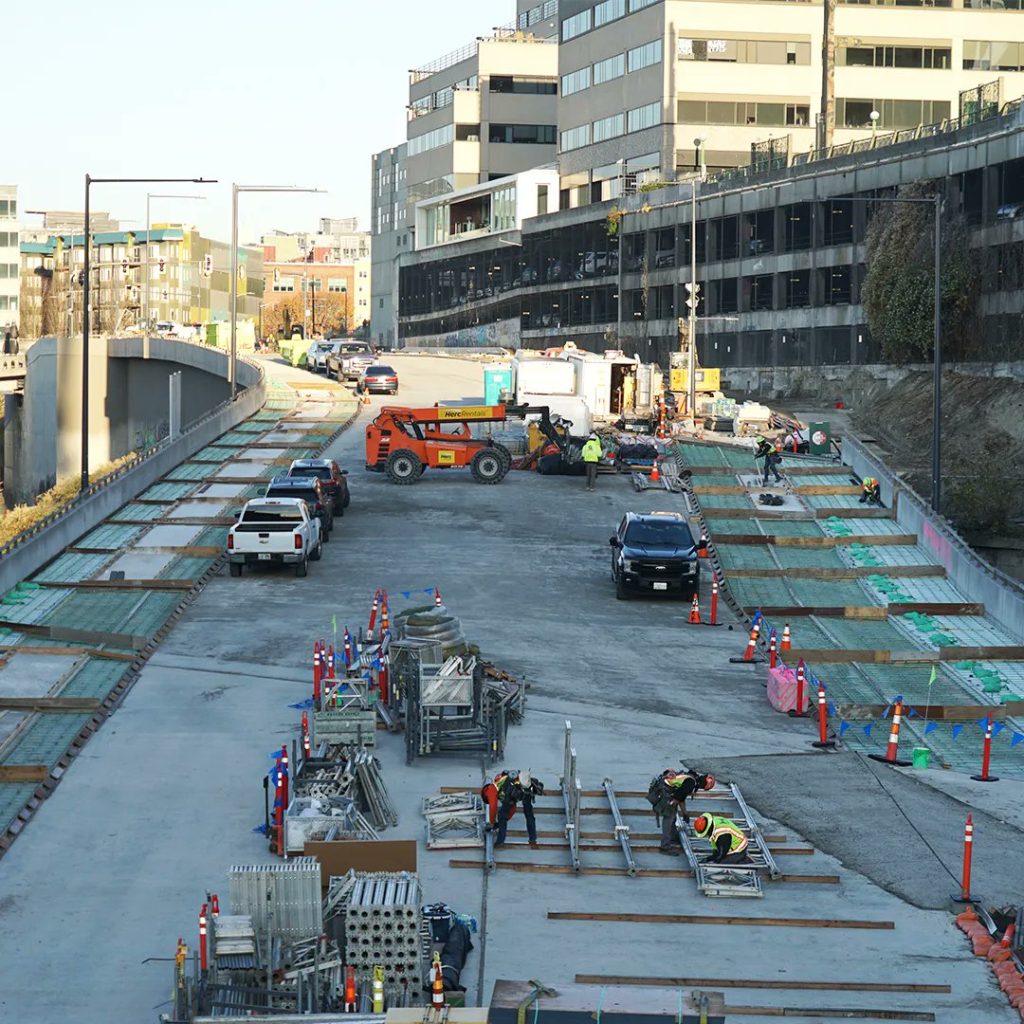 For a while, though, those bike lanes will lead directly into the construction area for the new Overlook Walk, and it's not quite clear where people on bikes will head after that, except back north on Alaskan Way. But once the promenade and trail are completed next year, the new connection should make Belltown and the waterfront more accessible by bike than they ever have before.
2023 is going to be a messy year, with a delayed payoff that should prove incredibly worthwhile, even as some big opportunities are set to be left on the table. For now, people will likely need to check their bike routes ahead of time to ensure you don't get caught in any unexpected construction.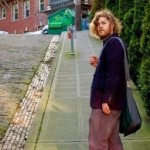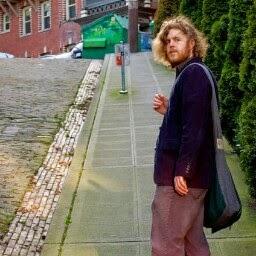 Ryan Packer lives in the Summit Slope neighborhood of Capitol Hill and has been writing for the The Urbanist since 2015. They report on multimodal transportation issues, #VisionZero, preservation, and local politics. They believe in using Seattle's history to help attain the vibrant, diverse city that we all wish to inhabit. Ryan's writing has appeared in Capitol Hill Seattle Blog, Bike Portland, and Seattle Bike Blog, where they also did a four-month stint as temporary editor.