We've talked about Sound Transit 3 ad nauseam over the past two years, often until we were blue in the face. We've written about how ST3 could unlock transit-oriented development on SR-522, better serve Belltown, and act as a prime asset in our regional transportation network. We've also explained why foes are often wrong in their opposition. The reason, of course, is that crafting and voting on a regional transit expansion measure is a deeply important decision. If approved, it will set the Puget Sound on a very particular trajectory affecting nearly every future land use and transportation aspect throughout King, Snohomish, and Pierce counties for decades to come.
Many of our loyal readers will be familiar with these deep dives and think pieces, and perhaps take them into account when filling out their ballots. But the lion's share of the electorate will be relying upon what they hear from friends and family about the measure. Others may be swayed from the soundbites that they get from other media. Sound Transit, though, has jumped in to provide concrete information sending households throughout the regional transit authority taxing district a six-page voter's pamphlet that offers an honest analysis of what's in the package, why it matters, and how Sound Transit operates.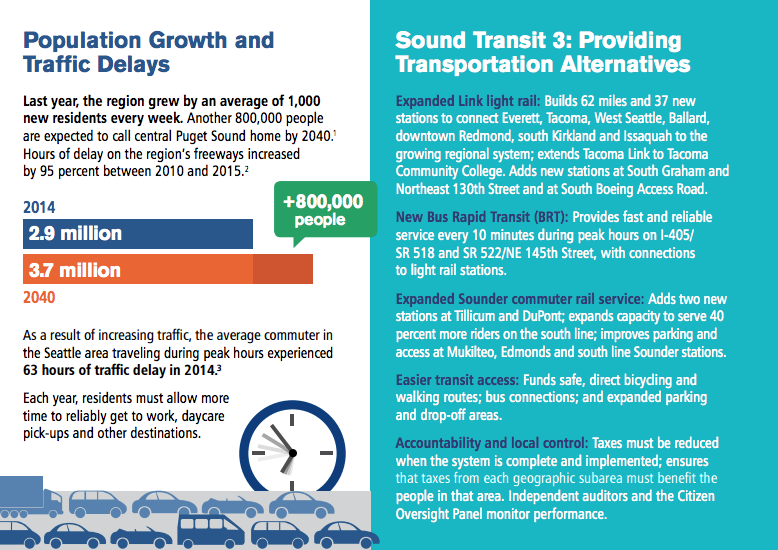 Snippets on what's in the expansion plan:
When ST3 is complete, the regional transit system will connect 16 cities with light rail, 30 cities with Bus Rapid Transit and ST Express bus service and 12 cities with commuter rail. With major projects completed every five to seven years, ST3 further extends the light rail system beyond previously-approved extensions being built to Northgate, Shoreline, Lynnwood, Mercer Island, Bellevue, Overlake and Kent/Des Moines.
ST3 expands the light rail system to 116 miles, five times its current size, adding 37 stations. Trains will operate on dedicated tracks almost exclusively separated from road crossings and traffic, providing efficient and reliable travel 20 hours per day with service every three to six minutes in peak hours.
New Link light rail extensions:

Overlake to downtown Redmond: stations at Southeast Redmond (with parking) and downtown Redmond

Kent/Des Moines to Tacoma: stations at South 272nd, Federal Way Transit Center, South Federal Way and Fife (all with parking) as well as East Tacoma and the Tacoma Dome

…

Downtown Seattle to Ballard with new downtown subway: stations at Midtown, Denny Way, South Lake Union, Seattle Center, Smith Cove, Interbay and Ballard; expanded station at Westlake

…

Tacoma Link from Hilltop to Tacoma Community College: six stations

…
Briefs on financing:
If approved by voters, ST3 would be funded by a combination of new and existing local taxes, federal grants, fares and interest earnings. The typical adult would pay an additional $169 in taxes per year, or about $14 more per month. This amount is based on estimates of median additional amounts that people would pay for each tax, meaning half of people would pay more and half of people would pay less. More information, including a calculator for estimating individual tax increases, is available at soundtransit3.org/Calculator

Cost: The estimated cost to implement the ST3 Plan is $53.8 billion in year-of-expenditure dollars of which new local taxes account for $27.7 billion. This cost includes all construction, operations, maintenance, reserves and debt service from 2017 through the completion of the system in 2041.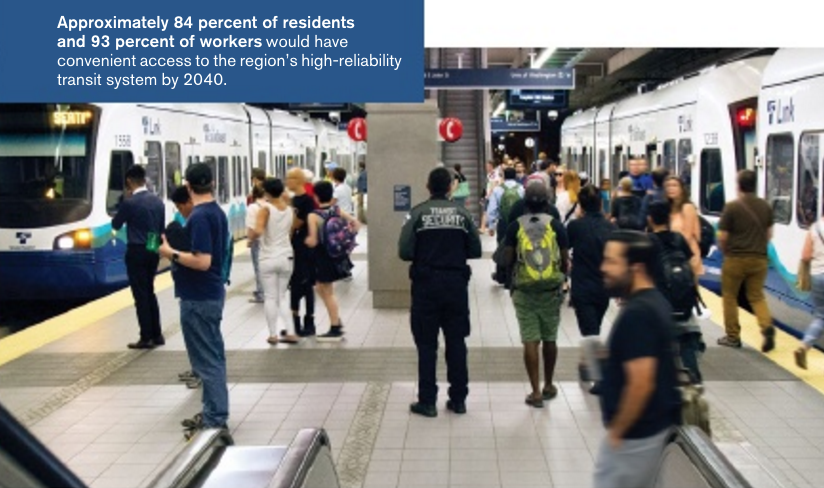 Connections to various community and regional objectives:
Promoting livable communities

Well-coordinated transit and zoning supports compact, sustainable, diverse, and walkable communities through transit-oriented development (TOD). ST3 funds coordinated planning with cities, counties and other stakeholders to promote development of affordable housing near stations.

Boosting the economy

Improved transit capacity and reliability helps employers to attract and retain a broader base of workers and to have better access to goods and services. Increased transit use removes auto trips from roadways preserving capacity for personal, business and freight travel.
Adopted land use plans and regional transportation demand management goals

The Puget Sound Regional Council (PSRC) developed and adopted VISION 2040 as the region's strategy for directing growth in an environmentally responsible way while fostering economic development and providing efficient transportation. PSRC also adopted Transportation 2040 as the region's comprehensive long-range regional transportation plan. ST3 helps achieve the land use and transportation demand management goals identified in VISION 2040 and Transportation 2040 by serving the employment, population and growth centers identified in the PSRC transportation plans. The PSRC Executive Board has reviewed the Sound Transit 3 System Plan for conformity with regional plans.
Sound Transit also has an extensive online repository of ST3 project documents that speak to the System Plan and appendices1 in greater depth.
I would be remiss if I did not mention the position of The Urbanist on ST3. Our Elections Board enthusiastically endorsed the measure because it would deliver grade-separated light rail to many parts of Seattle, enable transit-oriented development and urban development throughout the region, create a more resilient transportation system, and offer a very good value for the amount of local investment promised by it. If you're still on the fence, take time to learn about the proposal, but ultimately, we hope that you too will find yourself in support.
---
Footnotes

Stephen is a professional urban planner in Puget Sound with a passion for sustainable, livable, and diverse cities. He is especially interested in how policies, regulations, and programs can promote positive outcomes for communities. With stints in great cities like Bellingham and Cork, Stephen currently lives in Seattle. He primarily covers land use and transportation issues and has been with The Urbanist since 2014.